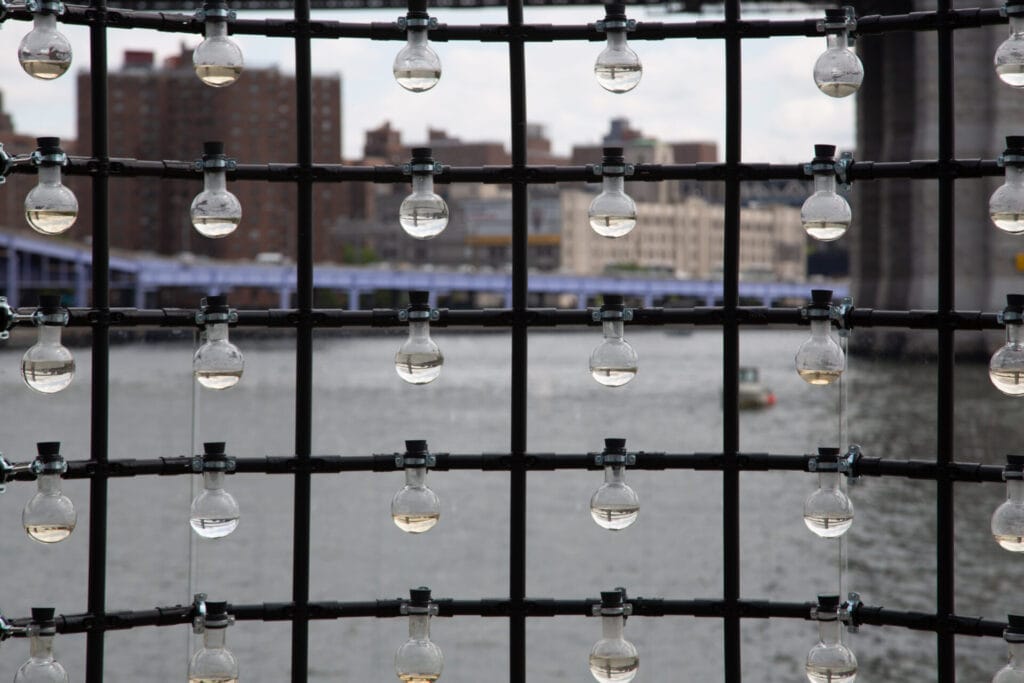 Communal Exhale, 2023
Approx 72" x 72" cylindrical steel structure holding 60 days worth of liquid breath.
What Aroussiak said?
"A beautiful night celebrating the work of my brilliant Creative Science cohort! Huge amounts of gratitude to everyone who came out. Here are some shots of my piece Communal Exhale.
From the floor tag:
This scaffolding structure contains the water collected from 60 days of breathing into a recently fabricated design prototype that helps humans and fungi to produce water from the collective exhale of both species.
Titled Transcorporeal Atmospheres, the design prototype creates a communal sphere of vapor, taking the form of an undulating vessel which encloses an inner moist environment that enables organisms – especially Shiitake mushroom – to grow and be sustained by human breath. The fungus in turn filters this communal liquid for potable use within a growing hydrocommunity.
Developed in consultation with mycologist and microbiologist Dr. Han Wösten from the University of Utrecht, the project looks at water in its least visible form – vapor – by collecting and condensing our most widely shared intimate act, breathing. Each bottle on display represents one day's liquid breath."
Special thanks to NEW INC and fellow members of the Creative Science track.
Exhibition production by Lauren Goshinski with her incredible team Tony, Taly, Ingemar and Eric.
Curation by Raul Zbengheci and Salome Asega.