Before you can get out on the water for a paddle, you have to be able to transport your kayak from point A to point B and store it in your yard or garage. There are custom racks for every type of watercraft, whether it's a sea kayak or a white water kayak. Here are 10 DIY kayak racks that we think you'll love!
---
1. tinktube kayak rack
Our tinktuber has built a rack to store his kayak in his yard when not in use. In order to free up floor space for his other equipment, he chose to hang his kayak rack from his porch securing it with metal clamps. He used galvanized tubes and black connectors to complete this DIY project. This kayak rack is very inexpensive to build.
---
2. Kayak and camping rack for trailer
This kayak and camping rack is a bit more complex, but it's great for any tinktuber going on an adventure for several days. This rack has three different levels and can be mounted on a two-wheeled trailer.
You can use this example to create your own version, using tubes and connectors. Even the ladder can be made with tinktube materials.
---
3. DIY trailer rack for two kayaks
One is good, but two is better! This rack is very simple and is designed to hold two kayaks on a trailer. This model was designed so that the kayaks are placed upwards, on galvanized tubes. In order to prevent the watercraft from being damaged during transport, this tinktuber has covered the rack with foam tubes.
---
4. DIY kayak roof rack
If you don't have a trailer for a kayak rack, you can use the roof of your car. This custom-made rack can carry up to three kayaks, but it can also be modified to suit the needs of the kayaker.
To complete this DIY project, the tinktuber used white tubes and connectors. He used straps, inserted into the tube, to secure the kayak firmly to the roof of the car. Each kayak is held by metal hooks.
---
5. DIY kayak wall mount
This wall mount to store kayaks can be attached either inside or outside the garage. Each tube can be attached to a rail at the desired height. This wall mount is therefore suitable for both sea and freshwater kayaks. It can also be used as a rack for snowboards or skateboards.
---
---
6. Outdoor kayak storage rack
Because to the materials used, this kayak rack is very light. You can leave it near the lake during the summer and move it into the garage for the winter. To prevent rain from collecting in the kayaks, it is recommended that you store your kayaks on their sides or upside down. This is how this kayak rack was designed.
You will find the instructions to build this outdoor kayak storage rack here and all the material to build it here.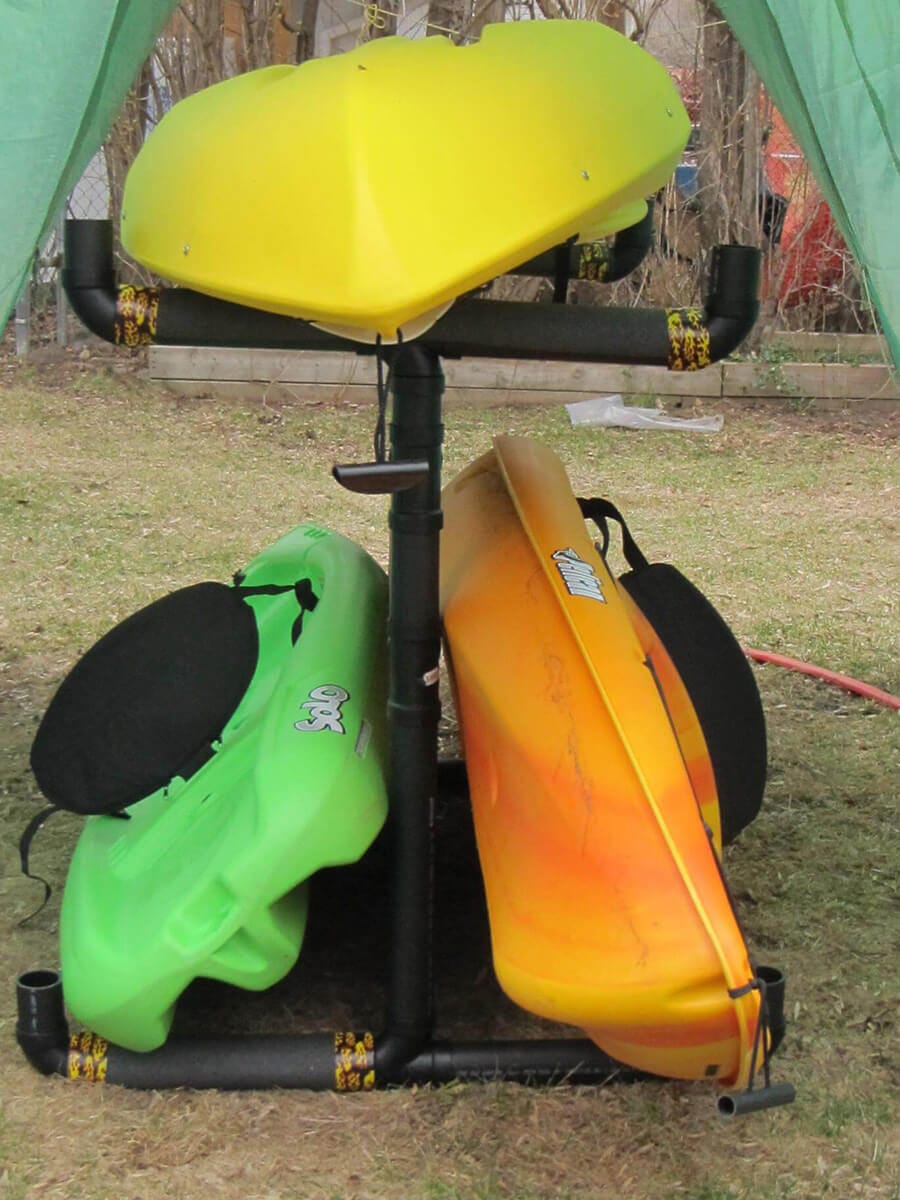 ---
7. Kayak wall rack
This rack is ideal for those with limited space to store their kayaks. Rather than attaching the rack directly to the wall, this tinktuber opted to lean it against the wall. You can find the tubes and connectors for this DIY project on tinktube's online store.
---
---
9. Truck bed kayak rack
Rather than hauling your kayaks on a trailer, if you have a truck you can build a custom kayak rack for it at a fraction of the price. Just get the tubes, connectors and tools from tinktube's online store.
---
10. Kayak cart
You can use this very useful DIY project to move your watercraft as well as to provide support when in storage. This inexpensive kayak cart can be made with tinktube materials. Follow this guide to build it hassle-free.
This wheeled kayak rack can also be attached to a bicycle.
Adapt this project with the tinkpad!
Draw your project with this free printable tool which includes an isometric grid and our best tips to get started.