Some say a trellis is the glue that holds a garden together.
Because of its sturdiness, it is a central structure each and every climbing plant can count on to grow.
It may seem a little poetic, but it's true. And if you're looking to build your own heavy duty trellis, you've found the right place. We gathered all the information you'll need to build sturdy, durable and affordable garden structures. Even better: Since you've chosen to design and build DIY trellis, everything will be customizable. That way, you'll be sure to use every inch of your garden to the fullest, no matter its size, shape or configuration.
What types of plants will grow up a trellis?
Varieties and types of climbing plants are many. Depending on what you're looking for in your ideal garden and the climate where you live, you'll be able to choose plants that will bring your gardening game to the next level. You may go for scented, flowering plants that will bring a delicious aroma as you stroll past them. You may prefer edible plants like fruits and veggies that'll make you feel like you have a grocery store in your backyard. Either way, here are some ideas to spark your inspiration – and of course, there are plenty more out there!
Best flowering climbing plants for scent
Honeysuckle
Climbing roses
Jasmine and star jasmine
Wisteria
Clematis
Morning glory
Rubens
Climbing hydrangea
Climbing fruits & veggies
Cucumbers
Peas or snow peas
Tomatoes
Winter squash (acorn or butternut)
Pole beans, yard long beans, runner beans or golden wax beans
Malabar spinach
Grapes
Melons (cantaloupes, honeydew melons and watermelons)
Passionfruit
Raspberries
Blackberries
Kiwis
Pumpkins
Depending on the climbing plant you choose to grow, some specific types and shapes of DIY trellis will be more appropriate than others. Keep on reading to learn more about the best ways to optimize your plants' growth!
DIY garden trellis material options
Trellis material options
There are many choices of trellis materials out there. But when it comes to building heavy duty trellis specifically, wood and metal are the most popular options because they offer more sturdiness and durability. When built and protected properly, trellis made of wood or metal can withstand all kinds of weather – and for way longer than plastic trellis would, for example!
Wood trellis
Pros:
Wood trellises' natural look blends well in a garden.
The structures are often lighter than the ones made of metal, so they can be fixed more easily to some smaller buildings in your backyard, like a shed.
Cons:
Depending on the type of wood you use, you'll need specific tools to create your project (saw, sandpaper, hammer/screwdriver…).
You'll need to treat the wood very carefully with preservative chemicals for the structure to withstand all kinds of weather over time.
Because of the lighter weight of wood, these trellises will be less resistant than metal to wind.
Metal trellis
Pros:
Metal garden trellis are the heaviest and sturdiest option available, especially when they are built with thick steel material.
Some steel tubes that can be used to build trellises are painted. The paint protects the tubes from rust, which means you won't have to prepare or treat the material to ensure durability before starting your build.
If you decide to build your trellis using steel tubes and connectors, you'll need about 2 different tools: a pipe cutter and a T-handle wrench.
Cons:
Some people prefer the natural look of wood to metal.
If not painted or properly protected, metal can rust in contact with humidity.
How much does a metal garden trellis cost?
The exact cost of your DIY trellis will depend on its size and shape, but this list gives you an idea of the price for the individual items. Once you've designed your plans and decided on the dimensions of your trellis, you'll be able determine the final cost of your project.
DIY Trellis: Examples and Cost
DIY metal trellis
| | |
| --- | --- |
| Estimated project cost | Starting from $80.00 |
*Important note: The metal trellis netting is not included in this estimated cost.
---
Ruth's DIY trellis: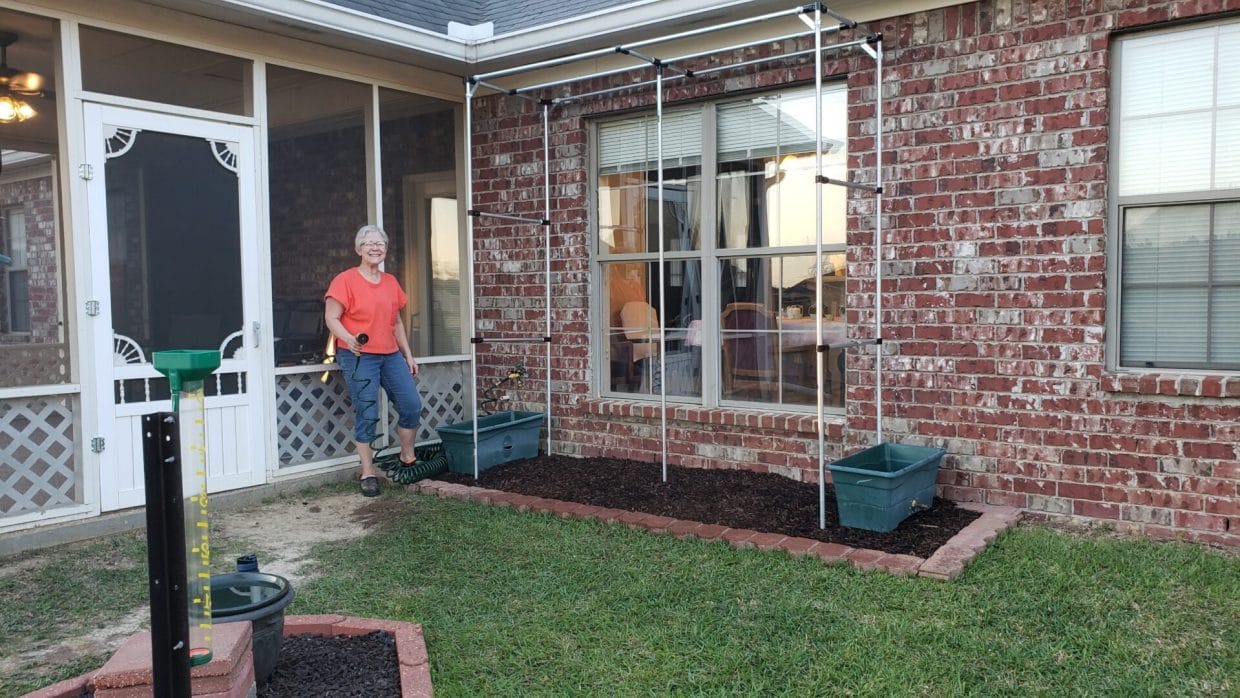 | | |
| --- | --- |
| Estimated project cost | $85.00 |
*Important note: Ruth built her project with 3/4 in. EMT conduit which she bought at her local hardware store. The cost of this building material is not included in the project's details below, along with the plant trellis netting.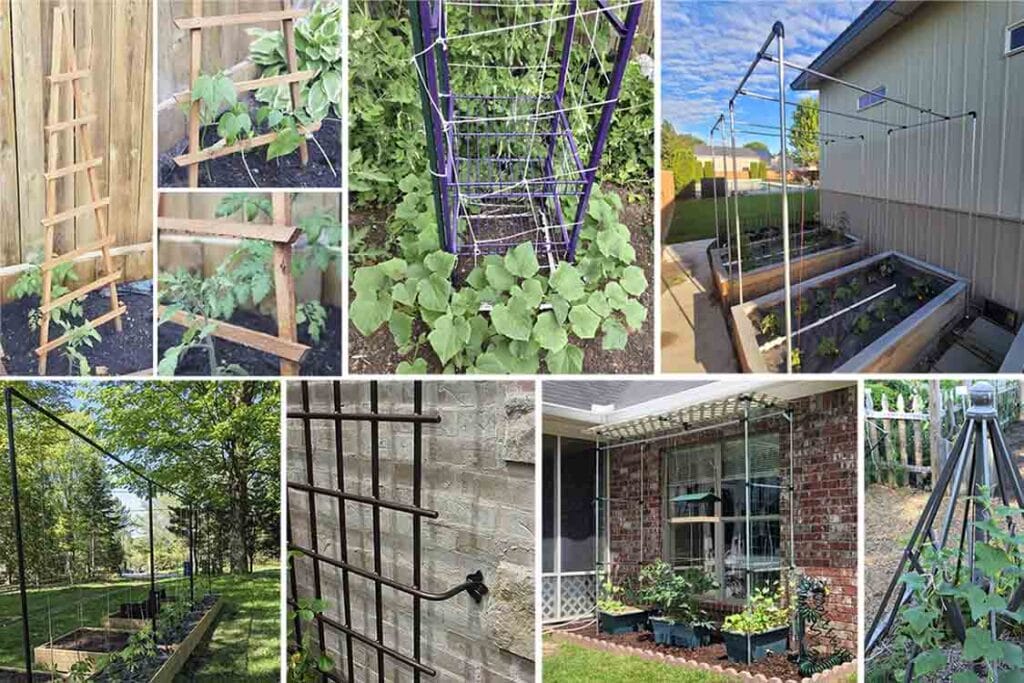 Looking to build a cucumber trellis?
This post presents the BEST cucumber trellis DIY ideas we found!
Why build a DIY trellis with tinktube?
Many DIYers say once you discover tinktube, it'll quickly become one of your favorite material to build with. On top of being simple and easy to use, it will make your DIY heavy duty trellis project a success:
· Heavy duty building material:
Our steel pipes and connectors are among the sturdiest material you'll find out there. Once the fittings are locked in with the pipes, the structures are practically indestructible. If you doubt the sturdiness of your build, all you have to do is add connectors to reinforce the areas that need improvement!
· Custom and modular:
Cutting the tubes to a specific length is a piece of cake and assembling the connectors together with the pipes is easy. That makes your DIY projects really easy to customize. On top of that, you'll be able to evolve your trellis over time by adding new sections or removing others according to your needs!
· Durable & Anti-corrosive:
Our galvanized steel tubes are resistant to all kinds of weather – particularly the painted ones, which benefit from an additional protection against rust thanks to the e-coating paint. Whether used inside or outside, tinktube parts will show little to no signs of deterioration over time.
· Affordable:
Our tubes' prices vary from $11.25 to $16.50 and our fittings, between $2.09 and $8.98. Because you'll be able to choose and buy exactly what you need -nothing more-, you'll avoid wasting any material… and paying for it too! If you have to disassemble a structure, you'll be able to reuse the material again for various projects over time. The same tubes and fittings will go a long way!
· Sleek-looking:
tinktube's industrial style pairs well with any type of decor or environment. Depending on the color of tubes you choose, you'll be able to personalize your projects. Tubes can also be painted to your choice of color with different kinds of metal paints!
· Minimal tools needed:
Compared to woodworking, building with tinktube requires almost no tools. All you'll need is a pipe cutter and a T-handle wrench and you're good to go!
Which tools do I need to build a sturdy trellis?
A pipe cutter
Whether you choose to create a DIY cucumber trellis or a tomato trellis, the tube cutter will be your best friend along any building journey. Cutting a tube with this tool is easy and simple… and it takes about 30 seconds.
Once your original blade has been used to its maximum, you'll be able to replace it by these spare blades without having to buy another pipe cutter.
A quick tutorial is available on tinktube's Youtube channel if you'd like to see a pipe cutter in action!
A T-handle wrench
This tool complements the pipe cutter perfectly. The T-handle acts as a balanced weight to help you spin the wrench quickly, while allowing enough leverage and torque for all your builds.
Once you've assembled one connector with that tool, you'll know what we mean when we say the system is very easy to use. Check out these videos to see how tinktube connectors are assembled!
Steps to building a heavy duty trellis with tinktube
Now that you have a better idea of how easy building a DIY trellis is, you're all set to start your custom project. Here are the next logical steps to really get started!
2. Make a plan
Build your own tomato trellis
Check out this inspirational content:
Need help? Reach out!
We hope you found some useful information throughout this page. If you need any help to draft up your plans and plan the parts you'll need to build your heavy duty trellis, don't hesitate to book a free 15-minutes call with our expert Esteban. He'll answer all your questions and give you advice on the best ways to create your project!
Adapt this project with the tinkpad!
Draw your project with this free printable tool which includes an isometric grid and our best tips to get started.