Welcome to the ultimate guide on transforming your outdoor space with a touch of DIY magic! Get ready to embark on a journey filled with laughter, creativity, and some seriously low-cost awesomeness. Today, we're diving headfirst into the wonderful world of DIY pergolas! We're going to unleash the power of imagination and show you how to take your backyard from drab to fab without breaking the bank.
Now, we know what you're thinking. "What's the big deal about a pergola, anyway?" Well, my friend, a pergola is like a fabulous accessory for your outdoor space. It's that stylish hat that turns heads and transforms your backyard into a jaw-dropping oasis. And the best part? You can create your very own pergola on a budget, with a little bit of elbow grease and a whole lot of DIY spirit.
We've got a whopping 10 low-cost ideas coming your way, each one guaranteed to spark your creativity. From whimsical designs to clever hacks, we're here to prove that DIY pergolas can be a wild, wacky, and wallet-friendly adventure!
1. DIY deck pergola
This project is about the tale of Mitch, the apartment-dwelling shade-seeker extraordinaire! Mitch was on a mission to create some sweet shade in his backyard without breaking the bank (all about saving up for that dream house while keeping things budget-friendly).
He came up with tinktube's tubes and fittings and tapped into his inner DIY wizard to construct a magnificent, removable structure that'll be his trusty shade companion no matter where he moves. Talk about versatility!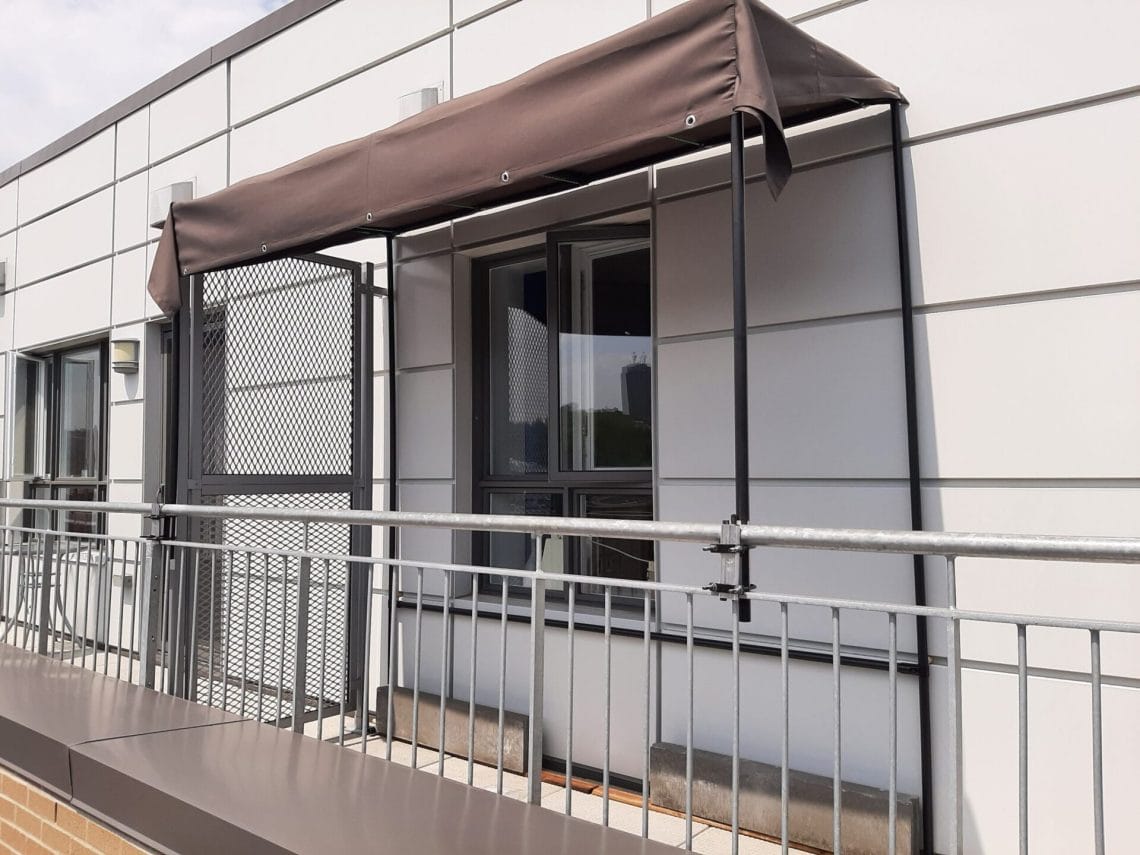 2. Easy DIY pergola
Nathalie might not have an enormous outdoor space, but that didn't stop her from finding a crafty way to add some sweet shade to her cozy abode. She built her very own DIY pergola and customized shade haven that perfectly fits her balcony. In other words, she's the superhero of small spaces, saving the day with style and innovation!
To keep things simple, she fixed tinktube's fabulous fittings and pipes to the railings of her building. And now, my friends, the magic truly happens. Nathalie can kick back and enjoy the simple pleasures of life. Picture this: a sunny afternoon, a cool breeze, and her favorite book in hand—all under the cozy shelter of her DIY pergola!
3. DIY retractable pergola canopy
This DIY pergola with a retractable wave shade canopy could be your ticket to the ultimate outdoor bliss! With this ally in your backyard, you can have complete control over the amount of shade you desire.
This DIY marvel offers you the freedom to customize and create a canopy that perfectly fits your pergola dimensions and personal style. No more settling for generic options—now you can tailor it to your exact needs! Let's not forget the cost-saving benefits too! By taking the DIY route, you can save a bundle of cash while still achieving that high-end look. With a little creativity and some budget-friendly materials, you can create a retractable pergola canopy that rivals those found in fancy resorts.
4. DIY pergola swing
If you build such a pergola with the tinktube system, you'll need to make sure it is strong enough to withstand people's weight and the swings' movements… which is a lot! There are various ways to fortify a structure:
Doubling the tubes together (this is a MUST, especially for this project) with HJ-13 connectors, also called parallel pipe connectors.

Adding tubes to the structure strategically (at angles or in specific areas of your project, to reinforce the whole pergola).
Once it's designed and you have your plans in hand, you'll have to calculate its weight capacity to ensure your pergola is safe before you build your project. The best way to do so is to use this tool we've created and apply the calculations to your own project.
If you are ever in doubt about the strength of this type of project, reach out to us! We'll be happy to schedule a free call with our technical expert Esteban so he can help you out!
5. Pergola for climbing plants
If you're looking for a compact pergola for your garden, perhaps to support your grapevines, this steel DIY pergola is an ideal choice. It not only enhances the beauty of your outdoor space but also promotes the robust growth of your grapes, simplifying the process of harvesting them!
This project can be completed in under 24 hours, and you even have the option to expand its size if you desire an exquisite lawn ornament for your front yard.
One more thing: when using tinktube's building material, you'll be able to make a custom pattern in the roof, using the right fittings according to the shapes and forms you wish to create!
6. DIY pergola roof
Get ready to be wowed by this masterpiece—a DIY pergola roof, brought to life with the incredible tinktube building system! This is not your ordinary rooftop; it's a shining example of creativity and innovation. With tinktube, it's easy to construct a roof that's sturdy, stylish, and built to last.
The tinktube building system provided our DIYer with a seamless assembly process. No complicated instructions or frustrating guesswork—just a well planned process based on custom plans!
7. DIY pergola plans
This awesome structure was originally built with PVC pipes and fabric. But guess what? We've got a little secret for you—using steel pipes and connectors is not only possible but also maybe even a better option! Why settle for good when you can go for great, right?
Let's talk about the perks of steel. It's like the superhero of building materials—strong, sturdy, and ready to take on the world! Switching to steel pipes will make that structure of yours rock-solid, capable of withstanding anything Mother Nature throws its way. It's like giving your backyard shade an upgrade to a superhero cape!
Our suggestion to make this project a reality: start by drafting up a plan. Plan the dimensions and choose the right connectors to easily build your DIY pergola. You'll then be able to determine the number of tubes and connectors necessary and order everything online!
8. Charlotta's glass roof pergola
Once upon a time, there was a woman named Janssen who had a big project in mind: build a gorgeous outdoor dining area at Chez Oscar's restaurant, in New York.
Led by Charlotta's vision, the staff put in tremendous effort to create a spacious, appealing, and well-spaced glass roof pergola… and they succeeded!
Curious to see more of Charlotta' impressive work? Check out her website to see the other projects she's designed and worked on!
9. DIY glass roof pergola
While fabric, wood, and other materials have long dominated roof pergola designs, the use of glass introduces a modern touch that can elevate your outdoor space to new heights. And the best part? You can achieve this stunning transformation using the same versatile building material as the others: tinktube.
Glass roof pergolas provide an unparalleled visual appeal, creating a captivating and contemporary ambiance in any setting. You can enjoy unobstructed views of the sky, allowing natural light to flood your space during the day and providing a mesmerizing stargazing experience at night.
Moreover, glass roofs bring a sense of openness and spaciousness to your pergola. By eliminating the need for fabric or solid materials, you can create a seamless transition between your outdoor and indoor spaces, blurring the boundaries and fostering a greater connection with nature!
10. Pergola with vine plants roof
Listen up, green thumbs and relaxation enthusiasts! We've got a genius tip to take your DIY pergola to the next level: integrate some climbing plants! Trust us, it's a game-changer in more ways than one.
Picture this: you're chilling in your backyard oasis, surrounded by lush climbing plants, their delicate tendrils gently swaying in the breeze. But wait, there's more! When selecting your climbing plants, choose wisely, my friend. Go for those with a heavenly fragrance. Imagine the intoxicating scent of blooming flowers wafting through the air, filling your environment with pure bliss. It's like having your own personal perfumery right in your backyard!
When assembling your DIY masterpiece, opt for resilient building materials like steel tubes. Think of it as giving your structure superhero powers—ready to face any weather and last for ages. You'll be the envy of the neighborhood with your sturdy and durable shade structure!
11. Round DIY pergola
Step right up, folks, and behold the marvelous round pergola! Picture this: a classic shape that's simply perfect for those delightful climbing plants and even trained fruit trees. Can you imagine the beauty and deliciousness it'll bring to your backyard?
You've already fallen in love with this DIY masterpiece? You can build it all yourself by bending the tubes and assembling the structure using tinktube!
This showstopper project will transform your backyard into a botanical wonderland. Get ready to impress your plants and become the envy of your neighbours with this sensational structure. Trust us, it's a pergola worth planting roots for!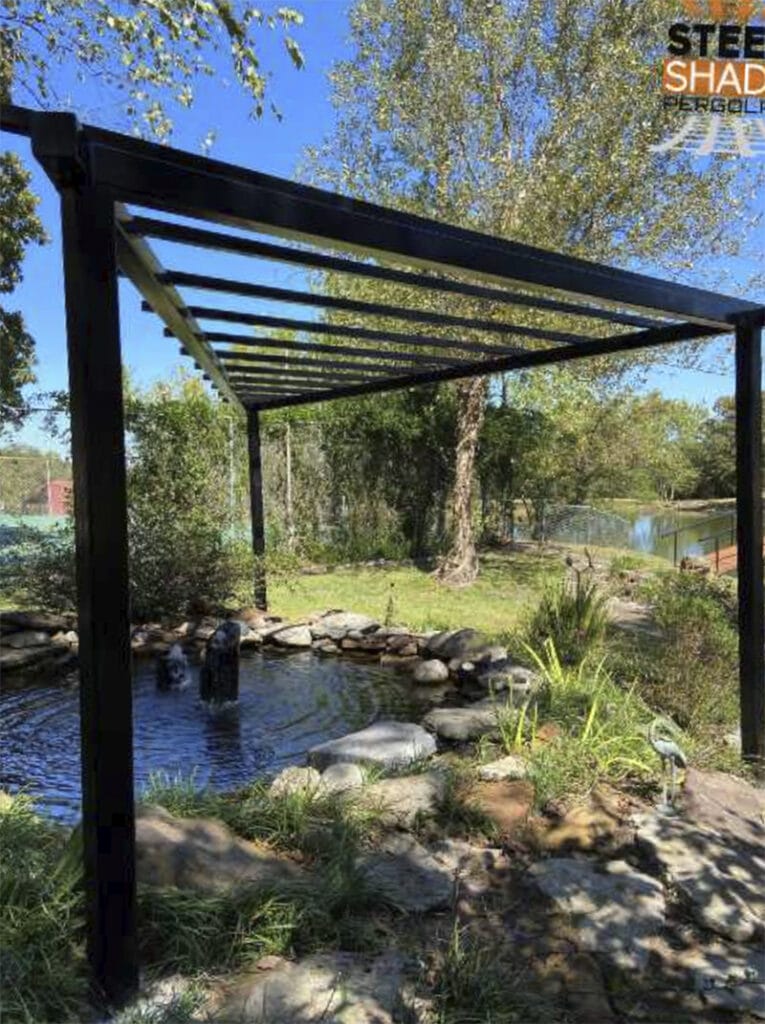 12. Triangle-shaped pergola
Prepare to be amazed by this incredible triangle-shaped pergola—a DIY project that will elevate your outdoor space to new geometric heights. With just a few tubes and connectors, you can unleash your creativity and replicate this pergola that's as unique as it is eye-catching!
Picture this: a triangular haven nestled in your backyard, creating a mesmerizing focal point that's sure to impress. The beauty of this DIY project lies in its simplicity and versatility. If you DIY this project, you have the freedom to customize the size and design to perfectly fit your space and personal style.
The advantages of a triangle-shaped pergola are aplenty. Not only does it add a touch of modern flair to your outdoor oasis, but its unique shape allows for optimal utilization of space. Whether you're looking to create a cozy reading nook or a stunning dining area, this DIY marvel has got you covered.
Your path to backyard bliss on a budget!
And there you have it: we've reached the end of our thrilling DIY pergola adventure. Can you believe the incredible projects we've explored together? From humble beginnings to jaw-dropping masterpieces, we've witnessed the power of imagination and the magic of low-cost DIY. Throughout this guide, we've proven that a pergola is more than just a structure—it's a statement piece that can turn heads, captivate hearts, and transform your outdoor space into a jaw-dropping oasis.
So, my fellow DIY enthusiasts, as we bid farewell to this ultimate guide, we encourage you to take the inspiration and knowledge you've gained and unleash it upon your own outdoor spaces. Let your imagination soar, embrace the joy of creation, and let your DIY spirit shine bright!
Chuck built a custom boat frame for his 14' heavy duty rigid inflatable.