Soooo, you did it again. You woke up one day and realized you suddenly had way more (insert your items here) than you thought you did. Whether it's shoes, tools, books or cutlery, these things tend to pile up real quick, don't they? Connoisseurs of chic and practical furnishings, you're likely familiar with the satisfaction of assembling IKEA's ingeniously designed flat-packed pieces. What if we were to introduce you to a way to elevate your home organization experience to new heights through a touch of ingenuity? Welcome to the realm of tinktube IKEA hacks, where we unlock the concealed potential of the IKEA Ivar shelf and infuse it with a distinctive twist.
While the Ivar shelf is already a remarkable storage solution, envision making it even more exceptional. This is precisely where tinktube takes center stage, offering an ideal fusion of cost-effectiveness, functionality, and an industrial aesthetic. Let's embark on a captivating journey into the world of tinktube and explore how it has the power to metamorphose your Ivar shelf into something truly extraordinary!
Why choose tinktube for your DIY furniture projects?
Unparalleled customization:
The beauty of tinktube is that it empowers you to be the master of your design. It allows for precise adjustments in dimensions and functionnality, so you can make your Ivar shelf fit any space like a glove or even become mobile. It's all about the freedom to reimagine and repurpose the Ivar shelf in countless creative ways!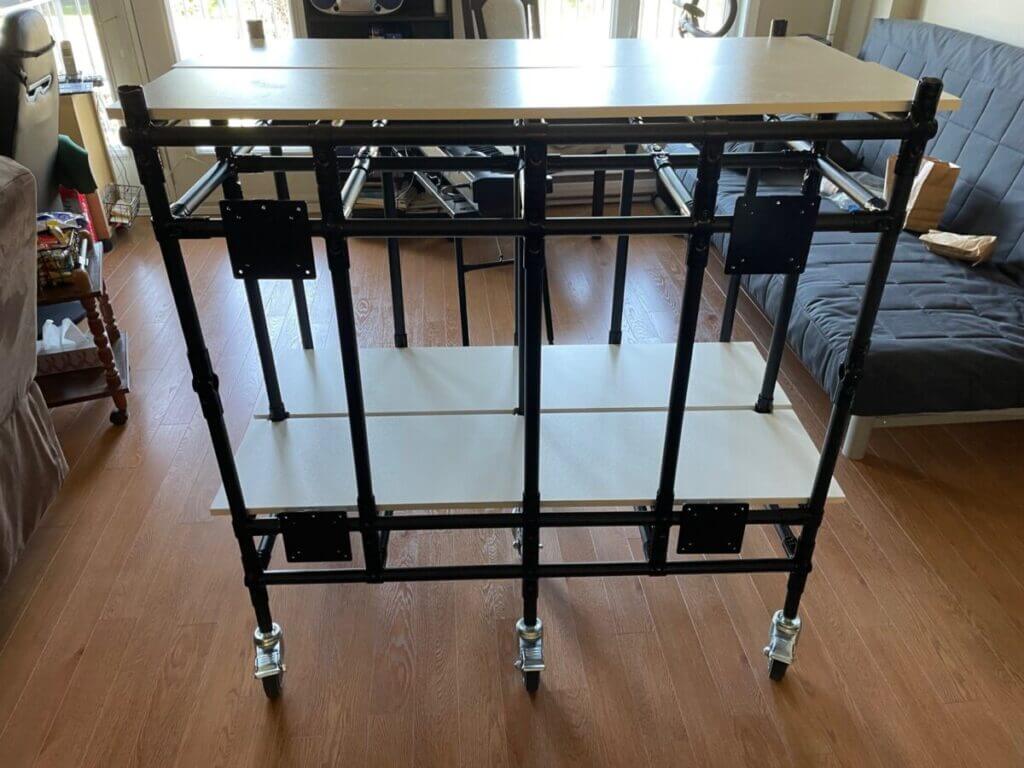 Cost-effective makeover:
Sure, traditional upgrades can burn a hole in your pocket. But with tinktube IKEA hacks, you get the best of both worlds: a fantastic makeover without breaking the bank. Let's showcase the potential savings without compromising quality – you'll be amazed at the difference it makes!
Sleek industrial look:
The industrial aesthetic is all the rage these days, and with tinktube, you can effortlessly achieve that sought-after style. We'll contrast the look of a standard Ivar shelf with one enhanced with tinktube to show you just how sleek and chic it can be.
Durability and strength:
You know those flimsy shelves that start to wobble after a while? Well, tinktube is here to put an end to that. Our robust materials bring added sturdiness to the Ivar shelf, ensuring it lasts longer and stands up to daily use.
Eco-friendly approach:
We're all about sustainability, and we're thrilled that repurposing the Ivar shelf aligns with eco-conscious living. It's not just an upgrade; it's a step toward reducing waste and promoting eco-friendly choices.
Personalized functional add-ons:
But wait, there's more! tinktube isn't just about looks; it's about adding functionality to your Ivar shelf. Showcase the possibility of integrating hooks, holders, or even lighting using tinktube components. You're not just getting a new shelf; you're getting a whole new world of possibilities.
What unique designs can be crafted using tinktube IKEA hacks?
Mobile Ivar:
Transforming your Ivar shelf into a mobile marvel has never been easier with tinktube's durable swivel casters. These high-quality wheels effortlessly elevate your DIY project, offering enhanced mobility and convenience. Installing them is a breeze—simply ensure your Ivar shelf is stable and secure, then attach the casters to the base. The swivel design allows for easy navigation, letting your shelf follow you seamlessly from room to room.
Whether you're reorganizing your space or just seeking a versatile storage solution, these casters bring a new level of functionality to your Ivar shelf, making it a dynamic and adaptable addition to your home. Embrace the simplicity of this enhancement, and experience the freedom to move your furniture with ease, thanks to these simple tinktube IKEA hacks.
Integrated lighting: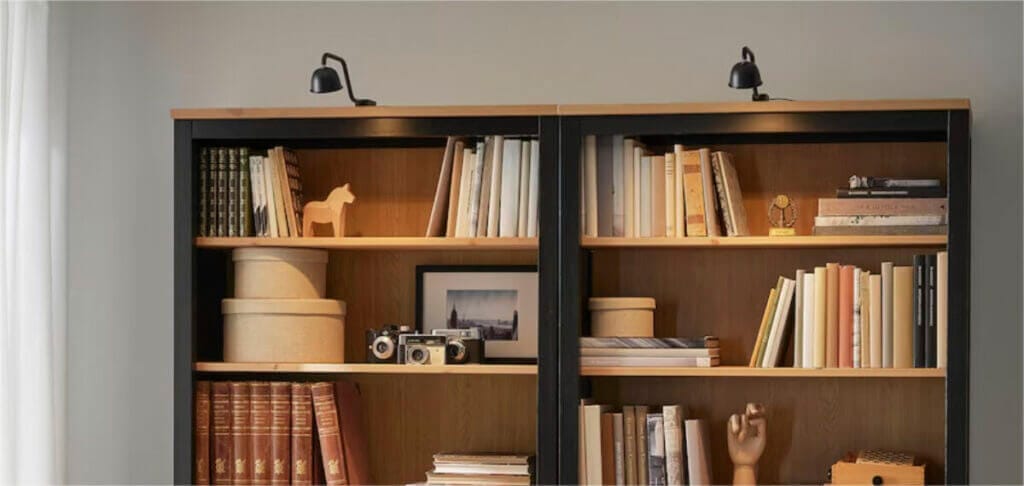 Illuminate your creative space by seamlessly integrating lights into your DIY projects using tinktube components. Elevate the aesthetic of your Ivar shelf with custom light fixtures that add a warm and inviting glow to your surroundings. The process is remarkably simple—select the tinktube lights that complement your design, ensuring they align with the dimensions of your shelf. Attach the lights securely, taking advantage of the user-friendly installation process.
Once in place, these integrated lights not only enhance the visual appeal of your Ivar shelf but also provide practical illumination for your belongings. Whether you're showcasing prized possessions or creating an ambient atmosphere, the tinktube lighting solution effortlessly combines functionality with style, allowing you to tailor your DIY project to your unique vision. Experience the simplicity of transforming your Ivar shelf into a radiant centerpiece that brightens up any room!
Hanging units:
With tinktube's versatile components, incorporating hanging units that bring a touch of elegance to your Ivar shelf is easy! Effortlessly blend form and function by designing suspended or floating sections that not only enhance the aesthetic appeal but also optimize your storage space. The simplicity of this process lies in selecting the ideal tinktube parts that align with your vision and Ivar's dimensions.
Securely attach the hanging units to the shelf, ensuring stability and balance. This innovative addition not only transforms your Ivar into a stylish focal point but also provides a practical solution for organizing items with a sophisticated flair. Personalizing your DIY project with tinktube IKEA hacks will be easy as you create a harmonious balance between design and functionality, bringing a unique and refined touch to your living space!
Expandable workspace:
Now, creating a home office or study area is a breeze as you seamlessly integrate more shelving into your DIY project. Select the appropriate tinktube parts that match the dimensions of your Ivar, ensuring a perfect fit. Attach the tubes and the shelves to the wall safely, optimizing your project to create a versatile and functional workspace. This ingenious addition not only maximizes the utility of your DIY project but also provides a dedicated area for productivity.
Customizing your Ivar shelf to meet the demands of your daily life is easy, as you can effortlessly combine style and practicality in crafting a workspace that suits your needs. Embrace the simplicity of expansion and experience the convenience of having a personalized and efficient workplace right at your fingertips.
Multi-tiered storage:
Revolutionize your Ivar shelf with a personalized touch by incorporating layered storage solutions using tinktube's ingenious connectors and joints. Elevate your DIY project by maximizing every inch of your Ivar shelf with this innovative approach to organization. Begin by selecting the appropriate tinktube connectors and joints, ensuring they seamlessly integrate into the existing structure. Assemble additional layers to your shelf, creating designated spaces for various items and optimizing storage capacity.
Tailor your DIY project to your specific needs: whether it's organizing books, decor, or personal belongings, a layered storage solution using tinktube IKEA hacks adds a new dimension to your Ivar shelf, turning it into a versatile and efficient storage hub. Embrace the ease of customization as you embark on the journey of crafting a uniquely organized space that reflects your style and optimizes your storage potential.
Elevate your DIY experience with tinktube IKEA hacks
tinktube isn't just a tool; it's the gateway to discovering the hidden potential within IKEA products. The Ivar shelf serves as a prime illustration, showcasing how this ingenious combination of Scandinavian design and industrial functionality can breathe new life into your living space.
The synergy between tinktube and IKEA represents a dynamic fusion of creativity and uniqueness. It encourages you to think beyond the conventional, allowing your individuality to shine through your furniture. With each project, tinktube ignites a spark of inspiration, making DIY design not just a task but an exhilarating journey of self-expression. Why confine yourself to the mundane and the ordinary when, with the help of tinktube, you can effortlessly embrace the extraordinary?
Whether you're a seasoned DIY enthusiast or just taking your first steps into this creative realm, don't hesitate to embark on your tinktube x IKEA project. Begin with your Ivar shelf, let your imagination run wild, and share your remarkable tinktube transformations with the world. It's time to ignite the conversation, nurture your innovative spirit, and unveil the boundless possibilities of DIY design that are within your reach.
Here's what you need to build the perfect firewood rack: a DIY plan!