Plants are an excellent way to improve the atmosphere and aesthetics of any room. They add a touch of natural beauty, but they also bring numerous benefits to our health and well-being: indoor plants have been proven to purify the air by removing harmful toxins and pollutants, which can help reduce stress levels and improve mental clarity! They also increase humidity, which is especially beneficial during dry winter months. With a wide variety of shapes, sizes, and colors available, plants also serve as a versatile decorative element, enhancing the overall aesthetic of any space. Whether you're looking to create a cozy living room, a serene bedroom, or a vibrant kitchen, adding plants is a surefire way to improve the inside of your home. In this post, we explore creative DIY wall-mounted plant shelves ideas!
Get ready for some unique and stylish ways to incorporate plant shelves into your home decor. Let's dive in!
Indoor wall-mounted plant shelves
1. Narrow wall DIY plant shelves
This impressive idea was custom-built to fit the exact dimensions of a narrow wall. The shelves extend all the way down to the floor to make the most efficient use of the limited space.
The idea combines barn wood and pipes and connectors: it is crafted to seamlessly blend into the decor! The area is perfect for smaller plants, which creates a simple and natural focal point in the room. The custom shelves make it possible to optimize the space available, letting the plants provide a calming and peaceful atmosphere!
2. DIY ceiling and wall-mounted plant shelves
Looking for a creative and unique DIY project to bring some greenery into your home?
This ceiling and wall-mounted plant shelves project is quite simple. It involves designing and constructing shelves that you will then mount to both the ceiling and the walls.
By mounting the shelves up high, you'll free up valuable floor space while also creating a stunning and eye-catching display. This project can be tailored to fit the exact dimensions of your space and can be customized to match your personal style and decor.
3. Katia's DIY shelf
Katia's DIY shelf project is a perfect example of using unconventional materials to create a functional and stylish display piece. Using wood and tinktube's building system, she was able to create a sturdy and simple shelf.
Here are the items she used:
Katia's creativity and ingenuity are on full display with this project!
4. Multiple shelves system for plants
Are you equipped with a green thumb and a creative mind? Are you by any chance also good with your hands? This wall decoration project is the perfect match for you.
The idea is proof that it is possible to create wall shelves of varying lengths and dimensions using tubes, connectors and wood.
This "wall of plants" is also featured in our article about affordable pipe shelve ideas (check it out for even more examples of DIY shelving systems!).
These shelves can be used to display your favorite indoor plants or any other decorative items you may have. The beauty of this project is that you can customize the size and shape of the shelves to fit your space, allowing you to create a truly unique and personalized display.
5. DIY window shelving for plants
This project is not only stunning: it can easily be replicated with the tinktube building system!
To get started, begin by designing your shelves. Sketch out a few different configurations until you find one that you like. You will then need to gather the necessary materials and tools.
Next, it's time to start building. Begin by cutting your wood planks to the desired length and sanding them smooth. Then, assemble the structure of your plant shelves and fix it to the wall using the anchors. You'll quickly see how easy it is to use the system to connect the shelves together, creating a sturdy and functional display.
Finally, it's time to add your plants or other decorative items! Arrange your items to create a unique display. With a little bit of creativity and some basic DIY skills, you can create a wall decoration that showcases your green thumb!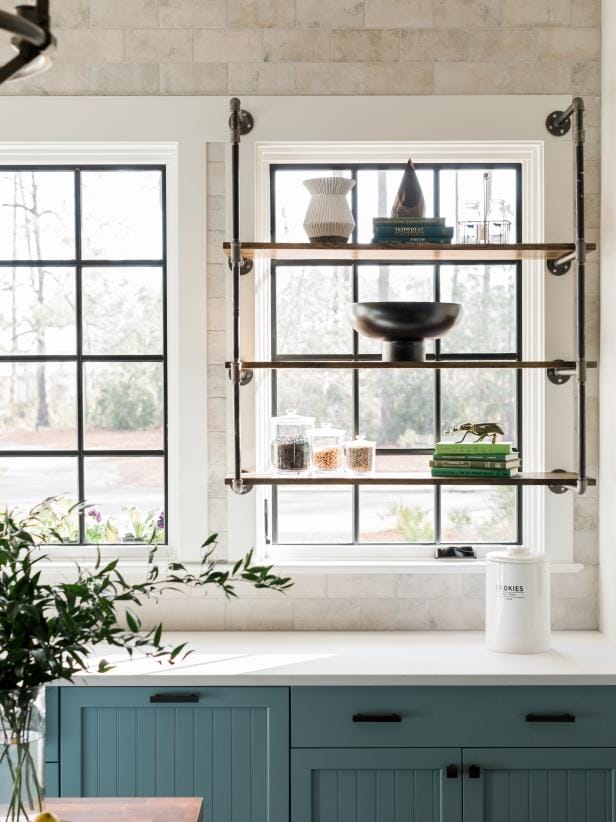 6. DIY shelves made of steel tubes and connectors
This project is very similar to Katia's shelf.
It was built with the tinktube system, using a mix of unpainted and galvanized steel tubes and black connectors. The main differences are:
The system features more than one shelf, so the design involves more connectors than Katia had to use.
Instead of using round wall anchors, the creators chose square, flat anchors, for a more industrial look.
7. Free plan to build DIY wall-mounted plant shelves
Industrial plant shelves are a beloved project in the DIY community and remain one of the most popular furniture pieces to make at home. By creating your own pipe shelves, you can:
Customize the design to fit the exact dimensions of your space;
Modify the shelf heights to accommodate the display or storage of various types of plants;
Strengthen the structure with connectors if needed.
This free plan shows you exactly how to build your own shelves with the tinktube system!
Outdoor wall-mounted plant shelves
8. Outdoor wall plant shelf
Creating an outdoor wall plant shelf is a fantastic way to show off your love of plants and add some visual interest to your outdoor space.
When planning this project, it's important to keep in mind that the shelf will be exposed to the elements, so it's essential to use materials that can withstand the weather.
One option is to use treated wood for the shelf itself, which will help protect it from rot, insects, and other forms of damage. Additionally, it's a good idea to use painted tubes and connectors. The paint will provide protection from rust and corrosion caused by exposure to humidity and rain.
With the right materials and a bit of creativity, you can create a beautiful and functional outdoor wall plant shelf!
9. Outdoor shelving for plants
If you're looking for a way to add some greenery to your outdoor space, this outdoor shelving for plants is a great way! While this idea is not mounted to the wall, it can easily be adapted.
When designing your DIY project, it's important to ensure that the structure is securely fixed. If you're working with a brick wall, you'll need to use appropriate anchors to ensure that the shelving is sturdy and won't fall down.
One effective method is to use a sleeve anchor. You insert this type of anchor into a pre-drilled hole in the brick. Then, thread a bolt into the anchor, securing the structure in place. It's essential to follow the manufacturer's instructions carefully and to use the appropriate size and type of anchor for the weight of your shelving and the materials you're working with.
10. Outdoor plant ladder shelves
Building your own DIY outdoor plant ladder shelves with tubes and connectors is a fantastic way to showcase your love of plants.
One of the main benefits of creating a ladder shelf is that it can be easily removed at the end of the summer season, allowing you to store it away for the winter months.
Another benefit is that you can choose to fix the top of the ladder to the wall, making it sturdier and more resistant to high winds and other forms of bad weather. This provides peace of mind that your plants and the shelving structure itself will remain safe and secure even during the most challenging weather conditions.
With a little creativity and the right materials, you can create outdoor plant ladder shelves that will bring joy to your outdoor space!
Enhance the inside of your home with DIY shelves
In conclusion, if you're looking for a way to improve the atmosphere and aesthetics of your home, adding plants is a simple and effective solution. DIY wall-mounted plant shelves are a creative and stylish way to incorporate plants into your home decor, while also saving valuable floor space. With tinktube materials and many designs to choose from, you can create a unique and personalized look that perfectly complements your style and personality. So why not give it a try and create your own shelves today? You'll be amazed at how much of a difference they can make!
Here's what you need to build the perfect firewood rack: a DIY plan!