Do you feel like you could benefit from having more storage options in your home?
Picture a messy room, a cluttered kitchen, or an entryway with boots and coats scattered everywhere: Are these nightmarish scenarios part of your everyday life? If so, stay calm and keep on reading. This article will give you some clever storage ideas for small spaces that will inspire you… and bring you hope!
Forget the pre-made kits: Entirely customizable furniture is the new IKEA!
The secret to living comfortably and avoid clutter in small homes is not so hard to figure out. You have got to cleverly use every single inch of available storage space you can find. Sometimes, buying pre-made shelves or pieces of furniture will help you do that, sometimes it won't, depending on how your room is organized.
Getting creative and exploring DIY furniture options is a great way to adapt your space to your reality. Here are a few tips that will help you optimize the storage space in every room of your small apartment or home!
Living Room: Customized Wall-Mounted shelves and Coffee Table on Wheels, with Storage
Whether you have a whole wall available to put on shelves or just the corner of a room, customizable options will let you organize your shelving ideas in the best way possible. Once you've chosen to build your own shelving system, the harder part will be to find the right surfaces and cut them to fit the dimensions you want. After that, fixing the shelves to the wall directly or building a structure to support your storage system will be easy. tinktube is a great way to easily build a frame with steel pipes and fittings, using almost no tools.
Buying or building a coffee table with built-in storage space is also a great way to hide your remote controls and other items in your living room, without it being too noticeable. Here's an example of a tinktube coffee table made with barn wood, pipes, and fittings. If you're more interested in buying your coffee table, Structube has some great options, so does Ikea!
Kitchen: A Kitchen island with built-in storage space and various decorative storage pieces
A kitchen island is a great way to add storage space to your kitchen while creating more working surfaces to cook. Whether you build your own island or buy one, once again, possibilities are endless! If you decide to get in the DIY kitchen island game, a few things need to be considered before you get started.
If you buy one, Ikea has many options to choose from!
Because pieces of paper and small objects tend to pile up easily on kitchen -or even bathroom- counters, a great way to avoid clutter is to add decorative storage recipients to the furniture already in place, like these pieces available on Wayfair.
They can be baskets, cubes, or bins: you'll find a great variety of options with a quick online search!
Make sure they blend with the style of the room and you'll maximize your storage space while keeping a sleek-looking environment!
Bathroom: Over the Toilet Shelves and Helpful Add-ons
If you have a loss of space on the wall behind your toilet, this is a great opportunity to create new storage space! Shelves, closed cabinets or ladders are great options, depending on what items you want to store in there. Ready to install closed cabinets can be found in many stores like Home Depot or Ace, while shelves are easy to find there too.
Again, if you have a very restricted space or if you want to optimize your space, DIY shelves are probably the best option for you, since you'll be able to avoid any restrictions linked to the size of the pre-cut products.
For all the electric items that tend to be harder to put away (cords, extensions, etc) some holders can be found on Amazon, like these, that should make it much easier for you to neatly store your hairdryer.
And because these holders can be mounted right into your cabinet door, it won't be noticeable!
Adapt this project with the tinkpad!
Draw your project with this free printable tool which includes an isometric grid and our best tips to get started.
Bedroom: Bed with storage and door-mounted organizers
If customized furniture is the new Ikea, beds with storage are the new dressers! Especially if the space is limited in your bedroom, using the underneath part of your bed as a place to store your clothes or sheets is one of the most efficient ways to reduce the loss of space.
Many online stores offer these types of beds and the prices vary depending on the quality of the material and the size of the bed. Ikea's options range between 200$ and 700$.
Closet door-mounted organizers are also a great option when it comes to creating new storage space. Again, if your closet is small or lacks storage modules, you might want to add more of those to your everyday life! Amazon offers a great variety of options under 20$!
Garage: Customized Tire Racks and Workbench
If you have a garage and tend to use it for something else than just parking your car, you've probably already figured out that your tools and other items need to be well organized for this space to stay tidy!
Storage units are a great way to start, but because every garage is different and some might lack floor space, racking up your storage on the upper part of the walls can be a clever way to save space and multiply your options.
For example, building your own tire rack and fixing it on your wall will free up a lot of floor space, especially if you have two cars and you're in charge of storing your kids' tires between season changes. This free plan from tinktube presents the basics to build your DIY tire rack: start from there and modify it however you want!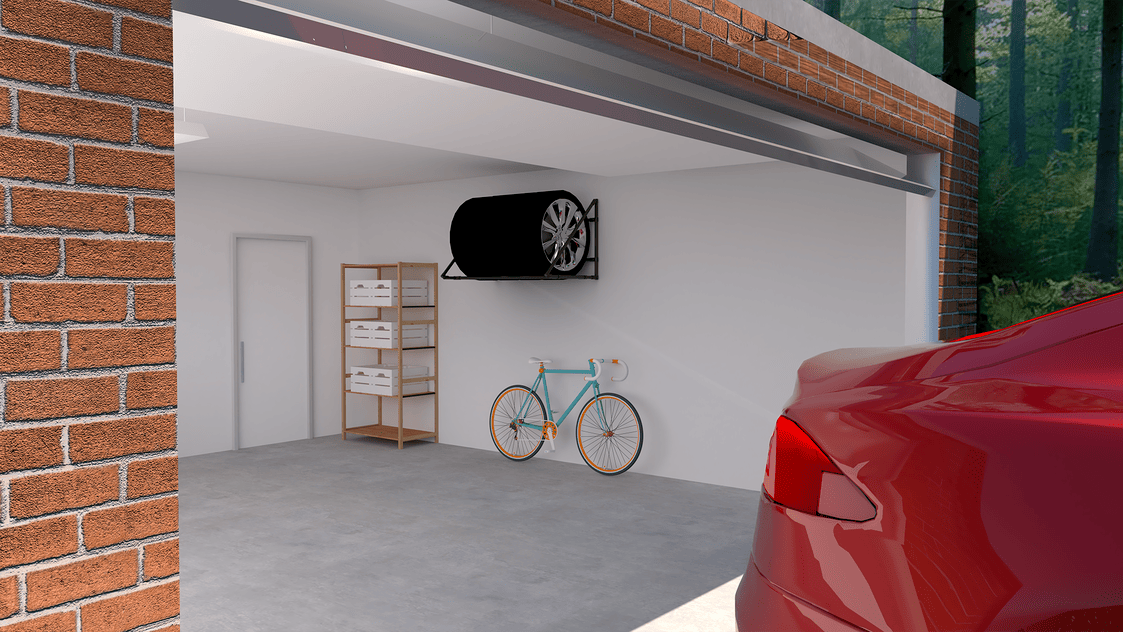 For anyone who likes to work in their garage, a workbench is a very important piece of equipment. Since workbenches AND garages come in many different styles and sizes, the same logic applies: building your own workbench will not only let you adapt the dimensions perfectly to the space available in your garage, it will also allow you to create built-in storage according to your needs.
Why not add a few other functions to your workbench, while you're at it? Two types of surfaces maybe? An integrated shadow board? The choices are yours!