When it comes to converting your van, there are so many things to consider, like what model to choose, installing electricity, and the layout and storage design for your new purchase. But one of the first things you should worry about is how you're going to chill that bottle of rosé for the aperitif.
There are two types of refrigerators on the market that are suitable for campervans. Some people swear by compression refrigerators, while others have never known anything other than absorption refrigerators.
The fridge is a very important appliance for your campervan, so here's a complete guide to help you choose yours.
---
The compression fridge for camper vans
A compression refrigerator is the type you've probably seen most often in your life, but you'll see less often in a campervan. Even though it's less popular than the common type, it doesn't mean it's no good!
Pros
---
No instructions required!
If you're not very handy, going with a compression fridge will save you a few beads of sweat or… a few choice "f" words. All you need to do is connect it to your 12V system, so it's very easy to install.

The other advantage of installing a compression fridge in your camper van is its efficiency. Since this is the same type as the one you have at home, its cooling system is very fast. Unlike an absorption fridge, a compression fridge stays cool, even when the outside temperatures rise.
Consumes less than your brother-in-law.
A compression fridge doesn't consume a lot of energy. In addition, since you don't need a propane cylinder to fuel it, you'll reduce the weight of your camper van considerably.
A small fridge for a small camper van.
Even though a compression fridge is similar to the one you have at home, they are sold in small sizes to fit the space in your campervan. Because, yes, you can install a mini-fridge in your camper van.
Cons
---
Since it's connected to your 12V system, it's dependent on your campervan's battery. If you've planned a vacation on the road, it should be no problem, because your battery is generally connected to the alternator while traveling.
The absorption fridge for camper vans
An absorption refrigerator, also called the three-way refrigerator, is the most common in campers. When it comes time to converting a minivan, most people choose this type.
Pros
---
The reason why campers love the absorption fridge so much is because it's very flexible. It can be connected to a 12V system, an A/C source, or a gas source. You don't need to drive to make it work, and it's perfect for those who spend the summer at the same campsite!
Compared to a compression fridge, an absorption fridge is very quiet. It's less noisy so therefore you'll get more rest during the night, depending on where you've chosen to spend the night!
Cons
---
It's an energy guzzler, but still…
The most efficient way to run an absorption fridge is with gas. However, you'll need a lot of electricity if you choose to run this appliance that way. In addition, the work required to install a gas source might dissuade you.
Where should you install the fridge?
When converting your van, consider a strategic location to install your refrigerator. No matter which model you choose, you'll need it to be accessible, but not the centre of attention.
This location is very useful when you've been driving for only 5 minutes and the children are suddenly hungry! Here is a free plan to build a swivel table for the passenger seat.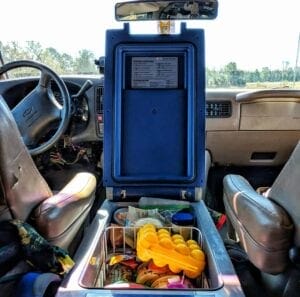 You can slide the refrigerator under a bench. Here's a complete plan to make yourself a bench with fridge storage.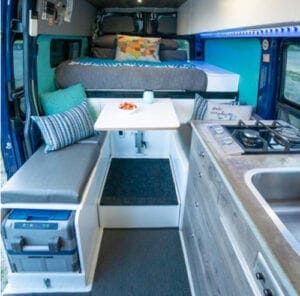 Who amongst us has never had the munchies in the middle of the night? By placing the fridge under a bed, you'll save a lot of space. Here's a free plan to make yourself a bed with storage underneath.
Did you already think of this? The best place to install your absorption or compression fridge is in the kitchen…of course!

When it comes organizing storage in a campervan, every inch matters. Also, by storing food up high, you'll have perfect control over what children eat!
Resources
Here are some other resources that will help you make an informed choice when it comes to choosing the best fridge:
After all, the best campervan fridge is the one that best suits your needs. In addition to considering the model, ask yourself the following questions: How much space do you have? With what type of electricity will you power your camper van? Do you need compartments in your fridge? Which way should the door open?
At tinktube, we'll help you convert your van to maximize space and minimize costs. For more information on other aspects of a van conversion projects, check out the guide we've put together on the subject!