Just imagine the look on your cat's face when they see the catio apartment balcony you built for them. Spoiler alert: THEY. WILL. GO. CRAZY. For cats, having a catio is equivalent to having the ultimate space and freedom to live their best lives. It's the place where they relax, take in the sun, smell the neighbourhood smells and quietly observe the world. And the good news is if you're interested in building your own, you'll be able to create something absolutely spectacular and completely customize it to your environment and your cat's preferences.
To inspire your project, we found astonishing catio ideas from all over the world. But before you start scrolling, here's one thing you need to know: no matter which one of the ideas below you decide to build, you'll be able to reproduce the same structure with the tinktube system. Even better: the only tools you'll need when building with tinktube are a pipe cutter and a T-handle wrench… And you'll even be able to create your whole project in your living room! Intrigued? Start scrolling now!
1. Urban balcony catio
If you live in the city, chances are your cat doesn't get that many chances to play outside. This kind of apartment balcony catio is perfect to give your cat more freedom, without the risks of losing it!
Pro tip: If aesthetics are important to you, you'll want to fix the fencing on the inside of the catio structure. Although more time-consuming, this building technique will give your project more of a finished look, as opposed to fixing the fencing on the outside to save time!
2. DIY apartment catio with tubes and fittings
This idea is brilliant because it makes the most out of the space available while utilizing the balcony's structure.
If you want to create a similar catio, all you need to do is build a square-shaped structure with tubes and fittings and fix it to the balcony.
Then fix high-quality wire mesh to your build… and it's in the bag! In this example, the owner even thought of including a window at the bottom of the fence, which is a very considerate move!
3. Colorful catio with roof
Adding a roof to your DIY catio is a smart way to improve your cat's safety. Providing shade will ensure your pet stays comfortable – even when the sun hits!
Catio roof material options are numerous. Among them :
Rib steel roof paneling
Polycarbonate roof paneling
Corrugated galvanized steel roof paneling
4. Catio for apartment window
Fixing a catio around your apartment window is always a good idea.
Why? It's much easier to let your cat out – all you have to do is open the window – and it's also easier to keep an eye on your tiny feline.
This catio idea brings together several interesting attractions:
3 levels that will allow your cat to happily jump from one floor to another.
Wooden platforms, ideal when a catio is exposed to the sun – this surface will not become as hot as metal, so your cat's paws will be spared!
Tree branches, which can become a natural climbing element or a perfect scratching post.
5. Simple customizable catio
This catio's main benefits are that it's simple, easy to build with tubes and fittings and entirely customizable.
Start by creating a cage structure. Create a door by building a square-shaped tubing form and adding tinktube's quick-release latch to it, to easily close or open the door.
You can also add levels or a roof if you want. Add wire mesh all around it and place your catio wherever is best for your cat!
6. Tiny DIY catio
It's another simple design, but what's interesting here is:
You can literally place a window catio like this one anywhere, whether you live in a big apartment building or a house… You don't need a patio!
2. Since it's so simple and easy to build, it won't be as expensive to create -and you'll be able to add levels, tree branches or other features to it; your cat won't see the difference!
3. The white color of the structure will help it to keep a reasonable temperature (compared to black, which quickly becomes hot in the sun)!
If you are looking for white tubes to build your catio, you'll find some here.
You'll also find everything you need to build your whole catio on tinktube's shop!
PS: If you live in a huge apartment building like this one, make sure your cat is not afraid of heights.
7. Samuel's wood and steel tubes catio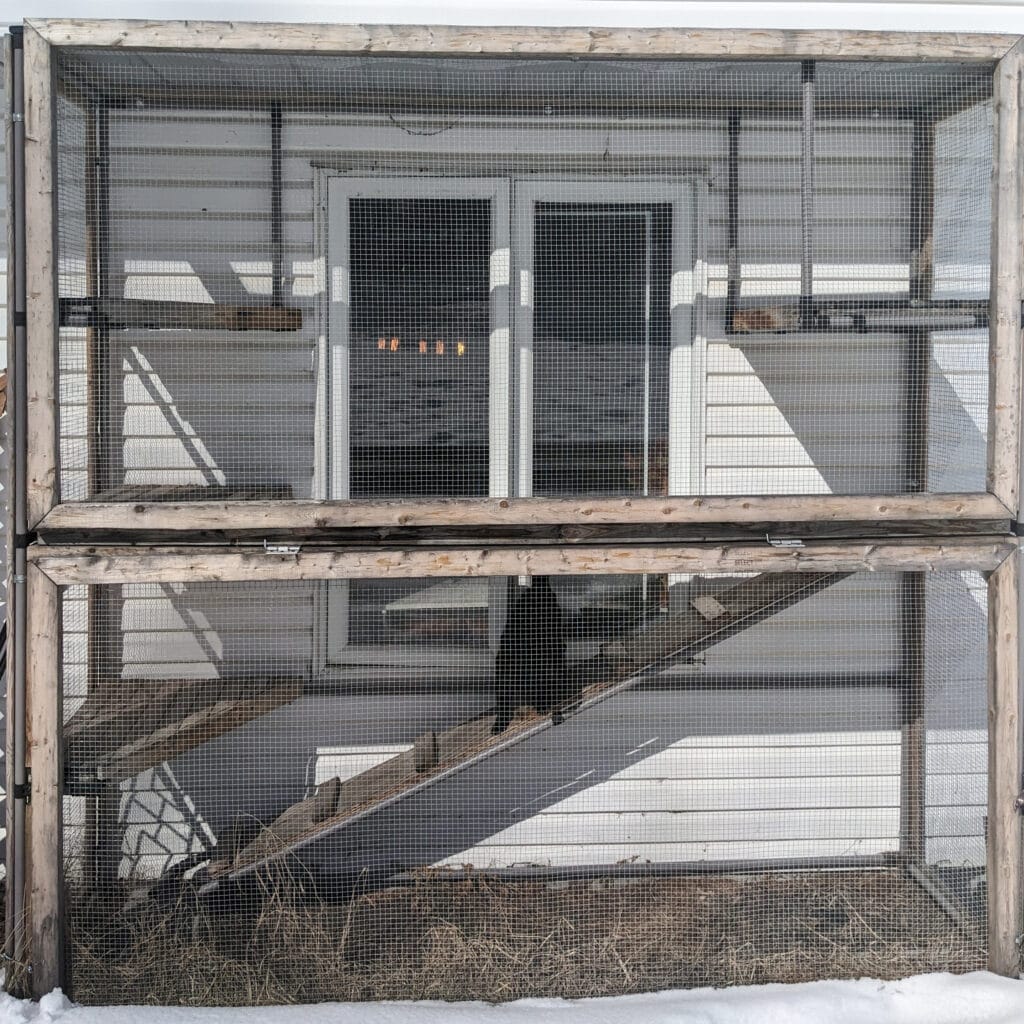 Samuel's cat, Bob, is a big fan of the outdoors. Samuel decided to build his furry friend the playground of his dreams to give him unlimited access to play outside. He created a DIY, multi-level catio made of steel tubes and wood!
Samuel designed the whole project with his cat's favorite activities in mind: jumping, climbing and soaking up the rays.
Bob will be able to climb and jump up and down the different levels and get as much sun as he likes, thanks to this awesome DIY project!
8. Brent's DIY catio
Brent, an avid member of tinktube's DIYers community, recently completed this impressive project for his beloved feline companion. This ingenious structure was entirely custom-built to cater to his cat's outdoor needs while ensuring its safety.
Using sleek black pipes and fittings, Brent skillfully crafted a sturdy frame, and then cleverly incorporated wire mesh to fill out the structure, effectively transforming it into a spacious and secure cage.
Now, his furry friend can bask in the sun and enjoy the sights and sounds of the outdoors, all while being protected from potential hazards.
Brent's DIY catio has not only enriched his cat's life but has also inspired fellow community members to embark on their own creative pet-friendly projects.
Apartment balcony catio = cat paradise
No matter what kind of catio you build for your apartment balcony, remember to place a bowl of water -especially on hot and sunny days if there is no roof to cover the structure-, and add any kind of accessories that could make it even more like your cat's paradise (tree branches, levels, toys…)!
And if you decide to build your project with pipes and connectors, PLEASE, send us pictures at [email protected]. We'd love to share your build with the DIY community! Talking about community, we'll end this article with some other DIY project ideas coming directly from DIYers like you. Cheers!
Here's what you need to build the perfect firewood rack: a DIY plan!