The holiday season is upon us! It's the perfect time to let your creativity run free with unique and exciting DIY Christmas project ideas.
As the holiday season promises to be different this year, why not add a little magic to your holidays by making your own decorations? Christmas trees made of tubes and connectors, various types of outdoor decorations… name it! Discover exciting DIY projects that will get you right in the Christmas spirit.
---
1. Clément's DIY outdoor star decoration built with pipes and connectors
Clément built a homemade outdoor Christmas decoration using tubes and connectors and shaped it into a star. He designed the plan himself then built his project, which he placed in front of his house and decorated with lights to make it more visible! Awesome idea!
---
2. DIY gifts structures to decorate and use as outdoor decorations
If you're looking for the perfect DIY Christmas outdoor decorations, tinktube has got you covered. These gift structures are quick and easy to build, easy to personalize -choose the color and decorate the gifts with lights, bows and whatever you want. It's also easy to disassemble after the holidays!
Interested in building this Christmas gift structure? Here is the free plan!
---
3. DIY wall-mounted Christmas tree with tubes and connectors
If you live in a smaller apartment, this project will help you keep up with the magic of Christmas without taking up too much space! Get a Christmas tree at home, no matter how much space you have.
Choose the color of pipes and fittings that best fit your home decor, then decorate your tree however you like!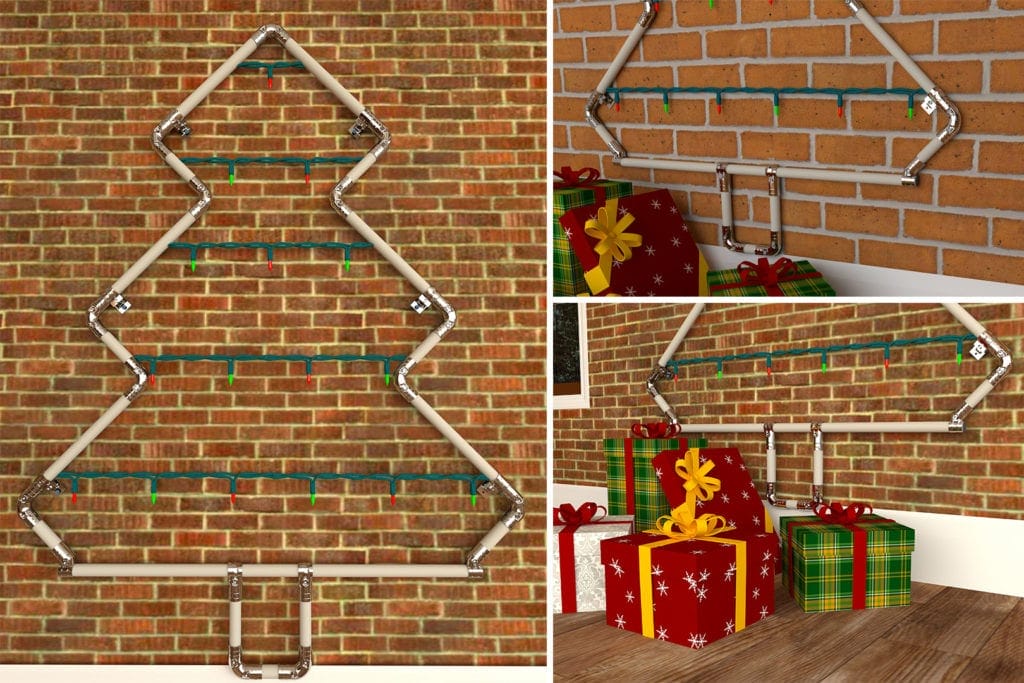 ---
4. Anne-Gabrielle built an actual DIY 3D Christmas tree with pipes and connectors!
Anne-Gabrielle's DIY Christmas tree is not only unique, it's an awesome project that can be decorated in various ways. The tree can also be disassembled and used many times, or the tubes can be used to create other projects when the Holidays are over!
---
5. DIY Christmas tree to brighten up a youth center
Just like the project we saw before, this DIY Christmas tree was made with pipes and fittings. It was specially built to decorate a youth center for the holiday season. A very beautiful DIY project, original and modern! We're sure they all enjoy it!
---
Adapt this project with the tinkpad!
Draw your project with this free printable tool which includes an isometric grid and our best tips to get started.