Working out from home is a great way to stay in shape, especially when the colder weather strikes! Esteban loves biking, that's why he built a DIY bike trainer project, which he:
Customized to fit his own bike;
Used to workout inside, all year round!
Created with the color of tubes and fittings that best fit the home environment.
---
Important: Esteban's project is a prototype.
Since this project can be complex to build, we recommend you do some research ahead to make sure you're able to customize it to fit your own bike. tinktube is a building material: this project is not a pre-made kit, which means you'll have to cut the tubes yourself and figure out how to build it. The video below explains how Esteban built his.
PS: Before building any tinktube project, you should understand how to measure the loading capacity of your structure.
---
Come along for the ride as we build an indoor bike trainer to stay in shape and beat those winter blues!
---

What Esteban used to build the project:
Important: Some parts of this project are not sold on our online store. The build requires a pair of bike pegs that can be purchased online. To build our bike trainer, we ordered a pair for 3/8″ wheel axle (different bikes, different types: we recommend you verify which pegs suit your wheel).
These items are also essential to build the project. They can easily be found at your local hardware store, or online: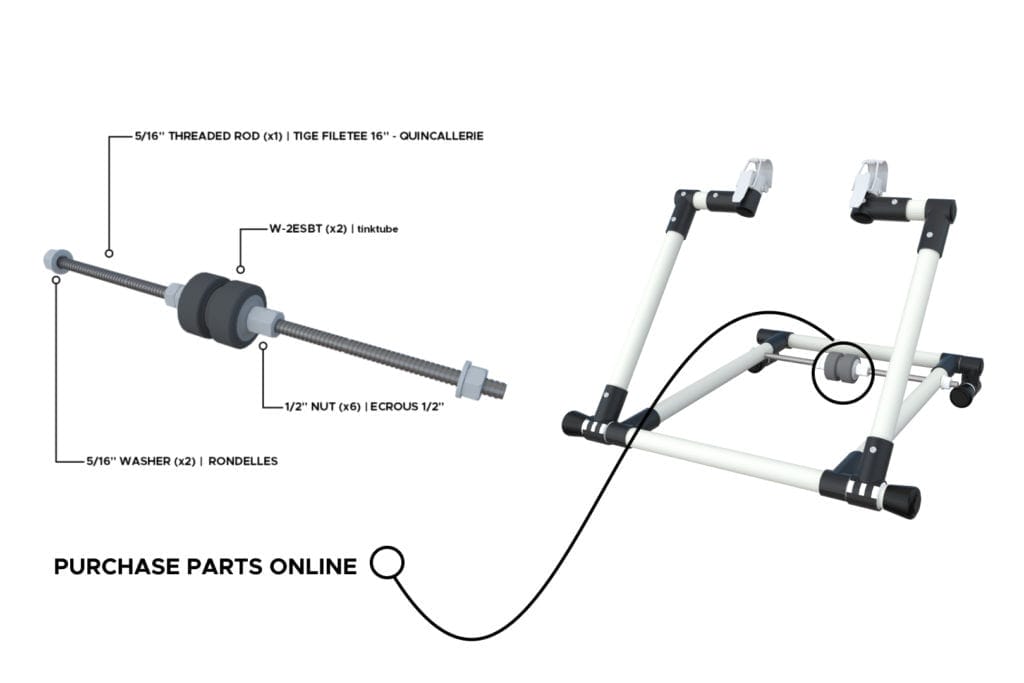 ---
The rest of the parts can be bought on our online shop :
---
The cut list
Once you get all the parts, you'll need to cut the tubes before building the project. Esteban used tinktube's T-Cutter to cut the pipes.
Here's the cut list:
| Qty. | Length (inch) | Length (centimeter) |
| --- | --- | --- |
| 1 | 20″ | 50.8 cm |
| 1 | 17″ | 43.18 cm |
| 2 | 15 3/4″ | 40.005 cm |
| 2 | 12 1/2″ | 31.75 cm |
| 2 | 2 3/4″ | 6.985 cm |
| 2 | 2 1/2 | 6.35 cm |
| 2 | 2 1/4 | 5.715 cm |
---
The build (the fun part)
Once all the pipes were cut and he gathered all the connectors, Esteban built his DIY bike trainer!
FIY, the tinktube joint sets are assembled with bolts that require one of the following tools -you might also have this at home-:
---
4. Now, time to work out and use this DIY bike trainer!
---
So here's how Esteban built his DIY bike trainer! If you're looking for more inspiration to work out at home, take a look at these other creative DIY gym project ideas. ??
Adapt this project with the tinkpad!
Draw your project with this free printable tool which includes an isometric grid and our best tips to get started.