Dear fellow toy-taming wizards and playtime maestros, picture this: your little one's playroom is a magical land of fun, laughter… and a tad bit of toy tornado chaos. We get it – while the joy of play knows no bounds, the post-play clean-up dance can be a real head-scratcher. Now, you might be wondering, "Do I need an advanced degree in engineering to build a DIY toy storage wonder myself?" Enter the world of tinktube's building system – the superhero sidekick of our toy storage dreams.
Our genius combination of pipes and connectors will make building these nifty storage solutions as easy as pie. No rocket science or befuddling instructions, we promise! Just playful creativity, laughter, and a sprinkle of magic. So, if you've ever dreamed of transforming a playroom into a tidy wonderland, or if you simply wish to show those scattered toys who's the boss in a friendly way, this article is your backstage pass to playtime utopia.
Get ready for DIY adventures that'll have you and your little rascals giggling and bonding over toy-tidying missions like never before. Gather your creative capes, wield those tools of crafting glory, and let's make toy storage dreams come true! Dive into a world where toys find their homes, and the mess bows down to our DIY wizardry. Ready, set, tinker away! 🪄✨
1. DIY toy storage rack
This toy storage masterpiece combines both functionality and style – a creation that can easily be replicated using the ingenious tinktube building system.
Our DIYer opted for sleek black pipes and connectors as the backbone of the rack, adding three sturdy shelves to the structure, and embracing creativity by integrating three additional levels of versatile baskets seamlessly into the rack.
The DIYer also equipped the rack with wheels, adding an element of practicality to the equation! It can now easily glide across the playroom floor during clean-up time. With a touch of elegance and a dash of smart engineering, this DIY creation has not only conquered sports equipment chaos but has become a statement piece in its own right!
2. DIY lego table
Maximizing the playroom's storage options is an excellent way to make it easier for parents to put everything back in place after a fun afternoon. With its simple design, this table is easy to build. You can either adapt the dimensions to fit your own environment or create your project following the exact plan below!
3. DIY pool toy storage
This brilliant DIY pool toy storage solution was crafted with the versatility of PVC pipes. However, as a visionary DIYer, you may contemplate an alternative path – envisioning this storage marvel with sleek steel tubes and connectors instead.
The allure of steel lies in its contemporary and elegant appearance, promising a poolside statement piece. Moreover, the steel alternative ensures a sturdier and more long-lasting structure, capable of enduring the whims of the elements and the high-spirited play of poolside adventures.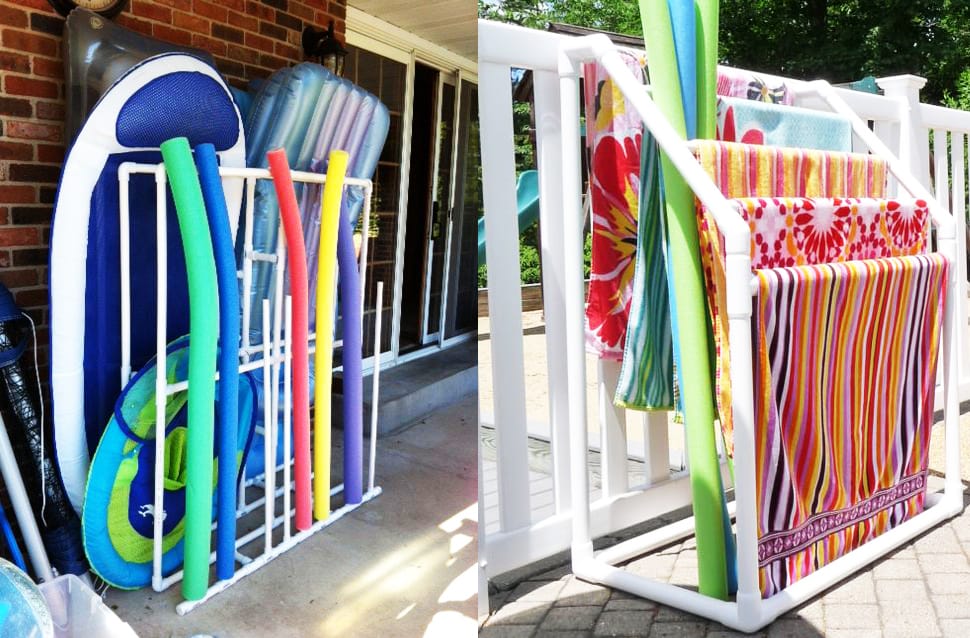 4. DIY outdoor toy storage shed
This DIY outdoor toy storage solution was tailored with a meticulous eye for detail. Our DIYer crafted a custom-sized rack that seamlessly fits within the confines of his shed. A touch of practicality and foresight emerged in the design as he cleverly included an inclined shelf, ensuring that retrieving rolling balls would be a breeze.
To keep those lively spheres securely in place, he positioned a pipe at the base of the shelf to act as a barrier, preventing any accidental escapes!
5. DIY sports equipment storage
Designed with practicality and adaptability in mind, this ingenious creation offers the perfect solution for organizing sports gear and toys alike. From action figures to rackets, plush toys to boxing gloves, everything finds its rightful place in these custom compartments, making clean-up a joyful breeze. You can transform this storage rack effortlessly to meet your needs, a testament to the fusion of practicality and playful creativity!
6. Wall-mounted toy storage shelves
Transforming the unused corners of your room into a functional and stylish haven has never been easier with DIY toy storage shelves like these ones. You may not even have to buy material to create the shelves: give a new lease of life to old materials like salvaged wood from an old table or reclaimed shelves from discarded furniture!
By integrating tinktube's pipes into the design, you'll create a sturdy and customizable shelving system perfect for organizing toys. The joy of upcycling will breathe new life into forgotten treasures and transform them into a delightful display of imagination and playfulness!
7. DIY bathtub toy storage ideas
Say goodbye to bathtub toy chaos with this brilliantly simple idea. Imagine effortlessly taming the sea of toys that often floods the bath area with a clever solution. By fixing a steel pipe to your bath's structure, you create an horizontal storage wonderland just waiting to be utilized.
Hang a series of baskets on the pipe, and voila! For added durability and aesthetic appeal, consider using painted pipes that have more resistance to rust, ensuring your bathtub toy storage remains in tip-top shape for countless playful splashes to come.
8. DIY closet organizer for toys
This DIY closet organizer for toys is a brilliant and innovative project that was meticulously designed and crafted to perfectly fit the dimensions of the wardrobe it was intended for.
With creativity and practicality in mind, the organizer features a variety of compartments ans shelves, all strategically placed to accommodate an array of toys —or in this case, sheets and pillows, and keep them in their designated places. The materials used are sturdy and durable pipes and connectors, ensuring longevity and withstanding the playful energy of young ones.
This thoughtful construction not only maximizes storage space but also adds a touch of charm to the room, enhancing the overall aesthetic appeal.
This DIY closet organizer is a testament to the power of personalized solutions in creating an organized and delightful space for the whole family!
7 Tiny House Clothing Storage Ideas
The focus of this article is to provide you with inspiring ideas for clothing storage in tiny houses and to help you organize your belongings in a small space!
9. DIY toy storage for living room
This DIY toy storage for the living room is a brilliant and practical solution for managing the clutter of toys while adding an industrial-chic touch to the space!
Crafted using sturdy steel pipes and connectors, the design allows for a versatile and customizable approach to shelf placement, catering to the DIYer's unique preferences and needs. The minimalist yet functional concept not only provides ample storage but also serves as a statement piece in the room.
For those seeking a more playful look, the possibilities are endless—colored pipes could be incorporated, and even a coat of vibrant paint could transform the storage unit into a fun and eye-catching addition to the living room decor!
This DIY toy storage exemplifies the fusion of creativity and utility, proving that with a little imagination, you could create a stylish and efficient storage solution for the entire family to enjoy!
10. Wall-mounted toy storage DIY
This toy storage furniture concept is absolutely impressive: it combines pipe shelf with toy storage bins and shelves to create a solution that can tame the chaos of scattered toys in any home!
Engage the kids in the cleanup routine each night by storing their most frequently used toys in the lower bins. It's an efficient and stylish way to keep the house organized and clutter-free!
If you'd like to build this project, we've got a similar free plan to help get you started.
From clutter to charm: Creating magical playrooms with DIY toy storage!
Gone are the days of befuddling instructions and complicated engineering feats; with a genius combination of pipes and connectors, crafting your storage solutions has never been easier. In your DIY wonderland, creativity takes center stage, and the joyful process of tidying becomes a delightful adventure. No longer will you find yourself dreading the clutter : you now possess the power to transform your little one's playroom into a tidy wonderland.
With tinktube's building system as your ally, you have the backstage pass to playtime utopia, where toys find their rightful homes, and the mess bows down to our DIY wizardry. So, embrace the joy of playful creativity and sprinkle magic across your kids' playroom!
Here's what you need to build the perfect firewood rack: a DIY plan!