In a garden, trellises have two functions: they serve both practical and aesthetic purposes. Are you looking for a simple and affordable way to add some vertical space to your raised garden bed? Look no further than a DIY trellis! With just a few basic materials and some creativity, you can create a trellis that supports your plants and adds aesthetic appeal to your garden.
In this article, we'll explore some easy DIY trellis for raised garden bed ideas that you can customize to fit your specific needs and style preferences. Whether you're a seasoned gardener or a novice, these trellis ideas are sure to elevate your garden game!
1. How to build a trellis for raised garden bed
No matter the type of climbing plants you'll grow, this free plan project can be adapted to any environment. You'll be able to customize the dimensions of your trellis and customize other aspects too (choosing the type of tubes -tinktube's or EMT conduit-, the connectors and more)! For outdoor use, just remember to protect your trellis and not use galvanized pipes to avoid rust.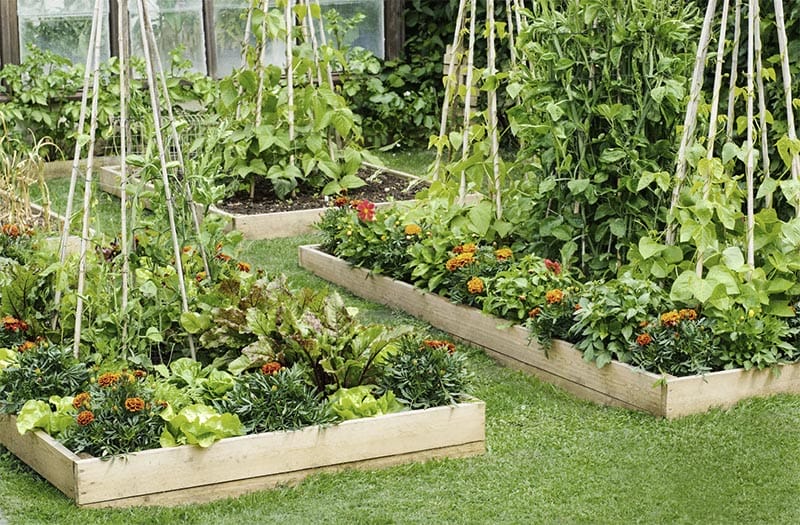 2. DIY trellis for raised garden bed
Teepee garden trellises are versatile structures that can support various plants like beans, cucumbers, squash, tomatoes, peas, and ornamental flowering vines.
To make a durable teepee trellis, gather steel tubes, cut them about 6 to 8 feet tall and fix then at the top. It's as simple as it gets!
3. Metal arch trellis
Nicole Burke, the founder of Rooted Garden and Gardenary, tried various bamboo and wooden trellises in her garden designs. Unfortunately, she wasn't happy with their tendency to collapse under the weight of the vines, which led to frequent replacement.
She eventually switched to using metal trellises… and never looked back! You can bend metal tubes yourself to replicate this type of project. Check out this article to learn how to bend EMT conduit or steel tubes!
4. Heavy-duty trellis
There are many choices of trellis materials out there. But when it comes to building a heavy-duty trellis, wood and metal are the most popular options. When built and protected properly, trellis made of wood or metal can withstand all kinds of weather – and for way longer than plastic trellis!
To learn everything you need to know about building heavy-duty DIY trellis, check out this complete guide.
5. DIY ladder trellis
A DIY ladder trellis project built with steel pipes and connectors is a great way to add a decorative element to your garden or backyard. This type of trellis is not only easy to build, but it can also be replicated to fit any space or design you desire -in a raised garden bed or not-.
One added benefit of this project is that it can be anchored into the walls with tinktube's structural anchors (Structural anchor metal bk), making it a sturdy and secure addition to your outdoor space.
With only some basic DIY skills, you can have a beautiful trellis in no time!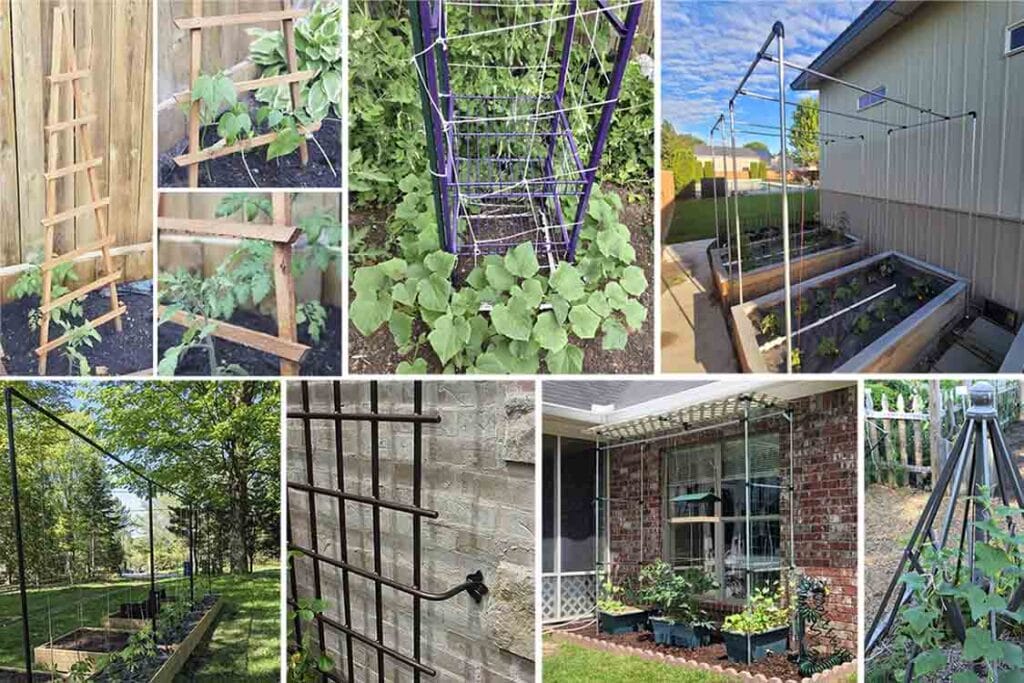 Looking to build a cucumber trellis?
This post presents the BEST cucumber trellis DIY ideas we found!
6. Small trellis for raised garden bed
A DIY project like this is not only cost-effective but also a great way to personalize your garden. To create this type of structure yourself, you can use wood for the box and steel tubes for the frame of the trellis.
The trellis netting can be easily attached to the steel frame, creating a sturdy and reliable support system for your plants. With this small trellis, you can now enjoy watching your climbing plants grow healthy and strong, while also adding a more finished touch to your garden!
7. Kevin's DIY tutors and trellis
Kevin's project is a DIY raised bed garden with tutors made of steel tubes and connectors. What sets this project apart is the versatility of the tutors, which can easily become trellises by simply adding trellis netting and fixing it to the structure of the tutors.
Thanks to the incredible strength of steel tubes, the weight of climbing plants can easily be supported without bending or breaking the structure. With this design, you can create a garden that is not only beautiful but also functional. So why not give it a try and see what kind of results you can achieve? Whether you're an experienced gardener or just starting out, this project is sure to impress and provide you with a bounty of fresh produce!
Build your own tomato trellis
Check out this inspirational content:
8. Tower cucumber trellis for raised garden bed
By constructing a taller structure, you can effectively maximize your crop yield and conserve ground space. If you're seeking inspiration for a durable and secure DIY trellis you'll be able to install on your raised garden bed, look no further. The key to success lies in firmly anchoring the steel tubes into the ground as the initial step.
Duplicating this type of structure is easy. You'll need only a few tubes and the right connectors.
Once you've built your project, the subsequent step involves reinforcing the foundation of the trellis by incorporating triangular or square-shaped steel tubes into each leg, depending on the height of the structure!
9. High trellis for raised garden bed
A DIYer from tinktube's community took on this project. He designed and created a trellis that was specifically tailored to accommodate high plants. He used sturdy materials, such as pipes and connectors, and anchored it securely into the ground. He made sure that the trellis would be high enough to allow for the growth of taller plants while still being stable and strong enough to withstand outdoor weather conditions.
10. Ideas for raised garden bed with trellis: EMT conduit
This example is a raised garden bed with a trellis that was built using EMT conduit and conduit connectors. The trellis was designed to support climbing vegetables such as cucumbers, beans, and tomatoes, allowing them to grow vertically and freeing up space in the garden bed.
For the raised garden bed itself, we recommend cedar planks, which are naturally resistant to rot and insect damage.
11. Minh's DIY trellis
Minh used tinktube's building system to create a DIY trellis for raised bed gardens.
"I had a wood trellis for squash which only lasted around three years." To build a trellis that would last for a longer time, Minh did a lot of research and came across tinktube. "The delivery was fast -within a week- and all the items were organized and labelled. The material is easy to work with and good quality. It took me less than 2 days to finish my project."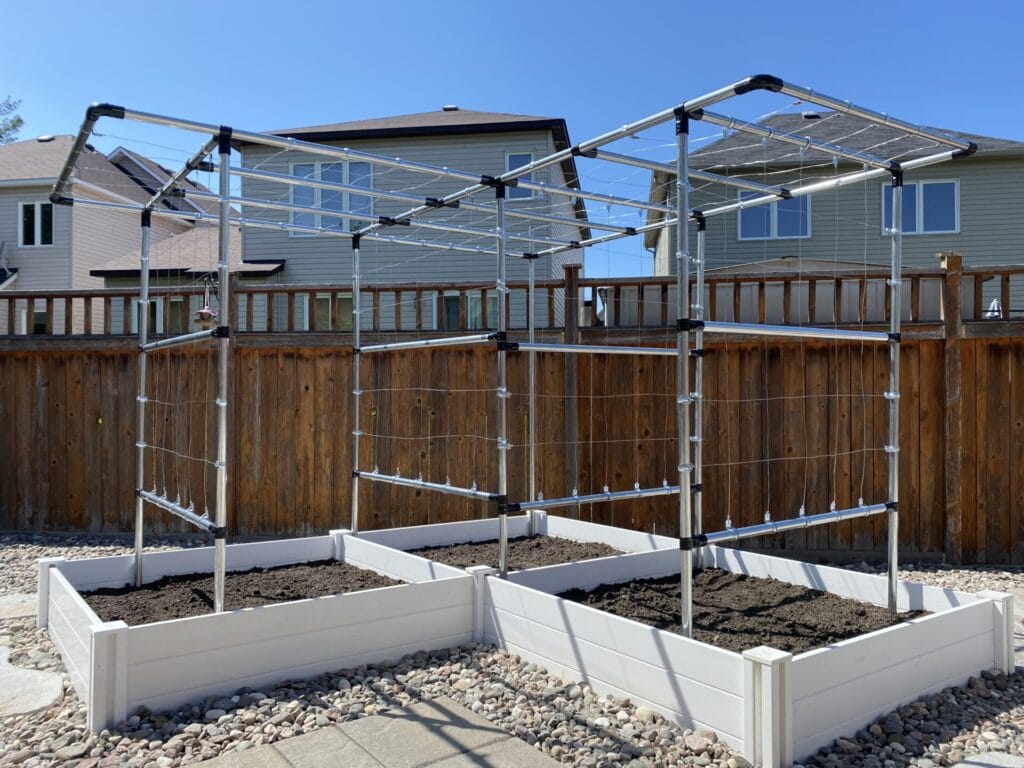 DIY trellis for raised garden bed: Get inspired and create!
In conclusion, if you're looking for an easy and affordable way to add some vertical space to your raised garden bed, a DIY trellis may be just what you need. With a variety of materials and design options available, you can create a customized trellis that meets your specific needs and adds visual interest to your garden. From EMT conduit to cedar planks, the materials you choose will determine the durability, functionality, and overall look of your trellis.
By using tinktube's building system, you can ensure that your trellis is anchored securely into the ground and built with sturdy materials, providing a stable structure for your climbing plants. With some creativity and a little DIY know-how, you can easily elevate your garden game with a beautiful and functional trellis!
Here's what you need to build the perfect firewood rack: a DIY plan!