Whatever you heard through the grapevines, here is the absolute truth: building your own grapevine trellis is not only a rewarding endeavor but also a remarkable opportunity to unleash your creativity and personalize your outdoor space. The prospect of envisioning your grapevine gracefully scaling a sleek and custom-made structure that you constructed with your own hands is undeniably enticing. Picture it transforming into a captivating natural shadow arch, a functional fence, or even a charming privacy wall.
The sense of accomplishment and pride that would accompany such a masterpiece is immeasurable. So, if you're ready to embark on a journey of grapevine trellis DIYs that defy convention and inspire ingenuity, you've come to the right place. In this article, we delve into innovative and unconventional ideas, equipping you with the knowledge and inspiration needed to create a grapevine trellis that reflects your unique style and aspirations. Get ready to explore a world where whispers of extraordinary DIYs become a reality in your very own backyard!
1. DIY trellis for grapevine
If you're looking to build your own trellis, you won't need much more than a few steel pipes and connectors once you've discovered tinktube. This is what Ruth used to create this structure, except she chose to work with EMT conduit and tinktube's EMT connectors.
If you're interested in building with EMT, check out this complete guide!
2. Backyard grapevine trellis
Also built with tinktube, this DIY trellis for raised garden beds perfectly illustrates how easy it is to build heavy-duty projects with steel tubes and connectors. It has been designed and built by Minh, a new member of the community, as his first project using our system.
He used different types of black joint sets as HJ-1 (often referred to as t-connectors) and HJ-90. He also added what seems to be a metal wire to his trellis to create the netting, a durable, hard-wearing option!
3. Long arch trellis
Even though this particular example does not originate from the tinktube community, its captivating beauty is simply impossible to overlook. This magnificent arch boasts an exquisite design that appears to have been meticulously crafted using durable steel tubes and expertly assembled connectors.
Enhancing its allure, a woven wire netting envelops it entirely. The remarkable effectiveness of this design becomes evident as climbing plants have gracefully embraced the arch, gradually entwining themselves around its sturdy framework.
Presently, the thriving foliage sprawls across the entire structure, transforming it into an enchanting centrepiece that adds an unrivalled charm to any backyard!
4. Grapevine support trellis
This intelligently designed powder-coated steel trellis is versatile: it offers a splendid framework for the cultivation of vibrant vine plants and bountiful vegetables.
As for the raised garden box, it was crafted with meticulous attention to detail, from reclaimed pine pallets. Each individual piece possesses its own distinctive character, showcasing the inherent beauty of the wood's natural imperfections and grain patterns.
As an added benefit, this planter with a trellis for climbing plants serves a dual purpose by acting as a splendid privacy screen, effectively shielding you from the prying eyes of your neighbours!
5. Grapevine trellis designs
The placement of your garden structure is heavily dependent on the design of your trellis and the desired shade areas within your backyard. For optimal sun exposure and to prevent overshadowing neighboring garden spaces, it is advisable to align the orientation of the trellis lengthwise from north to south.
This configuration ensures maximum coverage of sunlight, allowing your plants to thrive under its nurturing rays. However, if your intention is to create shaded areas, it is recommended to position the trellis lengthwise across the path of the sun you wish to block!
6. Bent tubes trellis arches
Once you've mastered the art of bending steel tubes, this kind of project is as simple as it gets! You won't need any connectors and you could just anchor the bent poles directly into the ground, as long as you're able to push them down deeply enough to make the structure safe.
Another option: building a base out of more steel tubes and connectors to stabilize each arch, at both sides.
7. Grapevine trellis height
The primary objective of a trellis is to provide support for the grapevines, promote proper airflow, and facilitate sunlight exposition to enhance fruit development. A height of 5 to 6 feet allows the vines to grow vertically, aiding in efficient canopy management and reducing the risk of disease and pest infestations. It also facilitates easier access for maintenance tasks such as pruning, training, and harvesting.
Although the best height for a grapevine trellis varies depending on various factors, including the grape variety, local climate, and desired vine training method, a commonly recommended height range for grapevine trellises is between 5 to 6 feet or 1.5 to 1.8 meters.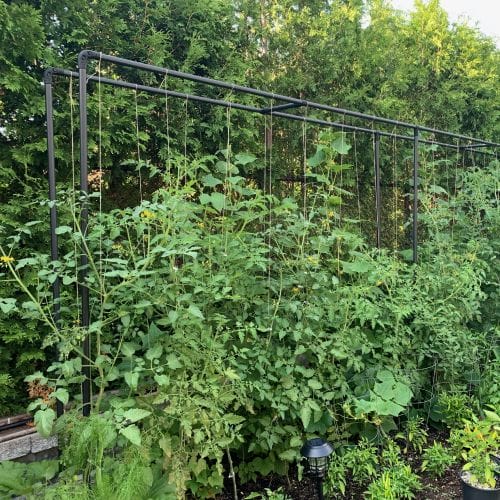 8. DIY pergola — and trellis!
Embark on an exciting DIY adventure by constructing your very own pergola combined with a trellis, a project that offers both functionality and aesthetic appeal. With the use of sturdy steel tubes and connectors, this DIY masterpiece is well within your reach.
To provide a comfortable shaded area, the roof of the pergola can be ingeniously fashioned by placing the steel tubes approximately 1 or 2 feet apart. This strategic spacing allows ample room for the grapevines to flourish, intertwining their luscious foliage to create a serene and cooling shade, as shown in this example.
By embarking on this DIY journey, you can create a captivating outdoor haven that adds charm to your space and provides a peaceful retreat, bathed in the gentle whispers of nature.
9. Grapevine trellis DIY
This structure is easy to build. When it comes to setting the trellis' posts in the ground, there is a general rule to follow for optimal stability. Approximately one-third of the total post length should be placed below the ground level, while the remaining two-thirds should rise above it. To determine the depth of the hole required, simply divide the height of the post by one-third!
10. EMT conduit trellis arches
These small arches were built with connectors and EMT conduit. They are the perfect fit for any kind of grapevines, whether you plan on growing Chardonnay, Cabernet Sauvignon, Pinot Noir, Riesling or Sauvignon Blanc!
This design can be adapted to any dimensions you need, depending on the space you have or the type of grapevine that grows on it.
Crafting a Chardonnay oasis with extraordinary grapevine trellis
We explored innovative ideas that push the boundaries of what a grapevine trellis can be. From unconventional designs to creative techniques, you now possess the knowledge and inspiration needed to embark on your own grapevine trellis journey. It's time to unleash your creativity, embrace the whispers of extraordinary DIYs, and turn your backyard into a haven of beauty and functionality.
Remember, building a grapevine trellis is not just about the end result; it's about the process and the sense of accomplishment that comes with creating a DIY project. So, gather your tools, let your imagination soar, and make your grapevine trellis dreams a reality. Your backyard will be transformed into a breathtaking oasis that reflects your personal style, and now, armed with these ideas, you have the power to make it happen. Happy building!
Chuck built a custom boat frame for his 14' heavy duty rigid inflatable.