The classic IKEA Billy Bookcase – a trusty companion in countless homes worldwide. We all adore its simplicity, but what if we told you that we could sprinkle a bit of tinktube magic and transform it into something even more enchanting: a customized bookcase that's designed and adapted to suit your own environment, taste and needs?
tinktube is like the fairy godmother of furniture hacks, and it's here to wave its wand and whisk your Billy Bookcase into a world of personalized wonder. In this whimsical article, we'll unveil 5 captivating hacks that will leave your bookcase with a touch of DIY charm and a dash of modular elegance!
1. Mobile Billy – Wheels of wonder
How can I make my IKEA Billy Bookcase mobile with tinktube?
If our Billy Bookcase yearns for a change of scenery, imagine the delight of being able to roll it through your living room, study, or bedroom, exploring every nook and cranny of your kingdom. By adding tinktube wheels to your project, this dream can become a reality! Once you've embraced the idea of a mobile Billy Bookcase, you'll find yourself reaping a treasure trove of benefits. Let's delve deeper into the magic and wonder of this transformation.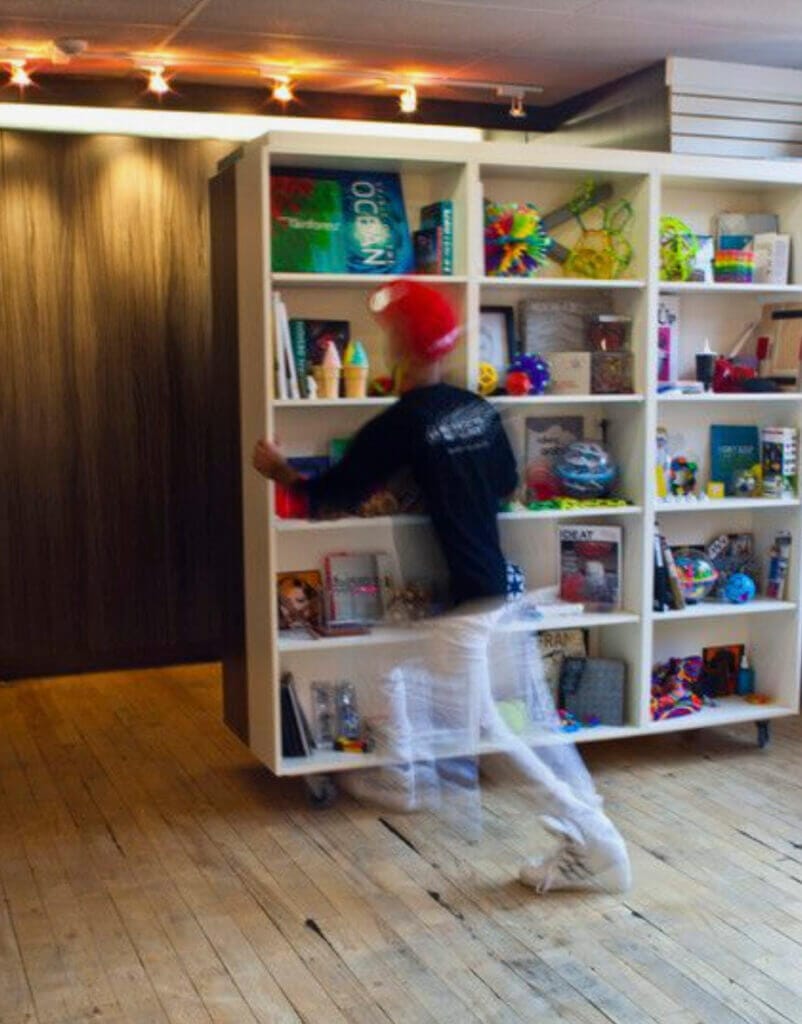 The power of mobility
The ability to move your bookcase freely comes with a delightful sense of liberation. Say goodbye to the days of lugging heavy furniture or struggling to clean those hard-to-reach spaces behind your bookcase. When your bookcase is on wheels, you can effortlessly glide it from one room to another, making cleaning and rearranging a breeze.
Being able to rearrange your home on a whim, without breaking a sweat, is also an interesting benefit of adding wheels to your project. It allows you to experiment with various layouts and configurations, giving your space a fresh look whenever the mood strikes. Whether you're hosting a gathering, setting up a home office, or simply craving a new atmosphere, your mobile bookcase becomes a versatile companion in your design adventures!
Inspiring creativity
Perhaps the most magical aspect of a mobile Billy Bookcase is how it can inspire your creativity. Use it as a temporary room divider, a moveable library, or even a display for your ever-changing collections. Your imagination is the limit, and the possibilities are boundless.
2. Extended shelves – a grand expanse
What are innovative ways to transform IKEA furniture using tubes and joints?
As perfect as it may be, your bookcase may leave you longing for more space. It's in these moments of aspiration that tinktube steps in. With a few tubes and connectors, you'll be ready to expand and elevate your bookcase to new heights! Say farewell to cramped shelves and limited storage, and let's explore the wondrous world of extended shelves with tinktube's system.
Extending the realm of your bookcase
The ideas above show you how you can grant your Billy Bookcase wider and sturdier shelves, offering a grand expanse for your beloved tomes and enchanting trinkets. The benefits of this transformation are as delightful as they are practical. One of the most charming aspects of extending your shelves is the seemingly limitless space it provides. Your beloved books and collectibles need no longer be confined to overcrowded shelves. With tinktube, you can add additional shelves or elongate the existing ones, ensuring that every treasured item finds its special place.
Another key advantage of using tinktube to extend your shelves is the added stability it brings. These pipes and connectors are known for their durability, which means your newly expanded shelves will not only be more capacious but also more reliable. No more worrying about sagging or wobbly shelves; you can trust that your cherished items will be secure.
Personalized shelves and bookcase
Every book or decor enthusiast dreams of having a personalized showcase. With tinktube's help, your IKEA Billy Bookcase can be transformed into a true reflection of your personality. Customize the height of your shelves to accommodate taller items, or create a multi-tiered display that showcases your collection in an eye-catching way.
We created a free plan to show you how to build your own shelving system, which could include a bookcase section if you need it. Check it out!
3. Customizable shelve designs with hanging sections
Your IKEA Billy Bookcase is more than just a bookcase; it's a canvas waiting for your creativity. If you've ever wished for more versatile storage options, adding hanging sections to your DIY project with the help of tinktube's components is your key to unlocking a world of organization. By incorporating hanging rods or hooks, you can transform your bookcase into the ultimate storage solution, with benefits that extend far beyond conventional shelving.
Versatility at its finest
One of the most enchanting aspects of adding hanging sections to your bookcase is the versatility it brings to your storage space. It's no longer confined to a fixed arrangement of shelves. With tinktube components, you can create a flexible, dynamic system that adapts to your specific needs.
Hanging sections allow you to maximize the use of vertical space. You can hang bags, hats, or decorative items, utilizing the previously unused air above your shelves. This not only creates additional storage but also adds an extra dimension to your bookcase! Say goodbye to cluttered surfaces and overcrowded closets. The addition of hanging sections with tinktube components provides a designated spot for items that often linger around the house. Hang your bags, scarves, or hats on the hooks for easy access, and let your bookcase serve as a stylish, clutter-reducing companion.
Having frequently used items within arm's reach is a significant advantage of hanging sections. No more rummaging through drawers or searching in distant closets for your everyday essentials. Your bags, hats, or decorative items are right there when you need them, enhancing the functionality and efficiency of your living space.
A Perfect solution for small spaces
For those with limited living space, hanging sections are a game-changer. They allow you to organize and store your belongings without occupying valuable floor space. Small apartments or cozy nooks can benefit greatly from the efficient use of vertical storage, and your Billy Bookcase, adorned with tinktube's hanging sections, becomes an essential part of your compact living solution.
4. Built-in look – A seamless spell
When you merge multiple bookcases with the help of tinktube's pipes and connectors, something magical happens. Your shelves become more than just storage; they transform into a seamless, built-in work of art.
A seamless integration
The beauty of a built-in look lies in its seamless integration with your space. When joined with tinktube's pipes and connectors, a built-in shelving system becomes a cohesive unit that blends harmoniously with your room. No more stand-alone furniture; your bookcase becomes an organic part of your living space.
tinktube's pipes and connectors are renowned for their strength and durability. The reinforced structure ensures stability, even when you combine several bookcases. Your book collection, decorative items, and cherished belongings are not just beautifully displayed; they're secure and supported.
Endless customization
Creating a built-in look also offers endless opportunities for customization. You're not limited to a single bookcase design; you can experiment with various combinations, heights, and widths. Your bookcase can evolve over time as your needs and preferences change, ensuring your living space remains a dynamic reflection of your personality.
5. Adjustable shelving – A shapeshifter's secret
The essence of magic lies in transformation, and with tinktube's pipes and connectors, your Billy Bookcase can shapeshift to meet your ever-evolving storage needs. It's not just about shelving; it's about creating a storage solution that adapts to your life.
DIY adaptability and effortless reorganization
One of the most captivating features of adjustable shelving is its endless adaptability. You're not locked into a fixed configuration; you can change the position of your shelves to accommodate different items. From oversized books to decorative pieces, your bookcase can be reconfigured with a touch of magic.
Adjustable shelving means effortless reorganization. Have you collected new items or outgrown old ones? No need to disassemble or purchase additional furniture. With tinktube's pipes and connectors, simply adjust the shelf heights to make room for new treasures or create a fresh display.
Your storage needs are unique, and with adjustable shelving, your bookcase becomes a tailored solution. Whether you need space for office supplies, a collection of vinyl records, or a mixture of items, you can customize your bookcase to suit your specific requirements. It's the shapeshifter's secret that ensures your bookcase always fits your needs like a glove.
Enhanced versatility
The magic of adjustable shelving lies in its enhanced versatility. Your Billy Bookcase becomes a multifunctional wonder that can adapt to different purposes. From acting as a versatile room divider to offering display space for rotating collections, your bookcase can be whatever you need it to be.
Endless possibilities
The ability to reposition shelves opens up endless possibilities for creativity. Your bookcase can evolve as your interests and lifestyle change. It's a canvas waiting for your imagination, allowing you to curate and display your favorite items in new and exciting ways.
Beyond the basics: Exploring limitless possibilities
Picture this: You come home after a long day, and your eyes fall on your IKEA Billy Bookcase, transformed into a work of DIY art with the help of tinktube. Your heart skips a beat as you take in the charm and style it exudes. A sense of satisfaction washes over you, knowing that you've created something unique, something that's not just a piece of furniture but an expression of your personality.
These hacks are just the beginning of your delightful furniture journey. Feel free to let your creativity sparkle and think beyond our ideas!
Here's what you need to build the perfect firewood rack: a DIY plan!