Are you interested in growing your own fresh and healthy produce, but lack space or resources for a traditional outdoor garden? Look no further! Hydroponic vertical farming is a cutting-edge solution that allows you to grow plants without soil, using water and nutrient-rich solutions. In this post, we'll explore 10 exciting DIY ideas for creating your very own hydroponic vertical farm at home. Whether you're a seasoned gardener or a beginner with a green thumb, these examples will inspire you to embark on a journey of sustainable and space-efficient farming. Join us as we delve into the world of hydroponic vertical farming and discover creative ways to grow your own food all year round!
1. Rick's (and Tofu's) NFT hydroponic system
Rick is setting up a Nutrient Film Technique (NFT) system at home using tinktube's building material. Water is pumped to the trays, trickles through them and then returns to the bin that's placed at the bottom of the structure.
When it comes to designing NFT systems, all approaches share a common principle. A shallow nutrient solution is continuously poured down through tubing, allowing the bare roots of the plants to absorb the nutrients as they come into contact with the water.
Compared to other hydroponic methods, such as the Ebb and Flow technique, the NFT system is unique because it uses water pumps to deliver nutrients to the plants. However, unlike the flood and drain mechanics of the Ebb and Flow setup, the NFT system maintains a constant flow of nutrient solution.
As an active system that requires moving parts to function, the NFT system can provide more precise control and customization for plant growth, making it a popular choice among hydroponic enthusiasts.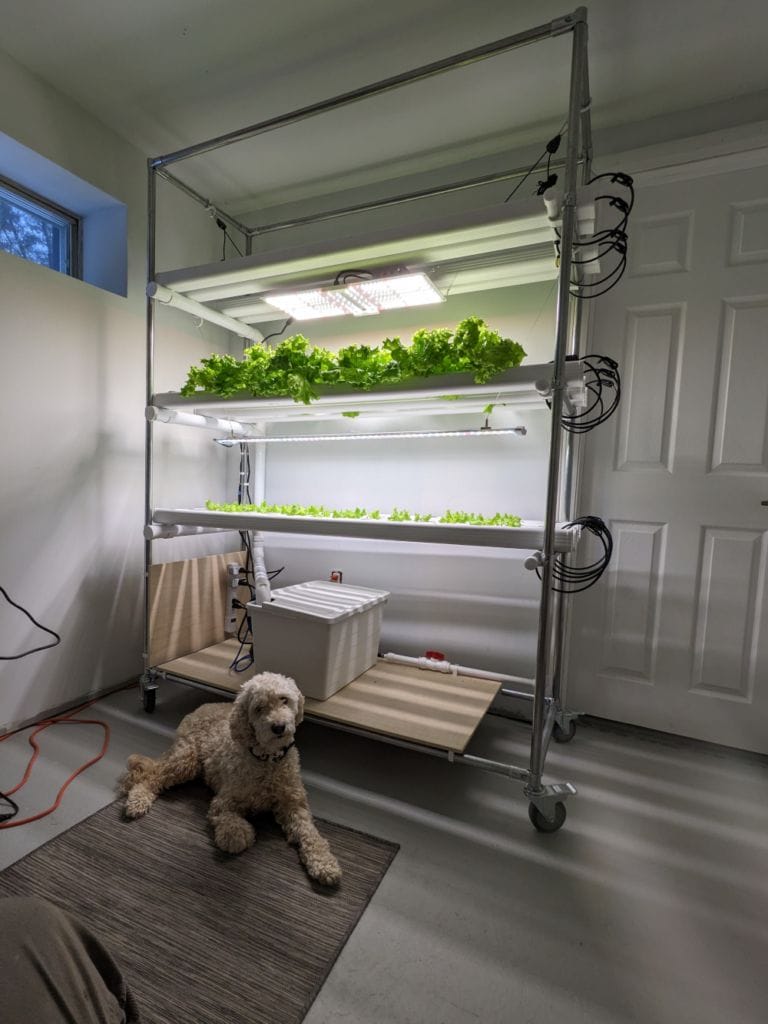 2. Free plans for DIY hydroponic vertical farming projects
No matter what you plan to grow, a vertical farming structure can revolutionize the way you approach your project. With options for integrated lighting and irrigation systems, you can customize your setup based on your level of expertise in farming. We created free plans to help you build your very own farming structure. Get ready to optimize your farming efforts!
3. DIY farming structure
The creators of this project had 3 priorities:
Flexibility in plant spacing: They ensured that the spacing between plants and the lighting system could be easily adjusted to accommodate different types of crops, including those that grow to varying heights.
Adaptability to light degradation: Recognizing that DELL lights degrade over time, the team designed the structure in a way that allows the plants to be moved closer to the light bands as needed.
Optimal space utilization: To make the most efficient use of space, the structures were designed to be expandable, with the ability to add an additional aisle of shelving once the basic system is proven, ensuring maximum space optimization.
Talk about an adaptable structure for cultivating crops indoors!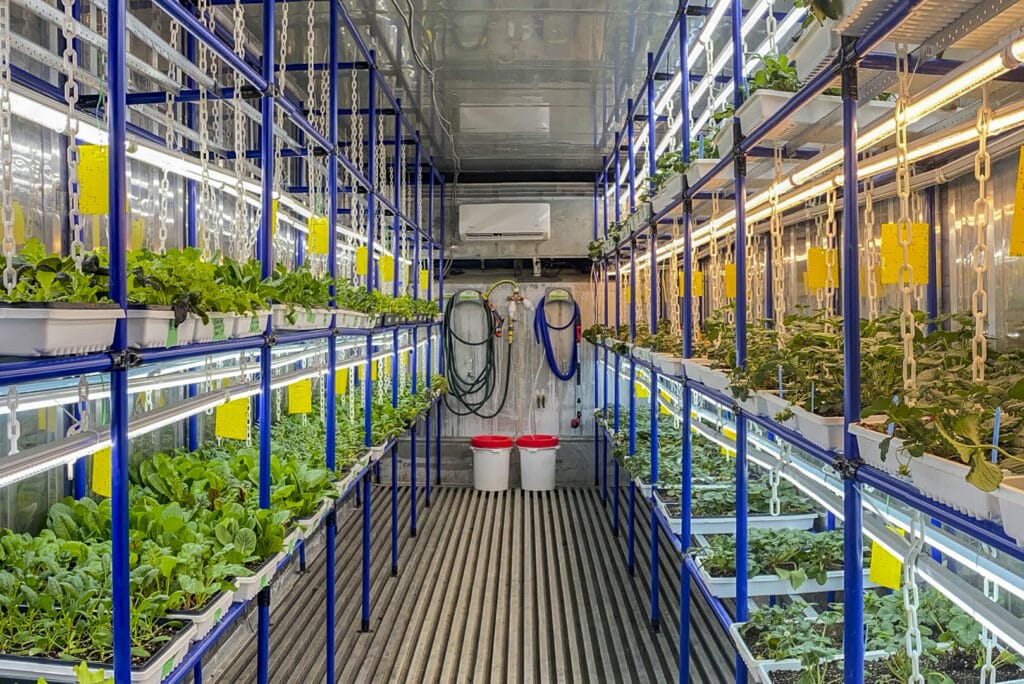 4. Rémi's vertical farming project
Thanks to tinktube, Rémi was able to decrease the height between the levels of his hydroponic systems and make them more efficient. This simple change has led to a significant increase in production capacity, with up to 25% higher yields!
Additionally, displays created by Rémi include an integrated irrigation system featuring a pump, hoses, and lights. With innovative solutions like these, urban farming is becoming more accessible and efficient than ever before.
5. DIY hydroponic grow system
This hydroponic grow system has been constructed using tubes and long recipients, which are fixed to the tubes to support the plant and allow for proper water flow and nutrient distribution.
Examples of plants that can thrive in this system include leafy greens such as lettuce, spinach, and kale, as well as herbs like basil, cilantro, and mint. Additionally, flowering plants like strawberries, tomatoes, and peppers can also be grown successfully.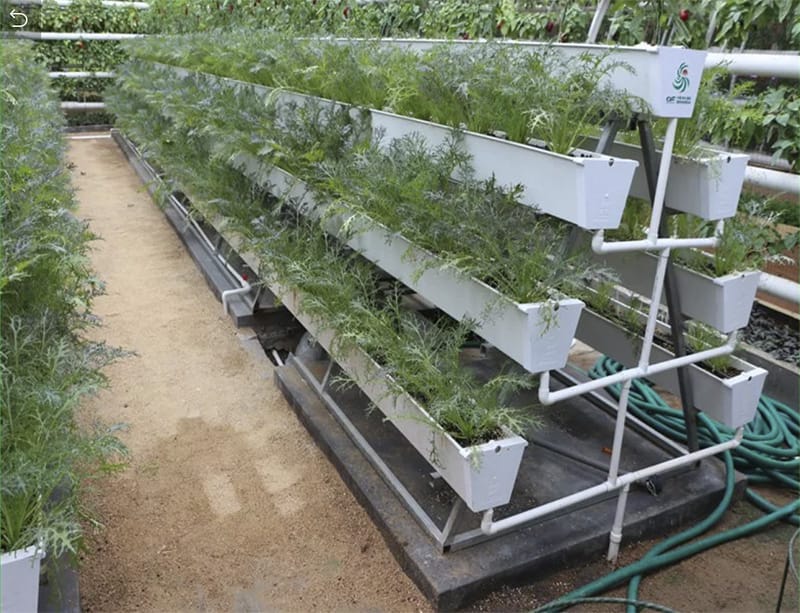 Photo credit: zenong.com
6. DIY grow stand
Although this grow stand does not currently incorporate water circulation, it could easily be adapted to make it hydroponic with the tinktube system!
If you have a similar structure at home, you could add tubes and connectors to support water recipients and connect them to a bigger bin with hoses to create water circulation.
7. Hydroponic system for cannabis
This system can be created to revamp your grow area, whether you grow marijuana or other types of plants! The structure is designed to save space and time.
Wasted aisle space is eliminated, and multiple levels of growing area can be utilized, allowing for more plants to be grown in the same space. This efficient use of space results in a lower cost per plant
Designing your own vertical racking system will bring you increased plant capacity and maximized grow potential!
8. DIY vertical hydroponic system
Students from a school in Canada were able to build their own system with the help of their teacher. They realized that hydroponics growing system offered the advantage to set up the structure indoors. This important detail allows you to grow plants year-round, regardless of weather conditions. This means you can enjoy fresh produce even during winter or in areas with extreme climates, giving you greater control over your food supply!
Another benefit they discovered is that you get complete control over the plants' environment. This includes light, temperature, humidity, and nutrient levels. It allows you to create optimal conditions for plant growth, which can result in healthier, more vigorous plants with fewer pests and diseases. You can also extend the growing season for certain plants by manipulating the environment to mimic their preferred growing conditions!
9. Indoor hydroponic system (in-process)
The only thing missing from this DIY hydroponic system is the water. Did you know that this urban farming technique is very efficient for water usage? Hydroponic systems use significantly less water compared to traditional soil-based gardening. The water in a hydroponic system is recirculated, reducing water waste and making it a more environmentally friendly option. Additionally, the water in hydroponic systems is enriched with nutrients, providing plants with precisely what they need, resulting in more efficient water and nutrient uptake.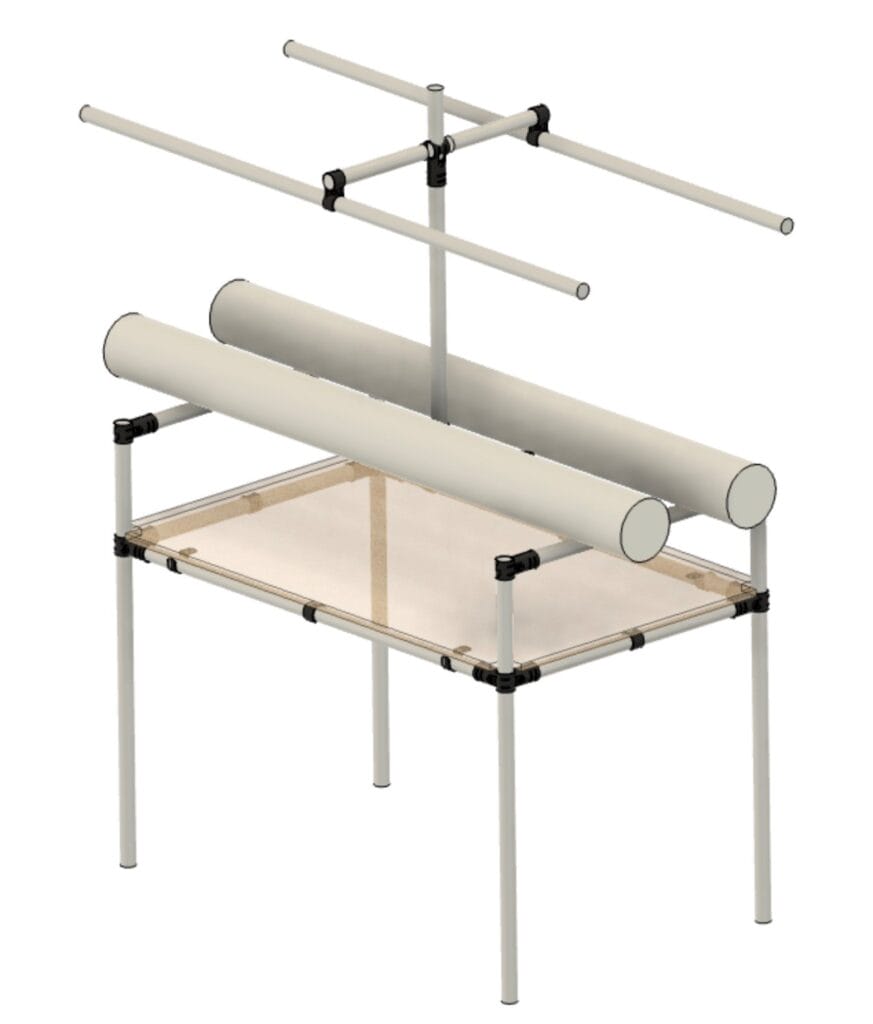 10. Design of a vertical hydroponic system
Last but not least, this plan for DIY hydroponic system was created by a member of tinktube's community! Once you've created your own plan and decided on the dimensions of your project:
Gather materials and tools, prepare the space, assemble the framework, install the components, add the grow medium and plants, set up the nutrient solution, and turn on the water pump to ensure it's functioning properly.
Then, monitor the system regularly for any issues or adjustments needed, such as temperature, humidity, pH, and nutrient levels. Make necessary changes to maintain optimal growing conditions for your plants.
Maintain and harvest… Happy farming!
In conclusion, hydroponic vertical farming is an innovative and sustainable solution for growing fresh and healthy produce at home, even in limited spaces. With the DIY ideas presented here, you can embark on a fulfilling journey of creating your very own hydroponic vertical farm. Whether you're an experienced gardener or just starting out, these examples provide inspiration to cultivate your own food all year round, using water and nutrient-rich solutions instead of soil. Say goodbye to traditional outdoor gardens and hello to a cutting-edge approach that maximizes space and resources. With hydroponic vertical farming, you can enjoy the benefits of fresh, homegrown produce while minimizing your environmental impact. So, roll up your sleeves, get creative, and start your own hydroponic vertical farm today!
Would you like to see more inspiring projects? Check out these posts!