If you're looking to add a touch of industrial style to your home or office, one great way to do so is by incorporating industrial handrails. Not only do they provide added safety and support, but they can also be a statement piece that adds visual interest to your space. Whether you're a DIY enthusiast or a professional contractor, there are plenty of industrial handrail ideas that you can create on your own, for indoor or outdoor use.
In this post, we'll explore various handrail examples to help you get inspired and start your next project.
1. DIY up-to-ceiling baluster
Craig's DIY up-to-ceiling baluster was made with black steel tubes. It's a stunning addition to his home:
It provides durability and strength, ensuring that the baluster is both sturdy and reliable.
The black color of the steel gives the baluster a sleek and modern look.
The up-to-ceiling design adds a touch of sophistication and elegance while letting the light filter through.
By creating this baluster himself, Craig has not only added a unique element to his home but also gained the satisfaction of creating something with his own two hands!
2. Steel exterior handrail
This exterior steel industrial handrail can be a striking addition to any home or building. Made from durable steel tubing, it offers clean lines and industrial aesthetic. It provides a modern and minimalist touch to any exterior space.
The DIY aspect of the project allows for customization to fit the specific needs and style of your environment, making it a unique and personal addition.
3. Interior DIY handrail
This interior DIY handrail is made of 4 steel tubes and a few connectors. Fixing the tubes and connectors to the stair's structure is easy. It can be a great way to build your own handrail and personalize your project!
The wood in and around the stairs gives the handrail a warm and natural feel, blending well with the industrial look of the steel tubes.
4. Steel exterior handrail
The simpler the better: in the world of DIY, this statement is often true! The design of this DIY handrail blends perfectly with the decor. It creates an industrial look that modernizes the whole environment.
To fortify the railings, the creators of this little DIY masterpiece installed a steel post in the middle of the stairs that they attached to the handrails.
This decision embodies the phrase "killing two birds with one stone": They were able to make the project sturdier while keeping the design sleek and simple!
5. Mordecai the builder's handrail
Mordecai the builder is a home renovation influencer with several DIY projects under his belt.
He and his wife wanted to give their staircase a modern, industrial touch but everything they found online was really pricey! They discovered tinktube and used the system to build their project.
Photo credit: smuckerfence.com
6. Industrial handrails for stairs
This example is simple and easy to reproduce. To ensure that the rails are securely attached to brick, it's important to follow these steps:
Begin by drilling a pilot hole using a small masonry bit. This will create a guide for the larger hole and help prevent any cracks or damage to the brick.
Once the pilot hole is drilled, switch to a larger bit and drill again to create a bigger hole that will accommodate the rail.
By using this two-step process, you can ensure that the rails will provide sturdy and reliable support.
7. DIY patio handrail
Once upon a time, a DIY enthusiast from the tinktube community decided to add a unique touch to his patio by building railings using wood and steel tubes.
He started by measuring the area and sketching out a design. Next, he cut the wood to the desired length and shape and sanded it down. Then, he drilled holes in the wood to accommodate the steel tubes, which he cut to the correct size and attached using screws.
He chose black-colored tubes to create a cohesive look. The finished handrails not only add a stylish touch to his patio but also provide essential safety and support!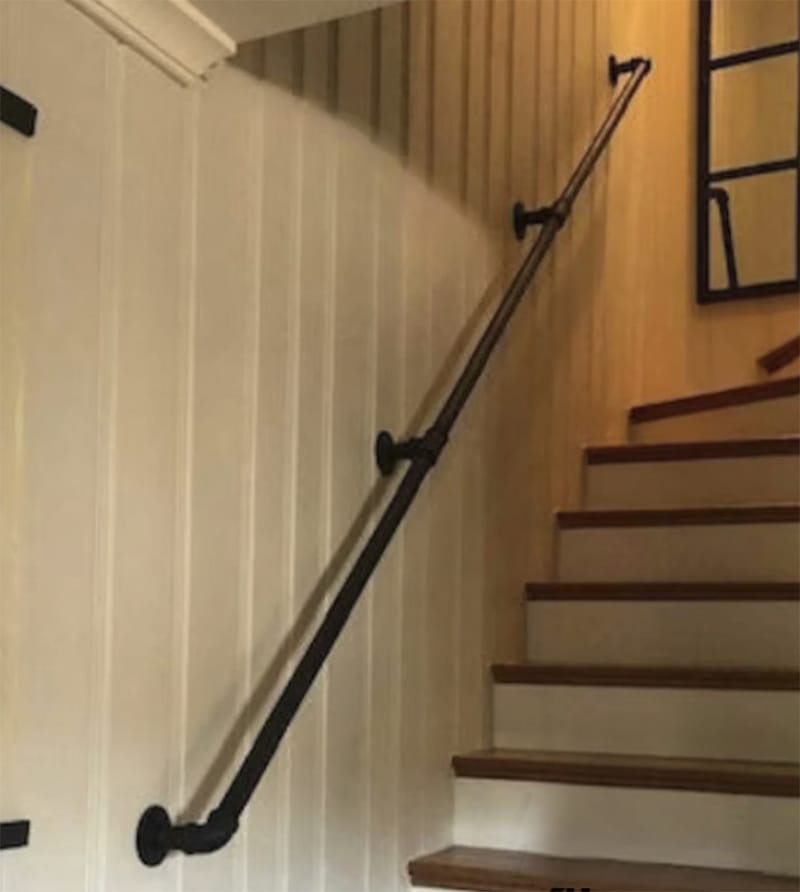 8. Industrial pipe handrail in rustic decor
Looking at this picture, you might ask yourself: why does the industrial style fit so well in rustic decor? Here are a few reasons:
Complementing textures: Both industrial and rustic styles often feature raw materials like exposed brick, distressed wood, and metal accents. Incorporating industrial pieces, such as a steel handrail, can add textural contrast to rustic materials like wood, creating a dynamic space.
Contrasting elements: Industrial style often features sleek lines, clean edges, and metal finishes, while rustic style is characterized by a more rugged, organic feel. The contrast between these elements can create a visually compelling space that feels balanced and interesting.
9. Black steel handrail
Industrial style often prioritizes function over form, which can complement the practical nature of rustic decor. This example shows exactly that, and it's a great alternative to an industrial aluminum handrail: this steel handrail is sleek and simple, and it adds a modern twist to the rustic environment, without it being too much.
To recreate this look in your own home, you'll need:
Photo credit: happihomemade.com
10. DIY metal stair railing
Introducing Sammi, a skilled blogger with a passion for creating unique and functional projects. Sammi and her husband built a stunning handrail made from reclaimed barn wood and sturdy steel tubes.
The main steps of their DIY journey included:
Carefully selecting the pieces of barn wood with just the right amount of character – knots, cracks, and patina – to give the handrail a rustic and authentic look.
Choosing sturdy steel tubes to serve as the structural support for the handrail.
The assembly process of their project was pretty straightforward. The end result was a stunning and functional handrail that perfectly complemented their home's aesthetic and added a touch of character and warmth to the space!
Transform your space with safe DIY industrial handrails
Incorporating industrial handrails outside or into your home is a great way to add both safety and style to your space. You can make a statement by creating unique and visually interesting pieces while providing a necessary support system. The possibilities are endless, from sleek and minimalist designs to more rustic and industrial options. Whether you're a seasoned DIY enthusiast or a professional contractor, there are numerous industrial handrail inspirations that you can use to transform your indoor or outdoor spaces. Check out these articles for more ideas!