Working from home is a new reality that many of us have to deal with, because of the social distancing measures put in place in many businesses.
While all the adjustments we have to make are no easy, it also comes with a lot of perks, like no driving -or traffic- to get to work, a more flexible schedule, and no lunch prep! Transforming a room of your house into your dream home office is also an interesting part of the remote work adventure! Here are some DIY pipe desk ideas that will spark your creativity.
---
1. U-shape Workstation With Shelves and Drawers
This office workstation was built in a basement, using the pipes and fittings system. All the aspects of the desk, shelves, and cupboards are custom: everything was planned to fit exactly the size of the room! They used galvanized pipes and chrome fittings and added HDPE tabletops to it!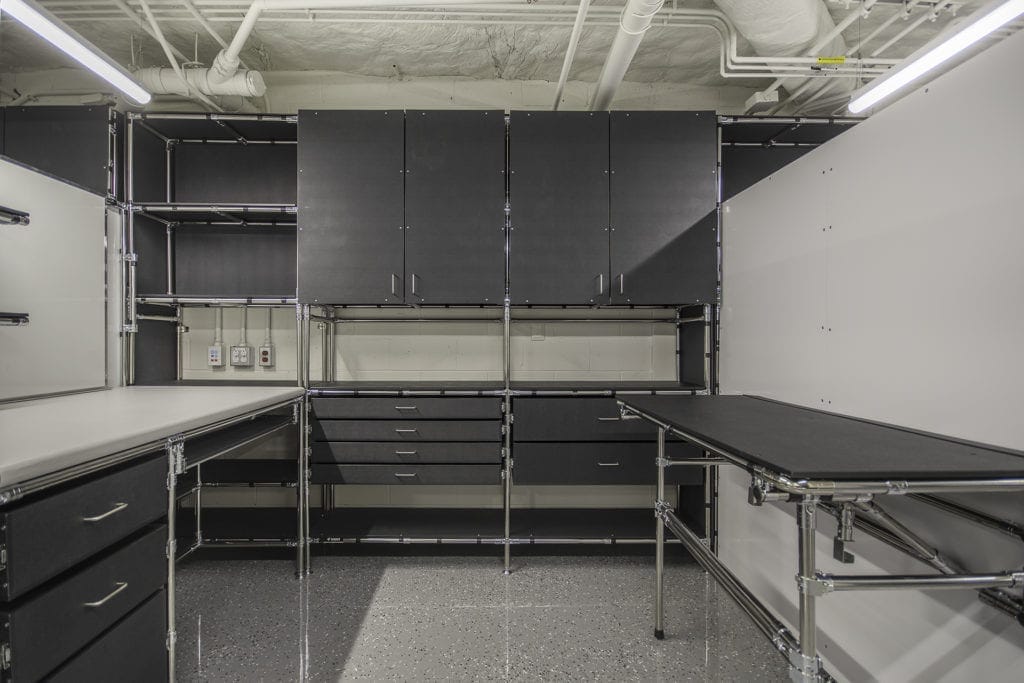 ---
2. Éric's work desk
Éric needed a desk that would allow him to use his workspace to the fullest. He no longer wanted to see his power wires behind his desk. He chose tinktube's black pipes and black fittings, adding pipes that allow him to wind his computer's power wires, which are now no longer visible at all! Two pipes have been added to hang his backpack and headphones.
---
3. Gaming Station L-Shaped Desk
If you work from home AND are into gaming, this DIY "L" shaped desk with a triple monitor holder is the perfect fit for you! As you can see, there is even room to add an extra laptop on the surface. The DIYer found the tabletop first and designed the structure to fit. A great pipe desk idea! Follow us this way for more battle station ideas.
---
4. Industrial Pipe Desk
Elegant, trendy, and most of all very simple in its design, this industrial pipe desk is a versatile structure anyone can easily create.
Interested in building one like that? Here are some free plans.
You get to choose the exact dimensions and the shape of your DIY desk.
You'll be able to choose your favorite material for the top -wood, melamine, acrylic… the choice is yours!
You can choose the color of tubes and fittings according to your home décor.
---
5. DIY Hammock Desk
Ok. This one is the most unique DIY pipe desk idea we've got! Can you imagine yourself working while sitting in a hammock? We sure can 😉 The white pipes and chrome connectors look great with the natural wood tabletop!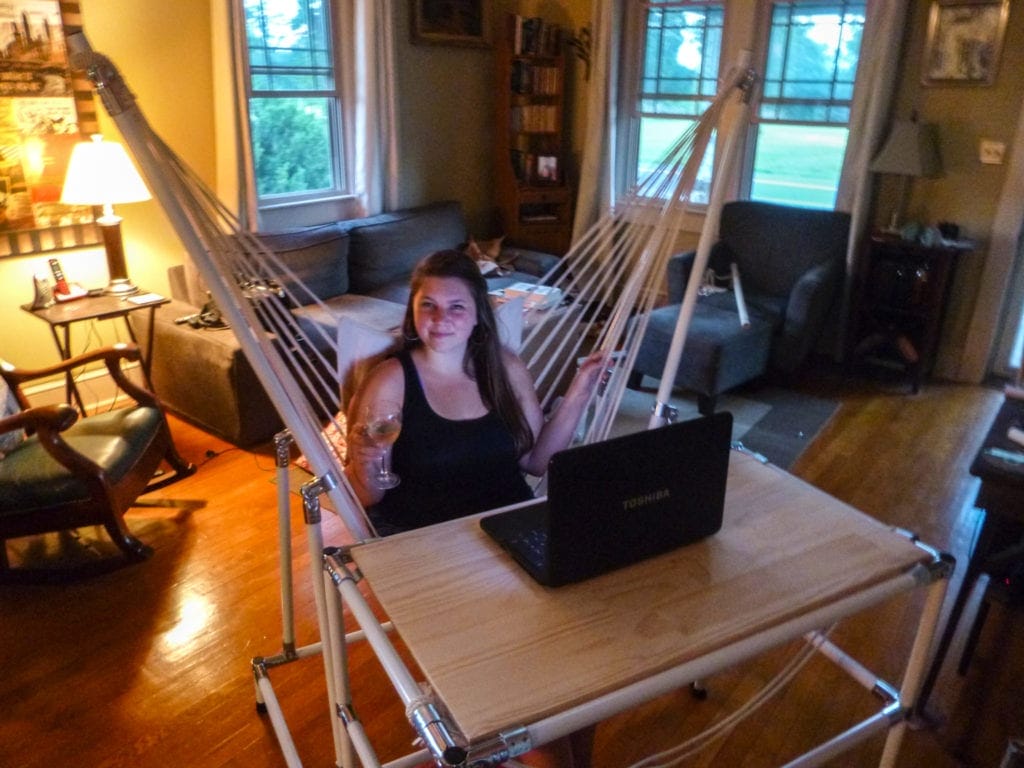 ---
6. DIY Standing Desk
Luke built the most elaborate DIY pipe standing desk! The glass tabletop makes it durable and easy to maintain, while the USB phone and computer charging station make it a clever built -he wired the cables through the pipes-! He also put the desk on casters to easily move it outside and work from his balcony.
---
7. DIY Office Desk
This DIY pipe desk gives you all you need to be productive: lots of space to work on, as well as space to put storage units underneath!
---
8. Gaming & Working Desk
Cody's gaming/working desk design is simple and smart. He added a built-in space for his computer and decided to match chrome fittings with the black pipes: a bold and great move!
---
---
10. Anne-Gabrielle built her own pipe desk!
Take a look at Anne-Gabrielle's pipe desk, it's made with copper pipes and black fittings. She can proudly say that she built it herself! Great job Anne-Gabrielle!
Adapt this project with the tinkpad!
Draw your project with this free printable tool which includes an isometric grid and our best tips to get started.