tinktube products are recognized for their great versatility. DIY enthusiasts use them to build all kinds of indoor and outdoor structures, like bookcases and patio furniture. Some even use it for their farming project, to build all kinds of DIY urban farming structures.
Rémi Carrier is one of those tinkerers. After working for several years at the Institute for Research and Development in Agroenvironment (IRDA) and the Ministry of Agriculture, Fisheries and Food (MAPAQ), he founded l'Agriculteur Urbain, an innovative hydroponic producer, in La Cité-Limoilou district of Quebec in 2017.
With his project, Rémi wanted to offer people a new way of consuming fresh herbs produced locally. "I found it such a shame to have to cut and wrap the herbs in plastic to then deliver them a few blocks from here, all the while knowing that some of the plants bought will end up forgotten, in the bottom of a fridge", he explains. "I had to find a way to keep hydroponic plants alive until the final consumer."
In the basement of a Quebec business, Rémi produces herbs without pesticides all year round, which he then sells to individuals through local merchants. "I wanted to offer a living product that consumers could keep at the edge of a window or kitchen wall with a small hydroponic setup. With tinktube products, it is now possible to create tailor-made installations that adapt to the different needs and realities of each person, "he adds.
Standard shelves ill-suited to the growing needs
At the start of his adventure, the entrepreneur remembers using standard shelving available in the vertical farming industry. Unfortunately, their format was not quite suited to his needs or those of traders wishing to sell his products. Among other things, they were too bulky.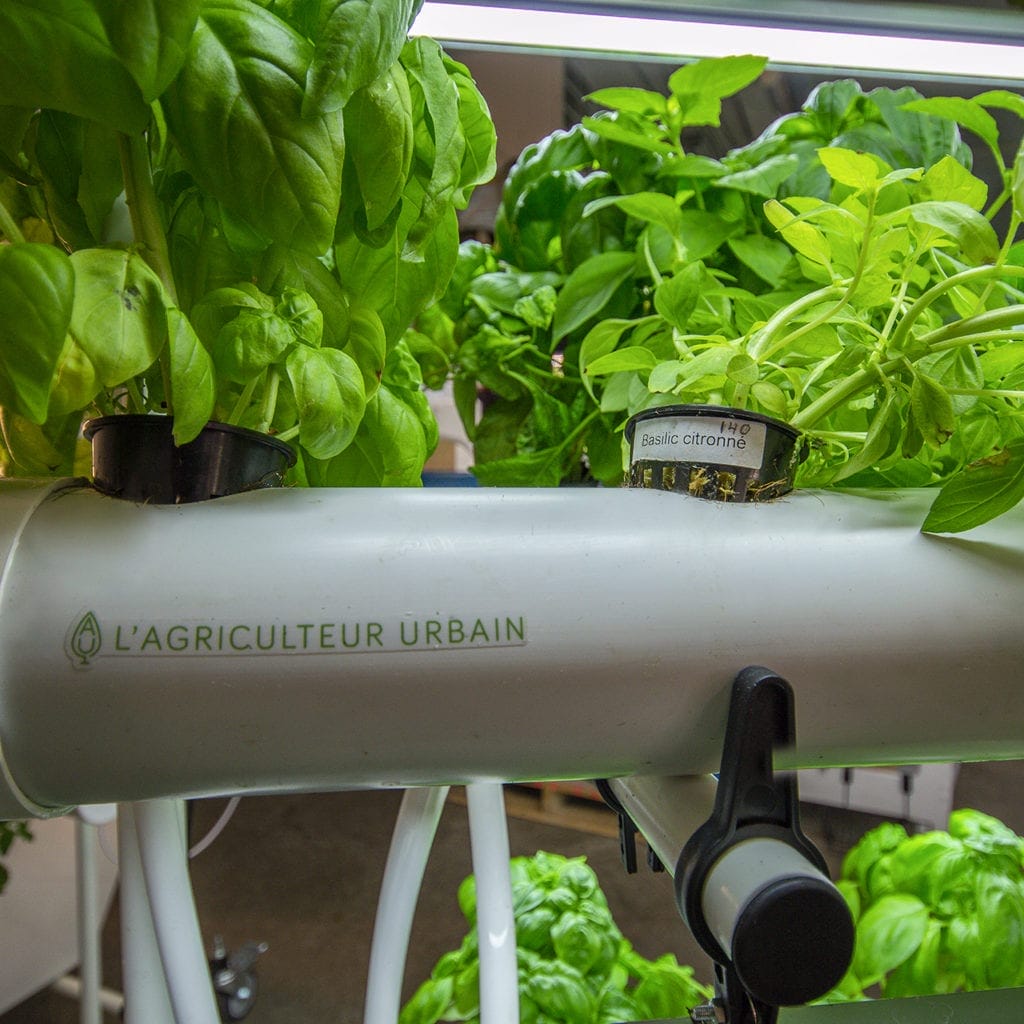 Indeed, the use of space is one of the greatest challenges of urban agriculture. In large centers, the square meter costs much more than in the regions, forcing producers to use their imagination to optimize interior space.
Space and productivity savings with tinktube
Then, one day, Rémi came across tinktube products that finally allowed him to create tailor-made projects that meet his needs. "When I discovered tinktube, that changed everything. This allowed me to make simple, compact, but fairly light displays."
Specifically, tinktube products have made it easy for the urban farmer to decrease the height between his DIY shelves, a modification that cannot be done with standard shelves. This change allowed it to increase its production capacity by 25%!
Now, the displays made by Rémi, which include an irrigation system with a pump, hoses, and integrated lights, are found at merchants in Quebec City who sell his products.
Adapt this project with the tinkpad!
Draw your project with this free printable tool which includes an isometric grid and our best tips to get started.
Practical displays
In addition to saving space for merchants, the displays are easy for customers to use. Consumers interested in Rémi's plants will only need to go to a participating store with their Mason jars.
When they get home, all they'll have to do is place their new plants near a window and add a little water. During the summer season, they can even transplant them into his garden.
Hobby farmers who would like to keep a large number of plants at home in summer and winter can also build a mini conservation system using a drilled PVC pipe, water tank, a pump, and an artificial light source (neon or LED). Are you interested in a project like this? You will find a plan inspired by Rémi's system and the information to build a structure here!
Either way, a well-maintained plant can last from one to four weeks – longer than fresh herbs bought at the grocery store.
Innovate with the tinktube system
After all the time spent studying connectors, tubes, and tinktube accessories, Rémi has become an expert in the system. Fully autonomous, the entrepreneur is now able to create structures for urban agriculture according to his needs.
Moreover, he is currently working on new adapted production towers. But he can't tell us more at the moment. It's still a secret… We'll keep you posted! Looking for more content about vertical farming? Check out the posts below!