Whether you plan on growing cherry tomatoes, Roma tomatoes, heirlooms or green tomatoes, if you are a DIYer, you'll eventually need tomato trellis DIY ideas to inspire your future garden builds. You're already off to a great start: you found this content… and you found tinktube! Not only do we have plenty of DIY trellis-related content to share, but we are also absolute DIY nerds, covering all sorts of creations while providing you with tips to make the most out of your own projects.
This post is only the beginning of your journey to discovering the many free plans, inspiring creations and clever ideas from the community. So, buckle up and start by checking out these tomato trellis ideas!
1. DIY steel tomato trellis
When it comes to gardening, the simpler the better. This first example illustrates just that: we're talking about a project that only involves a few steel tubes, trellis netting and about 3 steps that will lead to a durable structure to help your tomatoes grow.
Cut the steel tubes to the desired length.
2. Assemble the square-shaped structures using 90° elbow connectors (HJ-90) to create the corners.
3. Add the trellis netting of your choice to the structure.
The only downside of this simple build is its stability: be sure to press the tubes as deep as possible into the ground to prevent trellis from falling out, especially in high winds!
2. Tomato trellis free plan
There are plenty of materials available out there to build a trellis.
Compared to wood, tinktube's building system is the cheapest and the easiest to use. Why? Here are two reasons:
It's durable and reusable -you'll be able to disassemble your projets and use the same materials over and over.
You won't need expensive tools -only a pipe cutter and a T-handle wrench.
To understand how the system works and see how easy it would be to build your trellis with tinktube, check out this free plan!
3. Trellis arches
This project was designed and built by a DIYer from the community. He used 3/4 in. EMT conduit and tinktube's fitting – the specific ones that come with adaptors to ensure compatibility with conduit.
He bent the tubes himself using a clever technique that's well explained in a previous article we wrote. If you'd like to learn more about bending EMT conduit, read this post!
4. Ruth's DIY trellis
Ruth had big plans for her garden. The picture you see on your right is only the first step of her well-elaborated plan to maximize space in her backyard.
Shortly after discovering tinktube, she started drafting up some plans to create this structure. Of course, tomatoes were not the only things she was planning to grow in her garden, so she looked for more DIY gardening ideas online and found this post that presented other types of trellis for your backyard garden.
5. Tips to grow a tomato plant on a trellis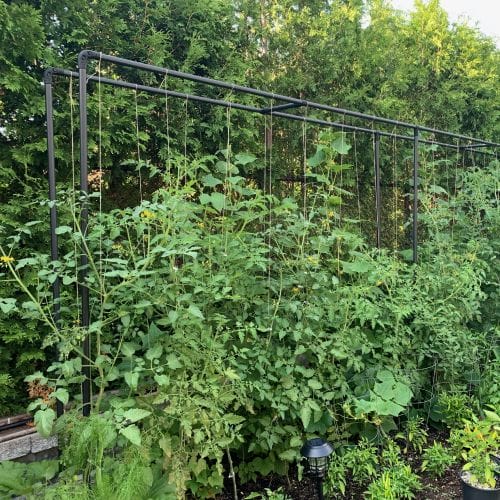 Also a project from the community, this build is brilliant!
Because once the structure is built, you can either use it as a trellis by adding trellis netting to it or use it as tutor, with ropes.
And because steel is such a resistant material, you can leave the structure in your backyard long term and alternate between the two options you have depending on your gardening phase!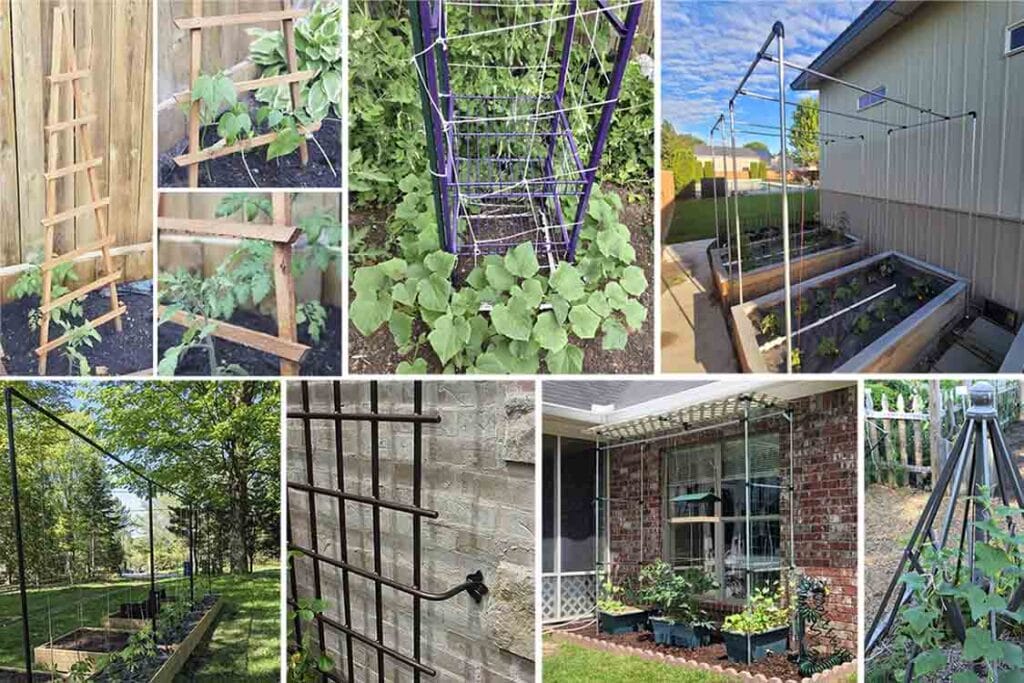 Rather looking to build a cucumber trellis?
Search no more. This post presents the BEST cucumber trellis
DIY ideas we found online!
6. DIY tomato cage planter
Easy to build with steel tubes and connectors, this tomato cage will not only be useful in your garden, but it will also enhance the aesthetics of your backyard!
The planter/wood box at the bottom of the cage is of course optional -you could plant your tomatoes directly in the ground and place the cage on top of it too-. But it can become useful if you plan on moving your plants to another location at the end of the season, for example.
Haven't found the perfect tomato trellis idea yet?
That's all the ideas we've compiled in this post so far, we hope you liked the content! If you'd like to see more inspirational ideas, check out this post presenting general trellis ideas for your backyard. And one last thing: you could get 10% OFF your next tinktube order when you send us pictures of the DIY projects you create with our system. Just send the pics to [email protected] and we'll send you the promo code as soon as possible.
If you'd like to learn more about trellis, we've also created this complete guide on how to build a heavy-duty trellis for all kinds of fruits and vegetables!