There is a universal truth in the realm of do-it-yourself enthusiasts and handy homeowners: tools have a tendency to wander off, hide in dark corners, and create an infuriating mess. Whether it's a garage, workshop, basement, or shed, the struggle to maintain order and organization with an ever-growing collection of tools is a common challenge. Good news: we believe that with the right storage systems in place, anyone can transform their space into a haven of streamlined organization. In this article, we dive into a world of inspiration, presenting you tool storage ideas that will bring order back into your life. Say goodbye to frantic searches for that elusive screwdriver or misplaced wrench, and say hello to a workshop where everything has its rightful place!
One of the virtues of organization lies in its ability to save space. By implementing clever tool storage ideas, you can maximize the utility of your workshop without sacrificing precious square footage. No longer will your tools sprawl haphazardly, occupying valuable work areas or causing trip hazards. Instead, you will discover how to reclaim your space, unlocking the potential for greater efficiency and productivity!
Garage tool storage ideas
1. DIY garage storage system
This DIY storage system was meticulously crafted by a member of the tinktube community with the ingenious combination of pipes and connectors, a versatile building material which allows you to bring your storage dreams to life, effortlessly. Designed to be heavy-duty, it is ideal for organizing your extensive collection of tools -or other things- in the garage:
The DIYer who built it added wheels to it, which makes it easy to move around if needed.
It seems like the height of the shelves was designed according to the boxes that were going to be placed on them. There is absolutely no loss of space!
2. 4-shelves tool storage system for the garage
These DIY storage shelves were built with pipes and connectors, giving the storage system a bold, industrial look. Can you imagine that kind of decor in your garage? We know we do!
Its robust construction ensures durability and strength, capable of withstanding the weight of even the bulkiest equipment. With this innovative solution, you can now create a customized storage setup that perfectly suits your needs, giving your garage a clean, organized, and professional look.
If you are new to building with tinktube and wondering where to start, we've got a free plan that could help you get started. It's a plan to build a DIY garage organizer, and it could easily be used and adapted into your very own custom storage system.
Curious to know what building with tinktube is like? Check out this free plan and see how easy it is to understand how the system works for yourself!
Say goodbye to clutter and welcome a new level of efficiency with this remarkable pipe and connector garage storage system!
3. DIY garage workbench and tool organizer
We know for a fact that every inch of your garage holds immense value. Optimizing space presents an opportunity to enhance your productivity and in the realm of DIY, increased efficiency opens the doors to a world of captivating projects, all within a secure ambiance.
Should you choose to embark on this endeavour, we have an impeccable blueprint awaiting you, completely cost-free!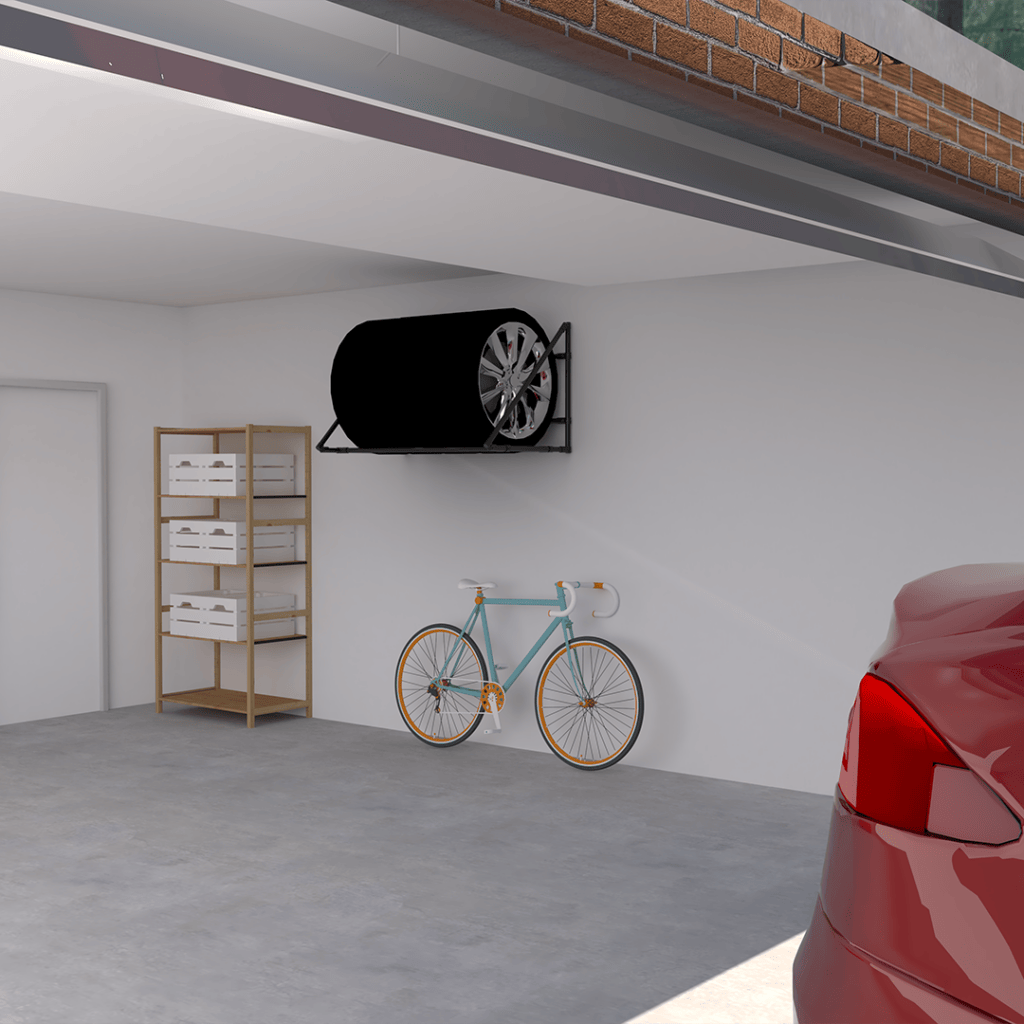 4. Garage tire storage idea
Creating a personalized DIY tire rack unveils exceptional advantages that transcend the mundane. One such perk lies in the ability to tailor the rack's size precisely to suit your available space, transforming the act of storage into a harmonious integration with your surroundings.
Moreover, envision the convenience of strategically situating this purposeful rack within an easily accessible corner of your garage or any other designated storage area. The accessibility factor grants you effortless retrieval, ensuring your prized tires are at arm's reach whenever the need arises.
Here is our free plan specifically designed to get you started!
5. Tool storage ideas: ceiling mounted racks
This remarkable idea is an ingenious solution to store an array of tools such as rakes, shovels, and more. This rack exudes simplicity, yet its efficiency knows no bounds.
While PVC pipes can be utilized for this project, opting for steel pipes and connectors will elevate its durability and sturdiness to new heights. With the ceiling as its resting place, this storage system maximizes the available vertical space, freeing up valuable floor area. The design ensures easy access to your tools while keeping them securely organized and within reach. This ceiling-mounted rack promises to revolutionize your storage needs, providing a practical and reliable solution for your essential tools. Say goodbye to clutter and welcome the efficiency of this remarkable DIY creation!
Garden tool storage ideas
6. Simple garden tool storage option
Discover a brilliant DIY project: a garden tool storage idea that embraces simplicity and functionality. This innovative design showcases two horizontally wall-mounted tubes with hooks, offering a seamless solution to hang your garden tools.
Creating and installing this storage system is a breeze, requiring only a few simple steps. What sets this project apart is its unparalleled customizability. You have the freedom to tailor the length and height of the tubes to perfectly accommodate your specific garden tool collection. Say goodbye to the frustration of scattered tools and hello to a neatly organized garden oasis.
With this DIY creation, convenience and efficiency are at your fingertips, ensuring that your gardening essentials are always within easy reach. Unleash your creativity and embark on this transformative journey, bringing order and elegance to your garden space!
7. Garden tool storage ideas: customizable DIY shelves
No longer shall you wrestle with the inadequate dimensions of your tool storage system: you now possess the power to fashion your shelves to accommodate all the tools you yearn to preserve!
This project allows you to select the material of your liking to create the shelves. Whether your preference leans towards the natural warmth of wood, the versatility of PVC, or the durability of plastic, the power rests in your hands to bring your vision to life.
By opting for wood, you infuse your garden tools storage space with a rustic and timeless charm. PVC lends itself to easy customization and effortless maintenance. On the other hand, plastic offers resilience against the elements, making it an ideal choice for outdoor applications.
Whichever material you choose, rest assured that your garden tool storage shelves will reflect your unique style and serve as a practical solution to keep your gardening essentials in order. So, let your imagination soar as you explore the possibilities and embark on this exciting DIY endeavor, crafting the perfect storage shelves for your garden tools.
8. Freestanding DIY rack for your garden tools
This undertaking is delightfully straightforward, requiring just pipes and connectors to bring it to life.
The first step on this journey is to draft up a plan, outlining the dimensions and design that best suit your needs. Once you've settled on steel pipes and fittings as your chosen materials, acquiring the necessary tubes and connectors becomes a breeze through tinktube's online shop.
With just two essential tools — a tube cutter for precise measurements and a 5 mm Allen key for secure assembly — you'll be well-equipped to get started on your DIY journey. Transforming your garden tool storage has never been easier, and with this freestanding rack, you'll enjoy a clutter-free oasis that combines functionality with a touch of DIY ingenuity. Let your creativity flourish and construct a practical and customized storage solution!
Van or service truck tool storage ideas
9. Vincent's service truck tool storage ideas
Vincent's DIY tool storage was fueled by his ingenuity. He designed and crafted his project using only a few tubes and connectors. To ensure maximum stability and reliability, he employed HJ-90 connectors on the bottom part of the structure, providing a sturdy foundation.
With the construction phase completed, Vincent now faces the exciting task of organizing his tools. Whether he chooses to place them in boxes for added protection or opts for a more minimalist approach, his custom-built storage system is ready to accommodate his needs. With tools securely in place, Vincent can confidently load everything into his truck, knowing that his equipment is efficiently stored and easily accessible!
10. Élaine and Karine's DIY van storage project
This photo features the inspiring journey of Elaine and Karine as they dove into their DIY van storage system project. Seeking guidance and assistance, they made their way to tinktube's warehouse to explore the possibilities of transforming their van's organization.
Esteban joined in on the venture. The trio collaborated closely, utilizing tinktube's modular system to create a storage solution that surpassed their expectations. What makes this project truly remarkable is its scalability, as it can be replicated regardless of the size of your vehicle.
The ability to customize the project to fit your specific van and the array of tools you need to store ensures optimal functionality and efficiency.
Follow Elaine and Karine's footsteps to unlock the potential of your van or service truck, discovering a world where order and accessibility seamlessly intertwine. Revolutionize your on-the-go workspace with this exceptional DIY van storage system, powered by tinktube's ingenuity and your own unique touch!
11. Tool storage ideas: DIY multi-purpose pole
Get ready to elevate your tool storage game with a captivating DIY project: the multi-purpose pole. This ingenious creation is a versatile and efficient solution for organizing your tools.
Crafted with precision and ingenuity, this pole can be customized to fit your specific needs. Constructed using durable materials such as steel, it provides the strength and stability required to support a variety of tools.
With strategic placement of hooks, holders, and clips, you can effortlessly hang your tools, keeping them within easy reach and maintaining a clutter-free service truck or van.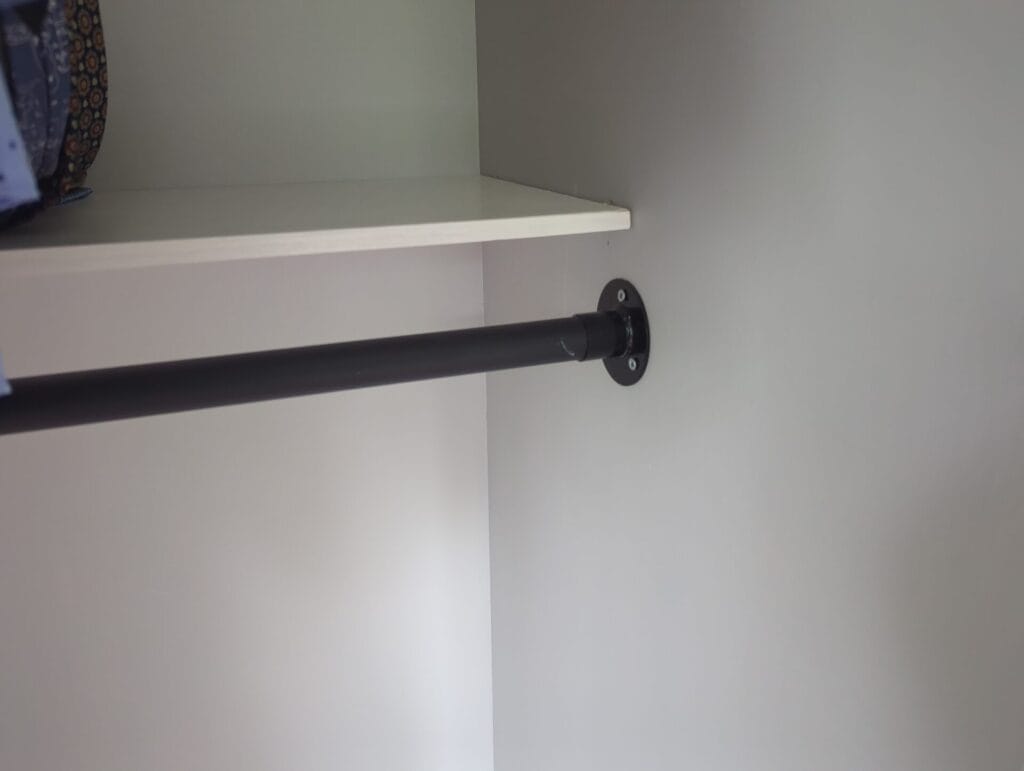 12. Service truck custom tool storage module
This free plan was created to store sports equipment, but it could be useful to build a tool storage rack for your service truck or van. Imagine a rack where every module aligns flawlessly with your tools, optimizing their accessibility and ensuring utmost efficiency.
This project also boasts a mobility factor, with wheels integrated into the design. They enable effortless removal of the rack from the service truck when needed and come with sturdy brakes, serving as sentinels of security when the truck is on the move.
13. Industrial tool storage rack
Embrace the liberation of customization and the peace of mind that accompanies it as you embark on this wondrous DIY endeavor.
Whether you choose to mount it on wheels or make it stable, this storage system proves to be a game-changer in optimizing your tool storage. Of course, in this example, it is installed in a building, but it could be replicated and installed in a van or truck.
Embrace the DIY spirit and embark on this exciting project, taking control of your tool organization and revolutionizing your workspace. Say goodbye to scattered tools and welcome the efficiency and elegance of the DIY industrial pole into your life, van or truck!
14. Wall-mounted tool or sports equipment rack
A personalized wall-mounted storage solution is the best way to get a finished product that suits your needs.
The benefits of building your own wall-mounted rack are plentiful. First and foremost, customization reigns supreme. You have the freedom to choose the size, layout, and materials that best fit your space and style: the possibilities are endless.
15. Wall pivot tool storage ideas
Not only does a wall pivot tool storage module allow you to showcase your handy skills, but it also ensures functionality. You can determine the number and size of compartments, hooks, and shelves to accommodate your specific tools. Say goodbye to cluttered garages and tangled messes – everything will have its designated place!
Another advantage is cost-effectiveness. Building your own rack can save you a considerable amount of money compared to purchasing pre-made options. Plus, you can repurpose materials you already have or hunt for budget-friendly alternatives, making this project both practical and economical.
And let's not forget the satisfaction that comes with completing a DIY project. The sense of accomplishment and pride that fills you as you step back and admire your work is truly unmatched!
Tools at your fingertips: productivity through organization
Whether you're an experienced craftsman or a weekend warrior, there are DIY projects for everyone. Together, we have discovered ingenious solutions that could make your workshop better organized and ordered, where tools are easily accessible, space is optimized, and your creativity can thrive. It's time to reclaim your workspace and embark on a new chapter of efficiency and productivity.
From wall-mounted systems to mobile carts, each idea is carefully curated to inspire and empower you to take control of your tool collection. So, join us on this journey from disorder to harmony as we explore the transformative power of organization!
Here's what you need to build the perfect firewood rack: a DIY plan!