Making your own DIY tire rack comes with great perks:
Being able to customize the size of the racks to fit your space
Designing the dimensions to make sure all the tires you need to store actually fit in the racks
Making sure you can build the racks in an easily accessible area of your garage or any other storage space
---
1. The parts you'll need
Whether you need to store 4, 8 or 12 tires, building a tire rack in your garage, basement or workshop will help you store them efficiently and avoid wasting space, especially if you fix the rack in the higher section of a wall.
What you'll need:
Here are the parts and tubes you'll need to build this project. Modify the dimensions and adjust the number of tubes and fittings according to your own plan!
---
2. The cut list
| Qty. | Length (inch) | Length (centimeter) |
| --- | --- | --- |
| 4 | 44″ | 111.76 cm |
| 2 | 35 3/8″ | 89.85 cm |
| 2 | 26 3/4″ | 67.94 cm |
| 2 | 23 1/2″ | 59.69 cm |
If you don't already have a pipe cutter, get one from our shop here. It will be useful for your future projects.
---
3. The build (the fun part)
Now that you've gathered all the parts, it's time to start building your tire rack!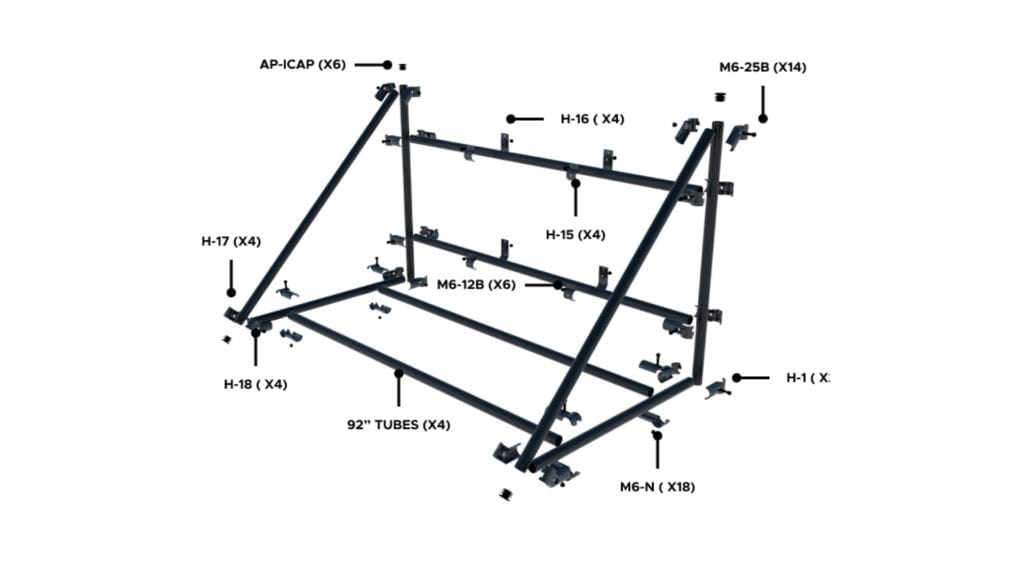 The tinktube joint sets are assembled with bolts that require one of the following tools -you might already have this at home-:
---
4. Organize your space thanks to your new tire rack
Now that you have the option to store your tires on the wall, you'll have access to much more space! If you'd like to see more storage projects made with pipes and fittings, here are our genius DIY garage organization ideas!
Get free plans and exclusive offers!
Get the latest free plans, members only offers, free support, tutorials and inspirations right in your inbox!