Trellises for climbing plants will add a touch of elegance and functionality to your garden while freeing up some space on the ground. These structures not only provide support for your plants but also create stunning visual displays that transform any ordinary space into a lush backyard. In this article, we'll explore captivating trellis ideas that will inspire your creativity and help you elevate your gardening game.
Whether you're a seasoned horticulturist or a novice plant enthusiast, get ready to embark on a journey of discovery as we unveil a variety of trellis designs that are sure to impress. So, let's dive in and explore the endless possibilities of trellises for climbing plants!
1. DIY trellis for Wisteria vines
If you've ever seen the breathtaking Wisteria tunnels in Japan, you'll understand the inspiration behind Reuben's DIY project. The main goal was to redirect a vigorous Wisteria vine that had been growing on the balcony railing onto a specially designed arbour.
Reuben's first consideration was ensuring the arbour's strength and durability to withstand the weight of the Wisteria vine and the wind.
He opted for a main arch made from 1″ EMT conduit and tinktube. Serving as the top tube, EMT conduit offered superior strength. Additionally, the EMT conduit came in 10 ft lengths, while tinktube's pipes were shorter.
Reuben cleverly combined the two tubes, attaching them with tinktube fittings (HJ-13) at regular intervals, using them as a single structural member.
To further reinforce the arches, he incorporated truss-like structures. Given the large span of approximately 20 ft, trusses were necessary to ensure the arbour's stability.
For the main posts, Reuben opted for chainlink main posts with a nominal diameter of 1 7/8″. These sturdy posts were embedded in concrete, with a depth of around 4 ft, to ensure a secure foundation for the arbour. Reuben placed two posts at each of the four locations to provide adequate support for the entire structure.

"My Wisteria Arbour Project has been completed successfully. I used tinktube tubes, fixtures and accessories, along with EMT Conduits. The result is to my complete satisfaction and perfect for the designed purpose. tinktube products are really fantastic as a DIY Build System. Also, I am extremely happy that it is a Canadian company.

I will not hesitate to use the tinktube products for my next project (whatever and whenever that may be!). I would also not hesitate to recommend tinktube for anyone interested in DIY projects using such a build system.

I am extremely happy with the final result of my project."
2. DIY arch trellis
Stephen stumbled upon tinktube while embarking on his quest for the ideal building material to craft bespoke garden trellises. Swiftly after completing his creation, he shared this captivating picture of his masterpiece with us — for which we are forever grateful! Within Stephen's DIY venture lies an important detail: he was able to artfully manipulate EMT conduit, forming graceful arches using DIY jigs.
He then assembled the arched EMT conduit with tinktube's connectors, which resulted in these incredible trellises for climbing plants!
3. DIY trellis for climbing plants
This exceptional creation emerges from the tinktube community: it's a true testament to brilliance!
If you decide to replicate this mind-blowing framework, you'll be able to use its multifaceted purpose: it can serve as a versatile trellis, accommodating the addition of trellis netting, or as a tutor, employing ropes for guidance.
Furthermore, thanks to the unrivalled durability of steel, this structure can stand undeterred in your backyard for an extended duration, affording you the liberty to seamlessly transition between these two splendid alternatives as your gardening journey unfolds!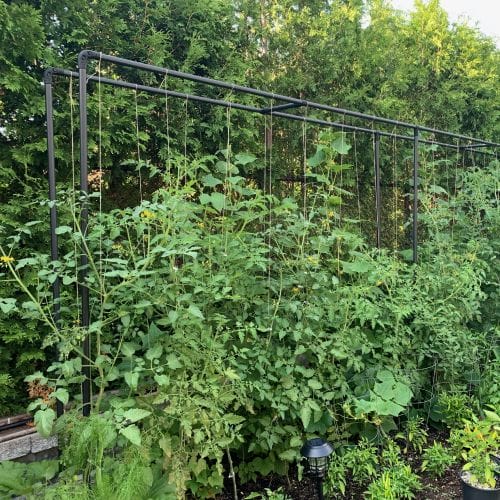 4. Wall-mounted metal trellis for Clematis plants
Clematis are like nature's own work of art! This incredible perennial vine is an absolute stunner, with its gorgeous flowers that bloom year after year. Selecting the right trellis is important when growing clematis to give the plants the best chances to grow happily ever after.
Your best bet is to choose a trellis made from wood or metal not more than one-half inch thick with gaps less than six inches in size.
If you choose to go for a DIY option, you'll be able to customize your trellis in a way that best suits your plants!
5. DIY indoor trellis for climbing plants
Have you ever dreamed of bringing the magic of climbing plants indoors? We've got a fabulous idea for you: a DIY indoor trellis that will make your green friends reach new heights while adding a touch of elegance to your space.
Now, let's talk about how you can make this happen. For this type of project, tinktube is an absolute game-changer! It lets you create your very own indoor trellis that's not only sturdy but also customizable to fit your unique style.
Imagine this: a beautiful framework for your climbing plants, perfectly tailored to your space and preferences. You can let your creativity run wild and design a trellis that complements your home decor flawlessly. Here are a few indoor vines and climbers:
English Ivy
Pothos
Betel Leaf Plant
Heartleaf Philodendron
Creeping Fig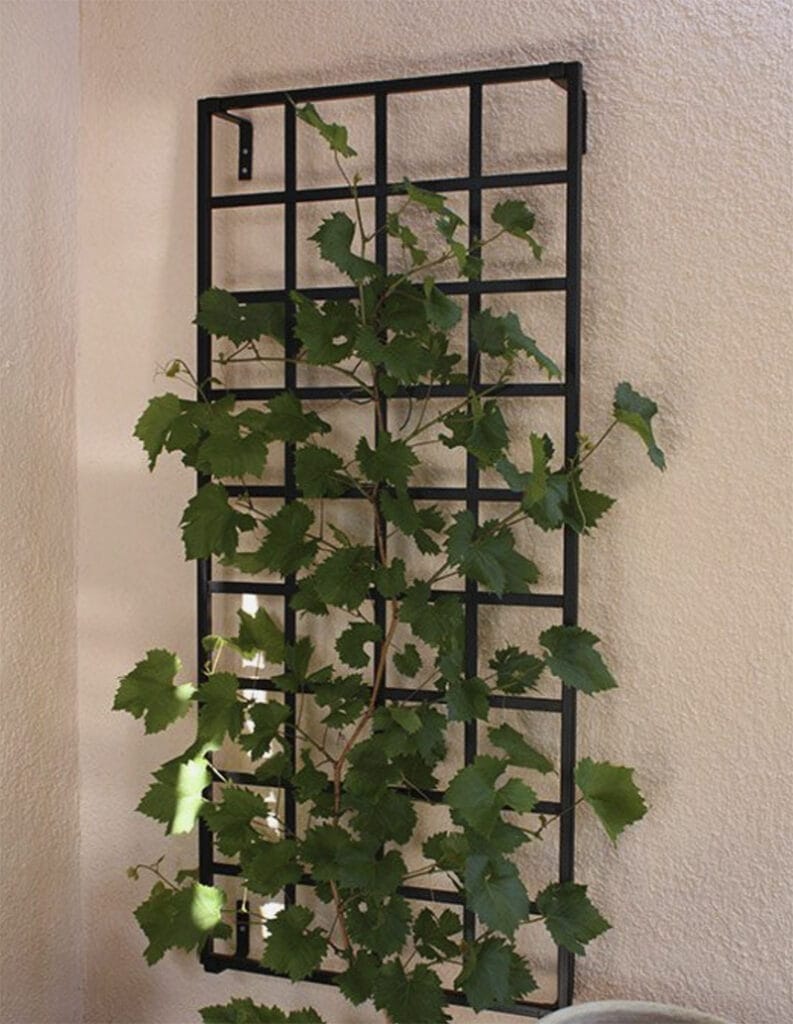 6. Trellis made with EMT conduit
Embarking on this DIY journey, you'll discover that the essence of this project lies within the simplicity it entails. With a few steel tubes, connectors, and a mere trio of steps, you'll be able to forge an enduring structure, nurturing the ascent of your plants.
Step one: Cut the steel tubes to your desired dimensions.

Step two: Assemble square-shaped frameworks using 90° elbow connectors (HJ-90), gracefully delineating the corners with unwavering precision.

Step 3: Install the structure in your garden.
7. Wire trellis for climbing plants
Introducing this simple yet remarkable do-it-yourself endeavor that promises to enchant both novice and seasoned gardeners alike!
This DIY project revolves around the fusion of delicate wires and steel tubes, providing a steadfast support system for nature's climbers. This build will efficiently guide plants skyward, embracing the unruly beauty of vines, blossoms, and foliage!
8. DIY wall-mounted iron trellis
This DIY ladder for climbing plants is a harmonious blend of functionality and elegance. The build beckons both green thumbs and DIY enthusiasts to embark on an exciting journey using pipes and connectors! Once assembled, the ladder is destined to be fixed to an exterior wall.
With each meticulous step, a steadfast foundation for climbing plants is created. Breathe life into your home's facade as verdant tendrils dance gracefully, adorning your dwelling with the captivating beauty of nature's embrace!
9. Tomato trellis DIY
A myriad of materials abounds for creating trellises. Here is why tinktube's is the best choice:
1: It has remarkable durability and reusability. You'll be able to effortlessly disassemble your projects and reuse the very materials that brought them to life, time and time again.
2: You won't need costly tools to create your projects. All you'll need are a pipe cutter and a T-handle wrench as your sole companions!
10. Tower trellis for climbing plants
Replicating this project will help you unlock the potential for elevated yields and efficient space utilization! Delve into the realm of inspiration with this ingenious DIY trellis concept, carefully crafted to ensure both unwavering stability and resolute sturdiness.
This do-it-yourself journey starts by anchoring the tubes deep within the earth, firmly grounding the foundation. The greater the heights of your tower, the more fortified your trellis's base will have to become. Introduce additional tubes to make the structure sturdier, artfully arranged in the form of triangles or squares, evoking a symphony of structural reinforcement!
Curious to explore the depths of tinktube's extraordinary building system and envision the ease with which your trellis could manifest? Embark on this enchanting journey, and witness your garden transform into a symphony of vibrant growth and ethereal allure!
11. DIY tomato cage planter
This tomato cage could be crafted with utmost simplicity using steel tubes and connectors. It not only bestows practicality upon your garden but also elevates the aesthetic allure of your cherished backyard!
While this project involves a wood box at the base, you could also plant your tomatoes directly in the earth.
12. EMT DIY trellis
This DIY metal trellis basks in the glory of unrivalled sturdiness bestowed EMT conduit. This building material ensures an unparalleled foundation, standing resolute against the test of time.
Although you could also replicate the project with painted steel tubes, which offer better resistance against rust, eradicating the need for prepping or treating the material to guarantee unwavering durability!
13. Ruth's metal trellis for climbing plants
This project illustrates the evolutionary nature of the tinktube system. When recounting the realization of her project, Ruth humbly confesses that despite her meticulously sketched blueprint, an inherent cognizance prevailed: a profound awareness that, notwithstanding the apparent simplicity of the structure, the path to perfection necessitated experiments and judicious adjustments.
Had they chosen to fashion their creation from timber, they would have been irreversibly bound to their initial endeavor!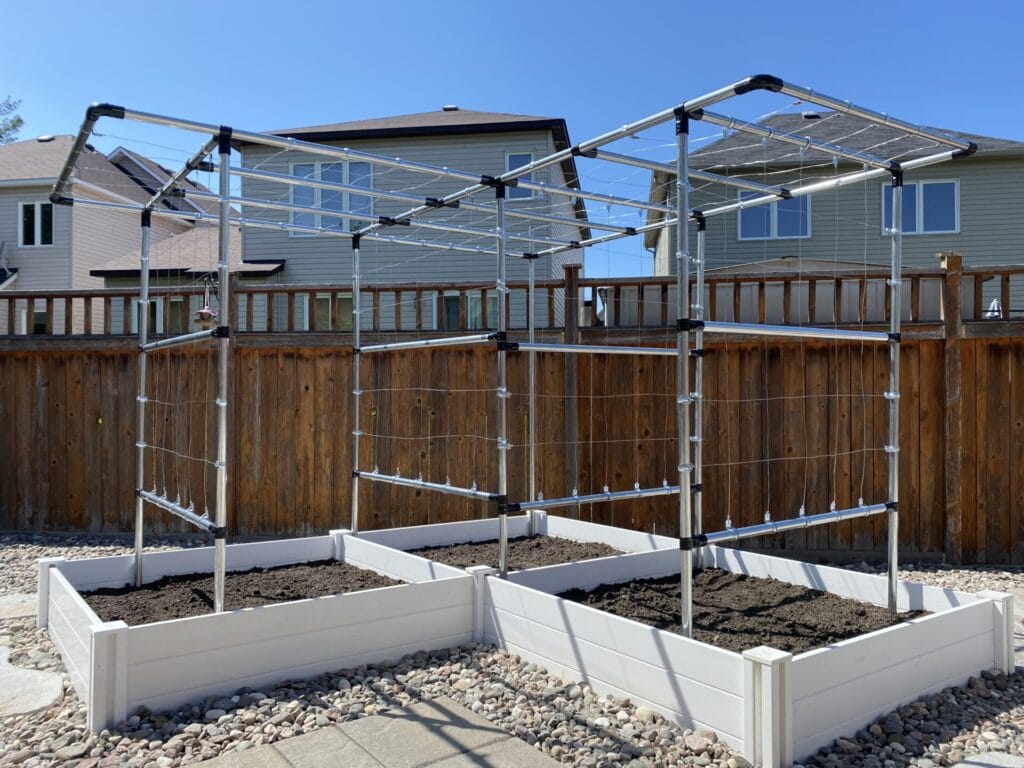 14. Heavy-duty trellis
Minh harnessed the boundless potential of tinktube's building system when he built this magnificent DIY trellis tailored specifically for his raised bed gardens! Having endured the fleeting lifespan of a wooden trellis in the past, he embarked on an exhaustive quest for longevity, stumbling upon the transformative prowess of tinktube.
The expedited delivery whisked the materials into Minh's eager grasp within a mere week, meticulously arranged and adorned with thoughtful labels. To Minh's delight, the material boasted a seamless ease of manipulation and boasted unrivaled quality. Minh very efficiently completed his project within a mere span of two days!
15. DIY wall trellis
Looking to create metal trellises without having to weld? Embrace the simplicity of an easier DIY endeavor as you embark on crafting your trellis with steel tubes and connectors!
Merely two tools will be needed on this journey of creation: a trusty pipe cutter and the versatile T-handle wrench, the key to unlocking the trellis's boundless potential.
Your last step will be to fix the trellis to the exterior wall of your home using structural anchors (AF-OTM)!
The world of trellises for climbing plants offers a captivating array of possibilities to transform your garden. Throughout this article, we have explored innovative ideas that blend artistry, functionality, and ingenuity. From enchanting pipes and connectors designs to durable ladders fixed to exterior walls, these trellises not only provide crucial support for your climbing plants but also enhance the aesthetics of your outdoor space.
Whether you prefer a traditional or contemporary style, there is a DIY trellis idea to suit every taste and garden size. So, embrace the allure of vertical gardening, unleash your creativity, and let your plants reach new heights with these remarkable trellis concepts. Elevate your greenery and embark on a journey of botanical beauty that will leave you in awe of nature's ability to flourish and thrive!
Here's what you need to build the perfect firewood rack: a DIY plan!