If you're looking for an original DIY furniture project, you've come to the right place! Sleek industrial look, sturdy built, and many customizable options: this console is a must!
Build your own industrial angled leg console choosing the color of tubes that best fits your living room;
Create a structure that'll fit the space you've got -make it bigger of smaller, depending on the use you'll make of the piece of furniture;
Make it higher or lower: it's your project!
---
1. The parts you'll need
This free plan shows you how to build your own pipes and fittings angled leg console. Customize the length or the width, and the color of the pipes and joints to suit your preferences!
You'll find these parts on our online shop:
Choose the piece of furniture that will be supported by the structure
You'll need to choose which piece of furniture you want to showcase with this project and adapt the size of the structure accordingly. Many options are available to you!
You can use a piece of furniture you already have at home and give it a second life!
You can build the cabinet shown above with the material of your choice.
Or you can buy something similar, like this shelf unit available at Ikea.com.
If you need help to adapt this plan, do not hesitate to contact us at diy@tinktube.com, we'll be happy to help you out!
---
2. The cut list
When you've decided on the design and size of your project, you'll need to cut the pipes accordingly. Here is the cut list to build a 60″ X 36 3/4″ angled leg console.
| Qty. | Length (inch) | Length (centimeter) |
| --- | --- | --- |
| 4 | 35 1/4″ | 89.54 cm |
| 6 | 14 9/16″ | 36.99 cm |
| 4 | 9 1/4″ | 23.5 cm |
If you dont already have a pipe cutter, get one from our shop here.
---
3. The build (the fun part)
Now that all the pipes are cut, you can start building your DIY furniture project.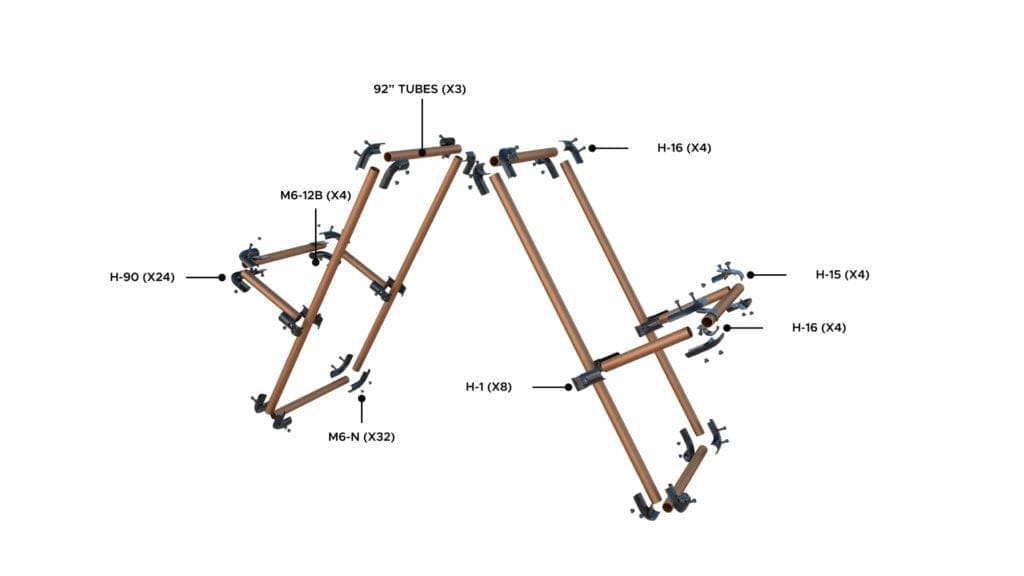 The tinktube joint sets are assembled with bolts that require one of the following tools -you might also have this at home-:
---
Adapt this project with the tinkpad!
Draw your project with this free printable tool which includes an isometric grid and our best tips to get started.