Eager to start making the most out of solar energy but unsure about how to properly mount your solar panels? We've got you covered. Our latest blog post features ingenious DIY ideas for crafting an adjustable solar panel stand. Regardless of your skill level, our inspirations, step-by-step instructions and helpful tips will help you create a customized solution that meets your specific needs. Once you master the art of harnessing solar energy, you'll be able to use it to light, heat or cool your home, heat water or even power home appliances!
So, let's roll up our sleeves and get started on this exciting solar-powered journey!
1. DIY portable solar panel stand
Needless to say, Scott's project was a success: he built a solar panel stand using tinktube's connectors and 3/4 inch EMT conduit.
If you decide to do the same, you'll need to use our EMT connectors: we made our classic connectors compatible with conduit by selling them with adaptors (all you'll have to do is choose the right option in the drop-down menu when you buy the fittings).
2. Free plans for solar panel stand
This free plan provides all the necessary details for constructing a solar panel stand. The dimensions of this project are 80 inches in width by 40 inches in height -and the weight is approximately 50 pounds.
You can use the plan as an inspiration and tailor your own design to fit your needs. Get ready to take your DIY skills to the next level!
3. Tom's solar panel DIY rack
Tom made a roof rack to hold a 50-watt solar panel and provide a small storage space on the roof of his camper. The solar panel serves as a lid to the roof rack storage space -smart move!-. It hinges open to reveal the storage and achieve a better exposure angle for the solar.
To see Tom's DIY solar panel rack how-to video, check out his Youtube Channel!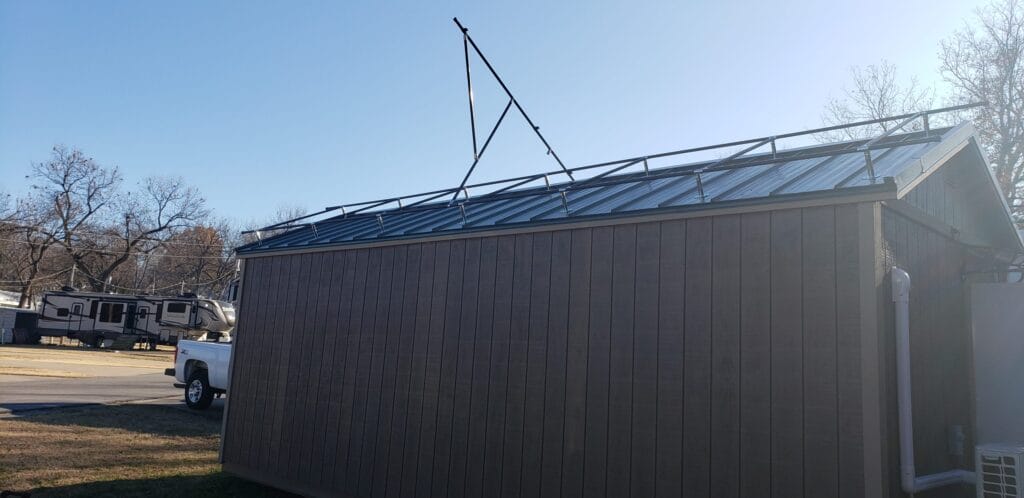 4. Solar panels on standing seam metal roof
DIY solar panel stands can be a great way to install solar panels on your home or business or garage roof. When built with steel tubes and fittings, these stands are strong, durable, and can easily support the weight of the solar panels.
To install the stands on the roof, you will need special clamps that attach to the seams of the roof without causing damage. These clamps will hold the stands securely in place and prevent them from shifting or sliding during strong winds or heavy rain.
5. Van roof adjustable solar panel stand
The first step when building your DIY solar panel stand is to determine the proper angle for your panels. This will depend on your location and the amount of sunlight your panels will receive.
Once you have this information, you can begin designing your stands and gathering the necessary materials. If you build solar panels on top of a van, you're in luck: you'll be able to park the van in a strategic way to make the most out of the sun!
6. DIY solar panel frame
Steel tubes and fittings are a popular choice for building solar panel stands because they allow you to customize your project entirely, creating the exact angle you need.
You can make the frames adjustable by choosing the right fittings or accessories. tinktube has lots of options to do so! This design allows the frame to be easily adjusted and moved as needed, making it ideal for installations where the terrain may be uneven, like on the grass, or the orientation of the sun may change throughout the day.
7. Adjustable solar panel stand for boats
This frame is designed to provide a reliable structure for holding the solar panel in place. It is capable of supporting the weight of the panel, and it is versatile enough to allow the panel to be turned and tilted to face the sun, maximizing the exposure to sunlight and maximizing the amount of energy that can be generated.
At the center of the frame, where the steel tubes cross, a t-connector is used to provide additional support and stability. This connector ensures that the weight of the solar panel is distributed evenly throughout the frame, reducing the risk of stress on any one part of the structure.
8. Heavy-duty solar panel frame
Overall, this galvanized steel tubes solar panel frame is an excellent choice for those looking for a reliable, sturdy, and versatile solution for mounting large solar panels. Its robust construction and flexible design make it ideal for use in a wide range of applications, from residential to commercial installations!
9. DIY solar panel stand for your boat
Alex, a passionate boater, embarked on a DIY project: a solar panel stand for his boat. Using tubes and connectors, he crafted a custom structure to harness the sun's energy. His innovative idea reduces reliance on fuel, inspires us, and promotes greener boating practices!
Like he would do for any other DIY project, he measured, cut, and connected the tubes with the fittings, carefully aligning them to create a stable foundation.
As he pieced everything together, he was able to adjust his build along the way (tinktube's building system is evolutive and easy to work with).
Harness the power of solar energy with your own build
In conclusion, if you're passionate about using solar energy to power your home or business, we hope this blog post inspired you! Once you start designing your project with tinktube, you'll be able to create a custom solar panel stand that fits your unique needs and budget. All you need are a few good ideas and helpful tips to craft a structure that's both sturdy and reliable, regardless of your level of experience.
So, let's embark on this exciting solar-powered journey together and start making the most out of renewable energy!
Want to see more? Check out the posts below!