Welcome aboard, fellow boat enthusiasts! Are you ready to embark on a DIY adventure that will take your boat game to the next level? Well, shiver me timbers, because we've got just the thing for you! In this article, we're diving headfirst into the exciting world of boat bimini tops. Whether you're a landlubber or an experienced sailor, we've got expert tips and five homemade boat bimini top ideas that will make your boat the envy of all the marinas.
Before we set sail, let us introduce you to our secret weapon: tinktube's building material. This innovative building system will make your DIY projects a breeze, providing you with sturdy, reliable materials to bring all your designs to life. But wait, there's more! If you have questions along the way, we've got your back. You can book a free call with our technical expert extraordinaire, Esteban. He knows the ins and outs of building with tinktube like nobody else, and he's more than happy to lend a helping hand.
So, whether you're a novice or a seasoned pro, it's time to hoist the anchor and set sail towards boat bimini top greatness. Get ready to be amazed as we unveil these fantastic ideas that will transform your boat into a floating paradise. Let's dive in, me hearties!
But first, what is the difference between 3-bow and 4-bow bimini?
The 3-bow bimini top, my friend, is the tried and true classic. It's the go-to option for V-hull runabouts, ski boats, performance boats, and most center consoles. This beauty provides just the right amount of shade without compromising style. It's like having a trusty first mate by your side, always ready to shield you from the sun's relentless glare.
But hold your sea horses, because we're not done yet! If you happen to be the proud captain of a larger vessel, like a pontoon or a deck boat, then the 4-bow bimini top is what you need. This bad boy is built to handle the bigger boats, offering even more shade and coverage. It's like having a giant parasol for your boat, ensuring that you and your crew can lounge in cool comfort, sipping your favourite refreshments without a worry in the world.
So, there you have it: you are now armed with the knowledge to choose the perfect shade provider for your vessel. Remember, it's all about finding the right match for your boat, so you can sail in style and comfort!
1. Bimini top for Jon boat
This Jon boat bimini top is a true masterpiece of DIY: you'll have the freedom to customize the size and shape to perfectly fit your Jon boat, ensuring seamless integration with your vessel.
But here's where the magic truly happens – this bimini top is foldable! Yes, you heard it right. With a clever design and the use of the right connectors, you'll be able to easily collapse and fold the top whenever you need some open sky above. It's like having the best of both worlds: shade and protection when you desire it, and a clear view of the blue skies whenever you're in the mood for an unobstructed experience!
2. DIY Jon boat bimini top
Picture this: you're cruising on the open water, the wind in your hair, and the sun shining down on your boat. But wait, you need some shade to protect your skin from those scorching rays. That's where a bimini top like this one comes in handy!
If you decide to build a similar project with tinktube, know that you can bend the tubes to avoid using fittings in some areas of your build!
3. Bimini top for pontoon boat
Like the first 2 examples, it can be created with high-quality steel tubes and connectors, ensuring durability and reliability. The main difference between 3-bow and 4-bow bimini boat tops is we're adding a few more tubes and connectors to create a heavy-duty structure that can handle anything you throw its way!
With a 4-bow bimini top, you'll have the perfect shelter from the sun's rays. This extra bow adds even more coverage, providing ample shade for you and your fellow passengers.
What size tubing is used for bimini top?
When it comes to bimini top frames, you need tubing that can withstand the wildest waves and the fiercest winds. And that's where tinktube's steel tubes enter the picture. Made of galvanized steel and painted in a variety of colours, they are the perfect match for your bimini top DIY. Let's dive into the specs, shall we?
tinktube's steel tubes specs
Our galvanized steel pipes come in a diameter of 1-1/16″ (that's 28 mm for you metric-minded sailors), making them sturdy enough to handle whatever the open water throws at you. And here's the best part: they come in a convenient length of 92″.
How to cut a steel pipe
Need a custom length? No problemo! With a handy-dandy pipe cutter, you can slice through those pipes like a swashbuckling hero, adjusting them to the desired length in just a few seconds. All you'll have to do once the pipes are cut is assemble them together with our fittings!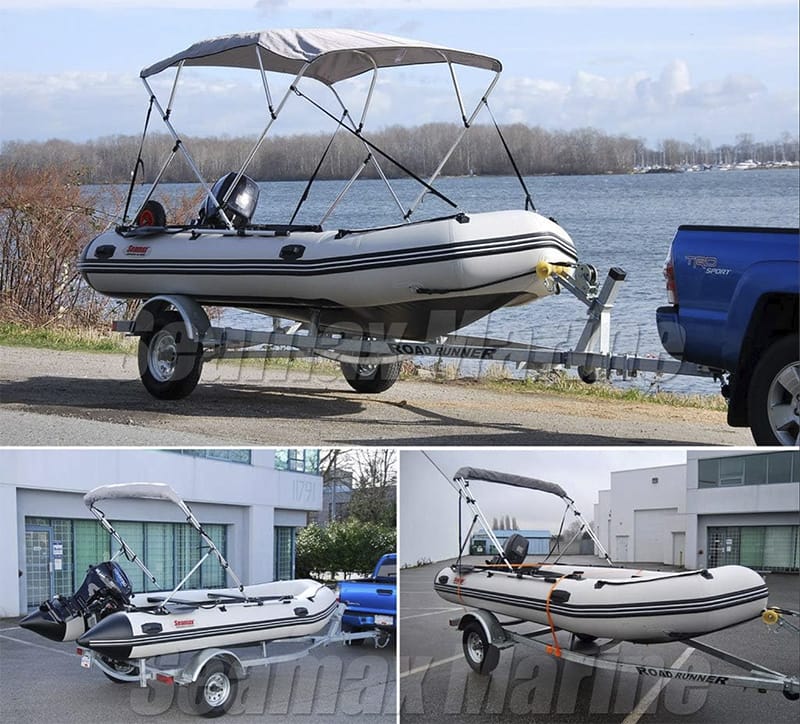 4. DIY boat bimini top
When building your own boat bimini top project, you have the power to customize the dimensions and style to fit your boat's exact specifications. Once you've constructed the sturdy frame, it's time to focus on the next crucial step: choosing a high-quality fabric to ensure maximum comfort and durability.
Selecting the right fabric is essential to enhance your boating experience. You'll want a fabric that not only provides excellent shade but also withstands the elements and offers long-lasting performance. Look for fabrics that are UV-resistant, water-repellent, and have excellent tensile strength to ensure they can withstand the rigors of boating.
What is the best marine fabric for bimini top?
There's a fabric that reigns supreme in the realm of bimini tops, and its name is vinyl. Yes, vinyl is the superhero fabric that saves the day. But not just any vinyl, mind you. We're talking about vinyl-coated fabrics, typically made of trusty polyesters, such as the legendary Stamoid.
Why is vinyl the chosen one, you ask? Well, let us enlighten you. This magical fabric is not only waterproof but also has the superpower to divert water to the sides of the top for a perfect runoff. Say goodbye to pesky water pooling on your bimini top. With vinyl, you'll stay dry and ready to conquer the seven seas!
But wait, there's more! Vinyl is not just a water-repelling wizard; it's also a durable and long-lasting companion for your bimini top. It's like having a sturdy shipmate who can withstand the harshest of conditions, from sun rays to fierce winds and salty spray. Vinyl's got your back, keeping your bimini top looking shipshape for years to come.
5. Custom boat bimini top
With a custom DIY boat bimini top, the possibilities are endless. As you can see, this idea has a completely different design, which makes it easier to cover a bigger part of the boat with shade. Even though it's not foldable, it can be an interesting option for some people, as it is also simpler and easier to build!
Tailor it to fit your boat perfectly and let your creativity run wild! Your bimini top should reflect your style, enhance your boating experience, and make a statement on the water!
Raise the Bar with these Game-Changing Bimini Top Ideas
We've explored a world of DIY possibilities for boat owners looking to elevate their boating experience with a homemade bimini boat top. We've showcased the versatility and adaptability of tinktube's building materials, which provide a strong foundation for your DIY project. The galvanized steel pipes offer not only durability but also a touch of style to your creation. And whether you opt for the classic 3-bow bimini top or the spacious 4-bow for larger boats, you now have the knowledge and inspiration to embark on this exciting DIY adventure.
We hope these ideas will help you create a custom shade and shelter solution that perfectly suits your needs! By building your own bimini top, you not only save money but also gain a sense of accomplishment and customization. Imagine the satisfaction of taking your boat out on the water, knowing that the shade and comfort above are products of your own ingenuity and craftsmanship…!
Chuck built a custom boat frame for his 14' heavy duty rigid inflatable.