As an avid gardener, you understand the joy of watching your precious plants thrive and bloom. However, this lush paradise can sometimes attract unwelcome guests who pose a threat to your hard-earned botanical haven: critters, birds, squirrels and even deers! In this article, we present you with 15 ingenious and budget-friendly DIY garden cage ideas.
If you wish to protect your beloved plants AND add a touch of elegance to your outdoor space, these DIY garden cages are designed to strike the perfect balance between functionality and aesthetics, offering you a chance to showcase your creativity while nurturing nature! Whether you have a sprawling backyard, a cozy patio garden, or a small urban oasis, our handpicked collection has something for every gardener. From simple and quick setups to more elaborate constructions, you'll find a range of options that suit your gardening style and needs!
1. DIY vegetable garden cage
In this DIY garden project, resourcefulness and practicality obviously came together to create an effective and budget-friendly solution.
Using a combination of pipes and connectors, the gardeners assembled a robust framework that would serve as the foundation for their protective cage.
They opted for black polyresin deer fencing, which offers excellent durability. The lightweight and flexible nature of the material allows for easy manipulation and ensures a snug fit around the frame!
With this ingenious setup, the gardeners successfully shielded their precious raised vegetable garden from the relentless nibbling of wildlife, giving their plants the freedom to thrive and produce an abundant, harvest-ready bounty.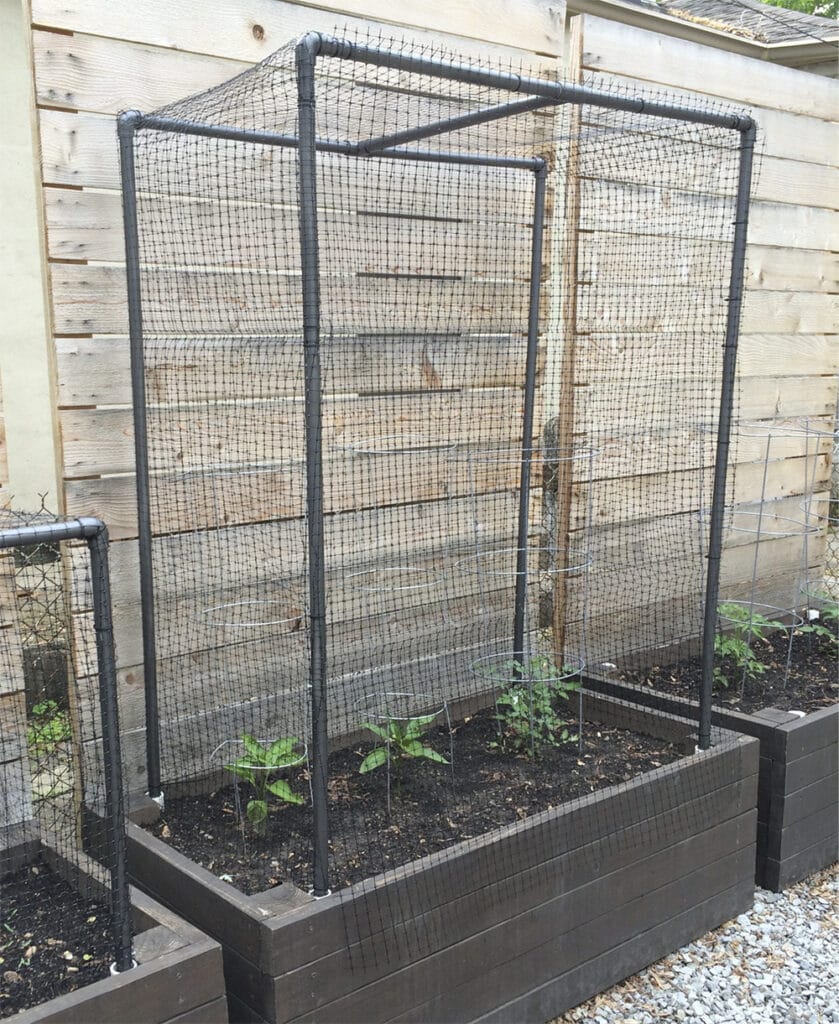 2. Custom garden cage
Transform your garden into a thriving area with a customizable DIY garden cage like this one. And good news: it's an absolute breeze to put together using tubes and connectors! A construction system like tinktube allows you to use your creativity to protect your plants from pests and adverse weather conditions.
The beauty of this project lies in its adaptability. It enables you to tailor the cage's size and shape to suit your garden's unique layout! Although you can choose from an array of materials, like PVC, metal, or even bamboo, the most durable, simple and easy way is to go with steel tubes and connectors.
3. DIY blueberry bush cage
In their blog post, the author shares how they built an inexpensive blueberry bush cage using PVC pipe. They added bird netting over the structure and it quickly became an efficient garden cage that would easily protect their precious blueberries!
As you'll probably expect, we would choose steel pipes as a more durable alternative to PVC (this material will not only let you replicate the exact project you see on your right, but it will make it sturdier and guaranteed to last longer). That being said, the design of the project is perfect!
The author of the article also mentions that the project was designed and installed in under an hour.
4. Garden enclosure
Believe it or not, you can replicate this exact project using steel tubes and connectors. While the upsides of choosing steel instead of wood are plenty, here is one of the most interesting: you'll need almost no tools to build the entire project!
In fact, the only tools you'll need are a tube-cutter and a T-handle wrench!
5. How to build a cage around a raised garden bed
Garden enthusiasts seeking a safeguard against pests and environmental elements will find protective covers for raised garden beds to be an excellent solution.
With a diverse range of options available, gardeners can tailor the choice to meet their specific needs. DIY garden bed covers like these ones promise to shield precious plants, allowing them to thrive undisturbed and ensuring a flourishing gardening experience!
Thanks to its doors, this cage's design facilitates hassle-free watering and plant care, making it a must-have for gardening enthusiasts of all levels. Whether you aim to create a cozy home for delicate herbs or a sprawling haven for vegetables, our DIY garden cage offers endless possibilities for green-thumb enthusiasts.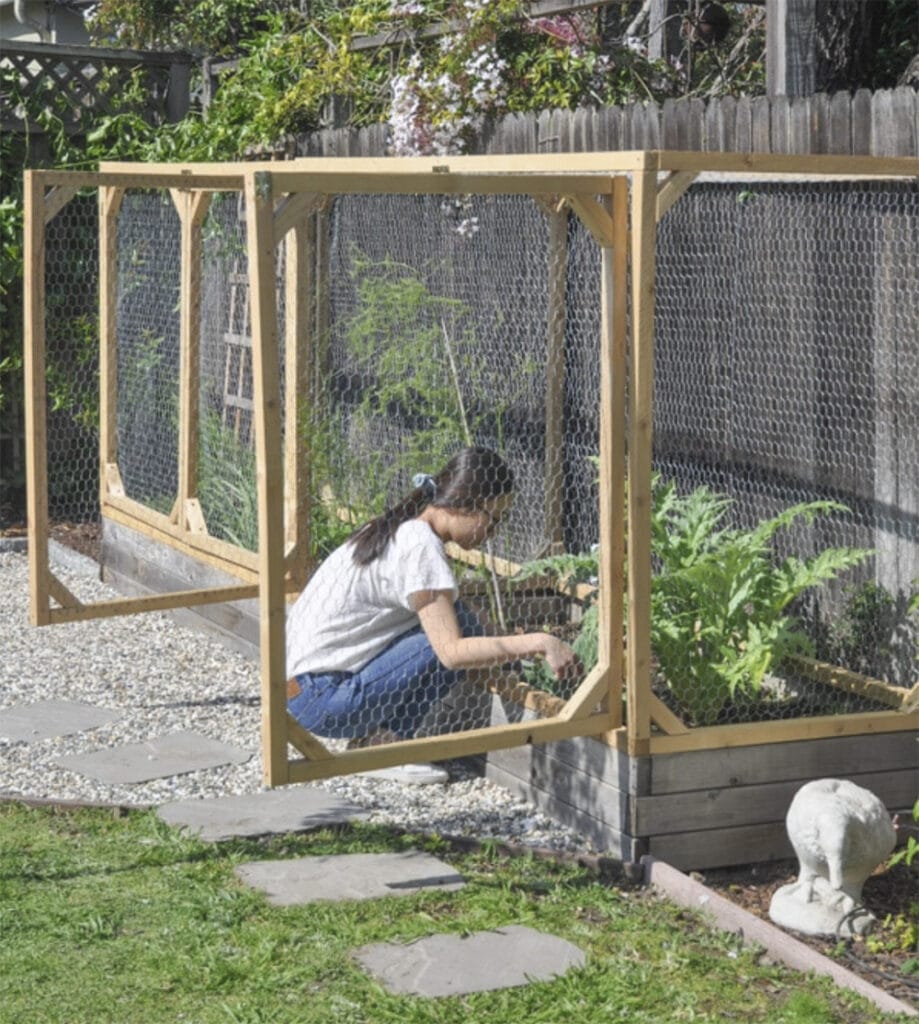 6. Garden cages DIY
Because of its simple design, this large garden cage offers ease of assembly and provides maximum flexibility to create the ideal enclosure. Adding a sliding vertical panel at the end of the cage will let you access your crops easily whenever you need to water them or harvest!
If you build it with steel tubes and fittings, this robust cage will serve as an impenetrable fortress against unwelcome visitors. Embrace the peace of mind that comes with safeguarding your plants from these hungry creatures!
7. Garden plant cages
Whether you opt for multiple smaller cages or a single large one, if you have a spacious garden, covering ample ground becomes essential. In such instances, a DIY garden cage constructed from robust steel tubes and connectors is the ideal solution.
The substantial size of the cage demands sturdy materials to ensure the enclosure's utmost safety and reliability, enabling it to withstand various environmental elements and potential critter intrusions. Once your cage structure is in place, the choice of netting is entirely up to you, allowing you to tailor it to your precise needs and creative vision!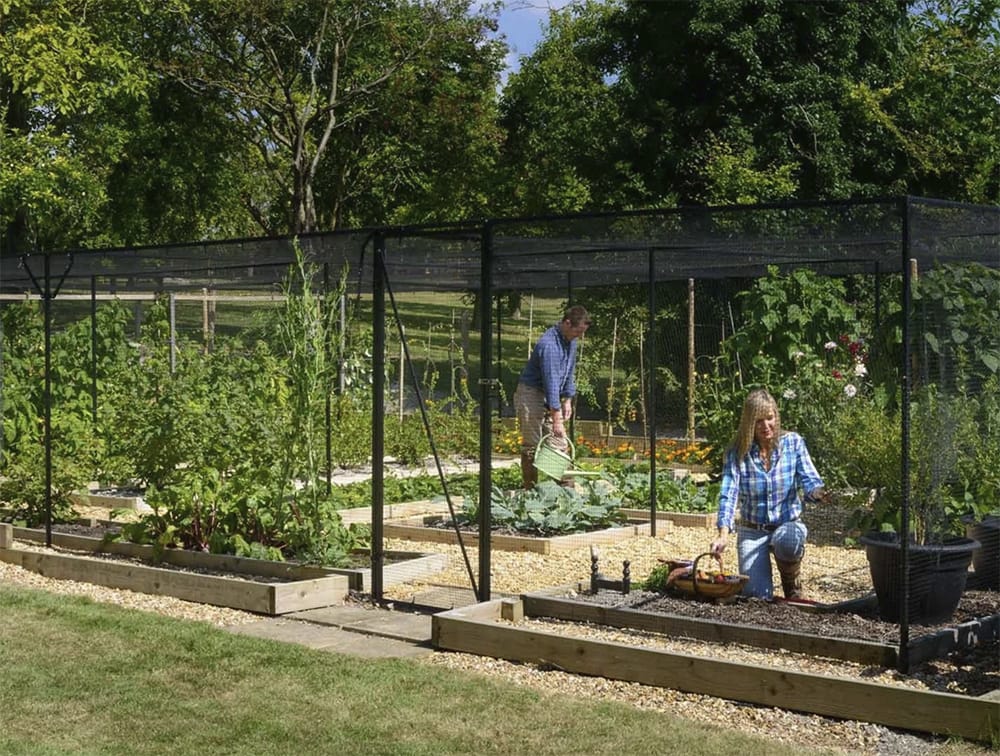 8. Garden cages to keep animals out
Critters: These agile creatures are known for nibbling on tender leaves, flowers, and fruits, potentially damaging the overall health of the plant.
Adorable as some of them they may be, they can be quite destructive to gardens, munching on young shoots and leaves, which can stunt plant growth.
Squirrels, rabbits, deer, birds like pigeons or sparrows, insects, rodents like mice or rats, raccoons or groundhogs… Depending on the region, gardens might need protection from all these creatures which can cause considerable destruction!
9. Garden tomato cages
Crafted with simplicity in mind, this steel tube and connector tomato cage offers a delightful combination of utility and beauty, becoming a valuable addition to your garden while elevating the overall aesthetics of your backyard!
While the wood box at the cage's base remains optional, it proves its worth if you envision relocating your plants to another spot after the season. To create full cages, just add netting around the frames.
10. Garden cage frame
The brainchild of a skilled DIYer within the community, this project was expertly designed and constructed. The creator utilized 3/4 in. EMT conduit alongside tinktube's specialized fittings, carefully selecting those equipped with adaptors for seamless compatibility with the conduit.
Employing a clever technique, the DIYer expertly bent the tubes to achieve the desired shape. He then put some netting around the frame to create the trellis. If you want to build a garden cage, all you have to do is add netting to all sides of the frames and ta-da!
You've got yourself a garden cage!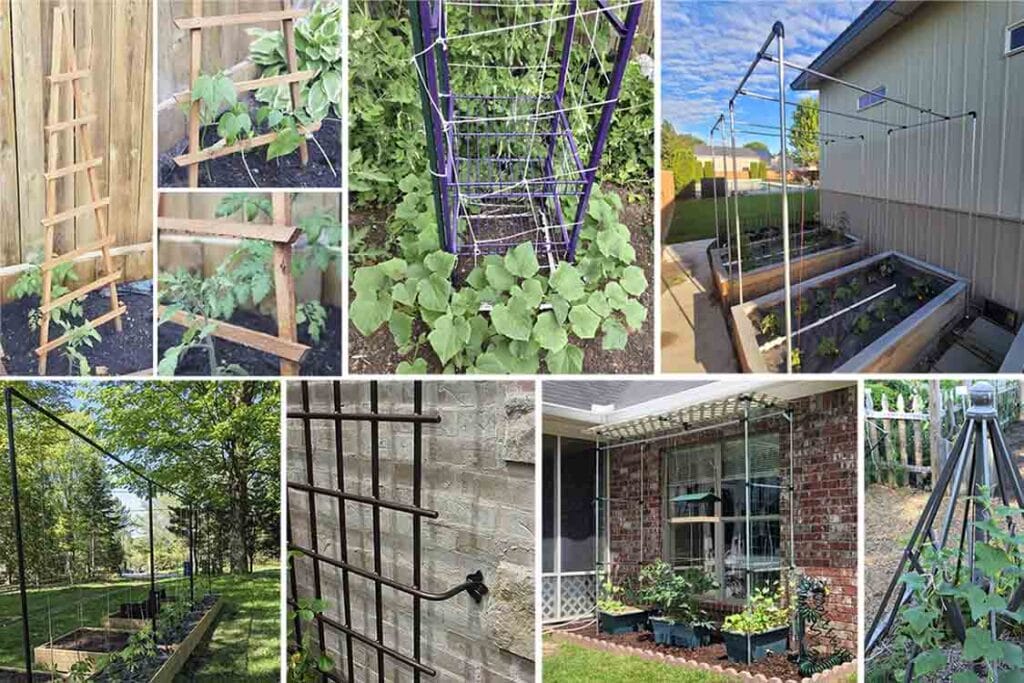 Looking to build a cucumber trellis?
This post presents the BEST cucumber trellis DIY ideas we found!
11. Heavy-duty garden cage
If you want to build a heavy-duty garden cage, you'll a need building material like steel pipes and connectors. The synergy of these components ensures structures of unparalleled durability.
The flexibility of cutting the tubes to length will empower your DIY ventures, allowing tailored adjustments.
Exuding an industrial elegance, tinktube will seamlessly harmonize with any decor or setting. Personalize your projects by choosing tube colors that resonate with your vision, or apply diverse metal paints for unique aesthetics!
And unlike you would with woodworking, tinktube necessitates minimal equipment. Armed with a pipe cutter and a T-handle wrench, you're primed for seamless construction!
Discover a DIY solution that simplifies the building process while delivering uncompromising strength and adaptability.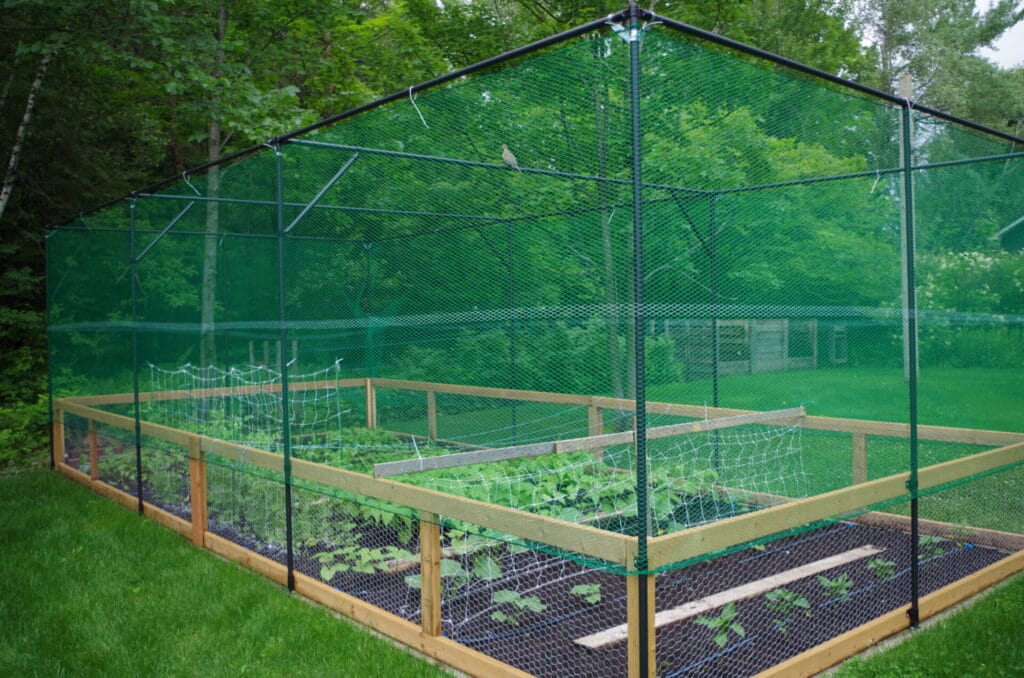 12. Daniel's garden cage
In the face of persistent challenges posed by hares, groundhogs, and deer in his backyard, Daniel was determined to protect his beloved plants.
His journey led him to the discovery of tinktube. Utilizing chicken-wire fencing at the base to deter the hungry creatures, and adding netting at the top to fend off deer, Daniel's plants are now well-equipped to flourish and grow undisturbed.
13. A-shaped garden cage
Embrace the boundless versatility of this ingenious garden framework, designed to provide unparalleled flexibility in customizing widths and heights for diverse crops across your garden. Its distinct configuration allows for effortless adjustment, enabling you to create narrow or expansive setups, ideal for adapting to changing crop needs throughout the year.
A perfect shield for rows of fruits or vegetables, this frame empowers you to select bird netting when pollination becomes a necessity for your precious crops. Revel in the freedom and adaptability this garden structure offers as you nurture and protect your garden's bounty with ease.
7 Greenhouse Shelves DIY Ideas
We've scoured the web to find the best greenhouse shelves DIY ideas : here are some examples!
14. Garden cages for vegetables
This ingenious endeavor utilizes a clever arrangement of pipes and fittings. The result is a highly adaptable and budget-friendly answer to safeguarding your garden with its robust frame and protective net. Whether shielding your cherished plants from bothersome insects, feathered intruders, or the elements' wrath, this garden net concept guarantees the security of your verdant wonders!
15. Crop cage for garden
Sometimes, embracing simplicity and efficiency is paramount!
Fashioned with elegantly curved tubes firmly planted into the earth, this endeavor caters to low-lying plants. The straightforward design presents a no-frills shield, providing an ideal solution for safeguarding your greens with minimal fuss. The clever incorporation of small clamps enables effortless attachment and detachment of the net, ensuring convenient access to your cherished plants whenever required.
With this bespoke DIY garden net, your green sanctuary shall thrive, well-guarded against unwelcome pests and critters!
Striking the perfect balance : functional garden cages ideas
We hope at least one of these creative and cost-effective DIY garden cage ideas will efficiently solve your problems with hungry critters. As you cherish the growth and beauty of your cherished plants, safeguarding them from unwanted visitors becomes paramount. The variety of designs showcased in this article allows you to choose the perfect balance between practicality and elegance, elevating your outdoor space to new heights!
With these ingenious cages, your green sanctuary can flourish undisturbed, while you revel in the fulfillment of nurturing nature. From expansive backyard plots to charming urban gardens, the carefully curated selection caters to every gardener's individual style and requirements. So, unleash your creativity, embrace these fantastic projects, and let your garden thrive under the watchful eye of your personalized DIY garden cage. Happy gardening!
Here's what you need to build the perfect firewood rack: a DIY plan!