Picture this: a burst of vibrant colors, a rhythmic sway, and a dash of whimsy that turns an ordinary parade into a full-blown spectacle. What's the secret ingredient? DIY marching band props that are as creative as they are crowd-pleasing! If you've ever wondered how marching bands manage to pull off those jaw-dropping formations and eye-popping displays, you're in for a treat.
In this article, we're diving into the delightful world of DIY marching band props – the ingenious, quirky, and downright fun ideas that add a whole new dimension to musical performances. So, grab your baton, tune up your imagination, and let's march straight into a symphony of crafty inspiration that will have your band stepping to the beat of their own uniquely decorated drums!
1. DIY marching band field props
These DIY marching band field props projects were crafted with pipes and connectors. This creative endeavour allows band members and enthusiasts to design and construct their own unique set of field props, adding an element of personalization and pride to their performances.
Materials & tools you'll need to make these marching band props:
Steel pipes: These versatile and lightweight pipes serve as the primary building material for the props. They come in various colors, offering flexibility in design.
Steel connectors: Connectors such as HJ-1 and HJ-2 are essential for joining the pipes at different angles and configurations.
Measuring Tape: Accurate measurements are crucial for ensuring the proper dimensions of the props.
Pipe Cutter: This tool is necessary for cutting the pipes to the required lengths.
An Allen key: This tool may be needed to assemble the connectors.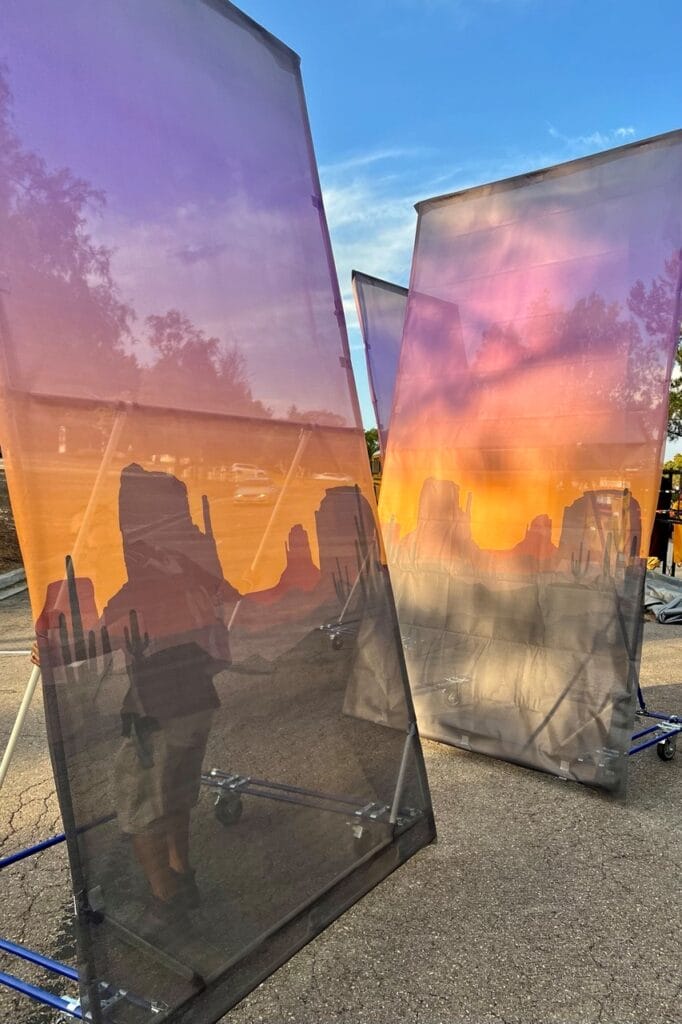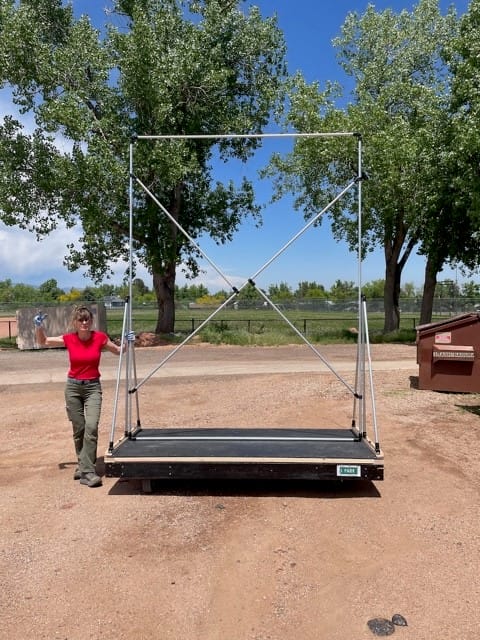 2. Marching band prop frames
Not only do marching band props enhance the band's aesthetics, but they also foster a sense of pride and camaraderie among the members.
Brian built up his project using a mix of pipes and connectors. He wanted to create swivelling frames that would be used as high school marching band props.
The angled pipes in the middle of the frame make the structure much sturdier, which is an important detail to consider when building this type of project.
The frames soon became a tangible representation of their collective creativity and hard work, a testament to what can be achieved through innovative thinking and hands-on craftsmanship!
3. DIY marching band props
This project is unique. The initial goal was to build a big wall of images for the marching band. The DIYers built 4 rolling carts and placed them next to each other on the field to create the wall.
They then created images which were divided into 4 vertical strips and printed on vinyl. Each cart had 4 images (one on each side) that could be rotated during the show to present the other scenes.
According to the source, the carts are fairly large – about 4 feet wide and 8 feet tall!
4. Marching band prop holders
A great example of creativity and functionality, this DIY project aimed to craft marching band prop frames that met stringent design criteria. The objective was to create visually captivating 5′ x 10′ panels that could gracefully pass through a standard 36″ wide door and be easily transported within the confines of a 36″ x 48″ x 84″ charter bus cargo bay.
The project's ingenuity lay in devising a tension pole-style frame that not only fulfilled these requirements but also allowed for efficient assembly and disassembly!
5. Marching band idea
In the realm of ambitious DIY projects, there are endeavors that stand as a testament to human ingenuity and teamwork. This colossal marching band structure was carefully designed to unfurl and ascend to its majestic form, requiring the synchronized effort of around 10 dedicated individuals.
It merges creative design, precision engineering, and collaborative spirit to create an awe-inspiring spectacle for both performers and audiences!
The design harnesses the power of steel tubes and connectors. The use of sturdy and heavy-duty materials like steel tubes and connectors ensures both the safety of the participants and the stability of the structure. It can transform from a compact and transportable form to a towering centerpiece during performances!
6. Marching band on wheels
The key to this prop's success lies in its exceptional maneuverability. Designed with the marching band's fluid formations in mind, the cart can be effortlessly pushed and guided along the field. Its agile swivel wheels ensure smooth navigation, allowing performers to seamlessly integrate the prop into their routines.
The horizontal tubes that span the carts' width serve as convenient handles that provide performers with direct control over their movements. With a simple grip, band members can guide the prop with precision, enhancing choreography and synchronization.
7. EMT marching band prop
Inexpensive and easy to find, EMT conduit makes for a perfect option to create custom marching band props.
This sleek-looking, simple yet robust build idea is an ideal project of you are looking to create large walls in front of which the band can perform.
tinktube sells EMT connectors. Check them out!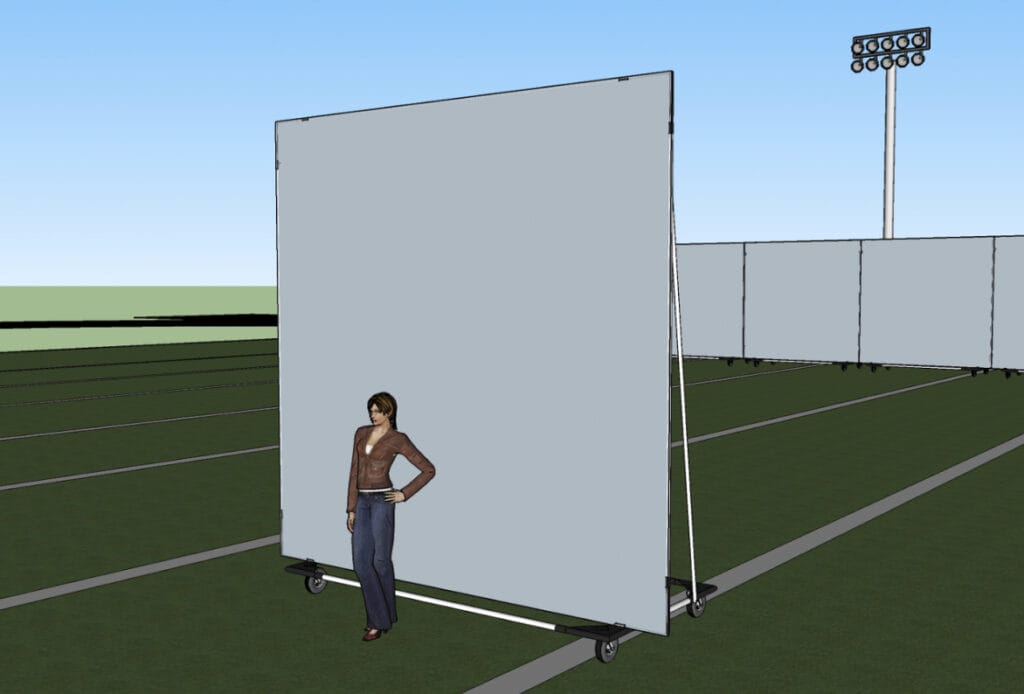 8. PVC pipes marching band prop
This DIY marching band prop represents a testament to the union of creativity and resourcefulness. Assembling this ingenious masterpiece involves meticulously selecting and joining PVC pipes and connectors, crafting a structure that seamlessly complements the band's dynamic performances.
While PVC pipes offer versatility and ease of use, the realization dawns that the prop could achieve an even greater level of sturdiness and durability with the incorporation of steel tubes.
The robustness of steel tubes would elevate the prop's structural integrity, allowing it to confidently withstand the rigors of outdoor performances, inclement weather, and the test of time!
9. Steel tubes marching band field prop
Simple yet efficient, this project is easy to replicate and customize to your project's needs in terms of dimensions.
Assembling this project involves the careful selection and manipulation of steel tubes to create a robust framework that offers a versatile canvas upon which creativity can flourish.
The result is not only a durable structure capable of withstanding the demands of outdoor performances but also a sleek and professional appearance that commands attention.
The dimensions of the steel tubes can be tailored to suit the unique requirements of each marching band's vision, allowing for a high degree of customization. Whether it's a soaring arch, an intricate lattice, or an awe-inspiring sculpture, this DIY endeavor allows band enthusiasts to translate their creative aspirations into tangible, imposing realities!
10. Marching band field props
These props take on a distinctive squared-tour shape, a symphony of lines and angles that harmonize with the precision of a well-composed melody. It draws the eye and ignites the imagination, reflecting the commitment to innovation that lies at the heart of the marching band world.
Recognizing the demands of both weather and movement, the prop's creators fortified its foundation with additional steel tubes.
These strategic reinforcements stand as guardians, ensuring that the prop can weather the elements with unwavering poise and grace, all while withstanding the dynamic energy of the band's choreography. The prop becomes a steadfast companion, undaunted by the winds and rain that may come its way, allowing the performers to deliver their artistry with unwavering confidence.
Marching to the beat of innovation
As we peel back the curtain on the captivating world of DIY marching band props, a symphony of creativity and innovation comes to life. From the initial spark of an idea to the meticulous craftsmanship that brings it to fruition, these props add a touch of magic to musical performances that leave audiences in awe. It's a harmonious blend of art and engineering that transforms parades into mesmerizing spectacles.
As we've discovered, the secret to those jaw-dropping formations and eye-popping displays lies in the hands of the visionaries who conceptualize and construct these remarkable creations. Through an array of ingenious, quirky, and undeniably fun ideas, marching bands tap into the power of DIY to add an entirely new dimension to their musical journey. So, as the baton is passed and the notes resonate, let this exploration of crafty inspiration serve as a reminder that the world of marching band props is a canvas where imagination knows no bounds, and where every performance becomes a unique masterpiece set to the rhythm of innovation!
Here's what you need to build the perfect firewood rack: a DIY plan!