Step aside, ordinary shelves – there's a new kid in town, and they're here to turn your space into a practical yet wildly stylish playground! Imagine a world where rugged meets suave, where pipes go from carrying water to cradling your treasures. In this article, we're diving headfirst into the captivating universe of industrial pipe shelves ideas. We bring you a bit of inspiration so you can give your bedroom, living room, bathroom or kitchen a high-five of charm. But hold onto your hard hat, because we're not just here to admire these beauties. We're all about getting our hands (and maybe a little sawdust) into the mix! Join the DIY party as we explore the perks of rolling up your sleeves and crafting your very own pipe-tastic shelves!
Get ready to level up your interior game, all while embracing the quirks and benefits of fashioning shelves that are as unique as you are. These 15 ideas are easy to replicate using the tinktube system – all you'll need are a few pipes, fittings and your creativity!
1. Ceiling-fixed shelves
This uncomplicated project promises to infuse your surroundings with charm. Its essence lies in conceptualizing and fabricating shelves that will be artfully installed on both your ceiling and walls.
By elevating these shelves to lofty heights, you liberate precious floor area while simultaneously fashioning an awe-inspiring and visually captivating exhibition of lush greenery. This venture embodies a versatile simplicity, accommodating an array of dimensions to harmonize seamlessly with your designated space!
2. Industrial pipe shelves for the kitchen
The deliberate juxtaposition of these two distinct materials (industrial pipe and wood) not only introduces a contemporary edge but also establishes a timeless quality that can seamlessly adapt to varying interior design themes. Here, it fills the role of kitchen cabinets perfectly!
The rich warmth of the organic wood complements the industrial allure of the steel, forming a visually engaging symphony that resonates with both modern minimalism and rustic charm.
Beyond its visual appeal, this wood and steel shelving system boasts an inherent functionality that further elevates its value within your kitchen. It offers a versatile canvas for personalization and creativity: this neutral yet impactful design can serve as a backdrop for various decorative accents, allowing you to express your unique style through carefully chosen accessories, from vibrant kitchen utensils to elegant botanical arrangements!
3. DIY industrial shelves plan
What you get from building your own shelves is much more than saving money.
Tailored Design: Meticulously design your structure to align with the unique dimensions of your space.
Customizable Shelf Heights: Accommodate a diverse array of objects.
Click here to check out our free plans!
4. Personalized pipe shelves
How could this wall be used in a better, more efficient way? The answer is it probably could not. The reason is that this shelving system was designed and built according to the wall's dimensions and the needs of its owner: a passionate music lover!
5. Wall-mounted shelves
This blend of pipe shelf design, storage bins and shelves offers a solution that effectively corrals the untidiness of dispersed toys within any household.
Noticed that some of the bins are placed really low? It's the perfect idea to encourage children to participate in the nightly tidying ritual! Placing their frequently accessed toys in the lower bins will make it easy for them to put them back where they belong at the end of the day. This approach not only streamlines the organization of your home but also does so in a chic and practical manner.
Would you like to see more toy organization ideas?
6. Pantry organizer
Marie's ingenious DIY venture showcases her exceptional creativity and practicality with a remarkable pantry organizer crafted from industrial pipe shelves.
With an astute eye for design and functionality, she meticulously conceived this organizer to seamlessly accommodate her refrigerator, exemplifying her innovative approach to optimizing space. Not content with mere utility, Marie elevated the aesthetics by adorning the connectors with a fresh coat of pristine white paint, infusing an elegant touch.
This remarkable project transforms a simple idea into a functional masterpiece that exudes both style and ingenuity in every detail.
7. Custom walk-in shelves
Just picture this: your walk-in, filled with the number of shelves you've personally chosen, fixed at the best height for your clothes and personal items, and just the right amount of poles to complement the industrial pipe shelves.
This type of project is exactly what you can do with tinktube. All you'll need is the measurements of your walk-in closet to plan how many pipes you'll have to buy, the right connectors and accessories to assemble the pipes together, and two tools:
From there, you can start building your walk-in closet at home, without any help!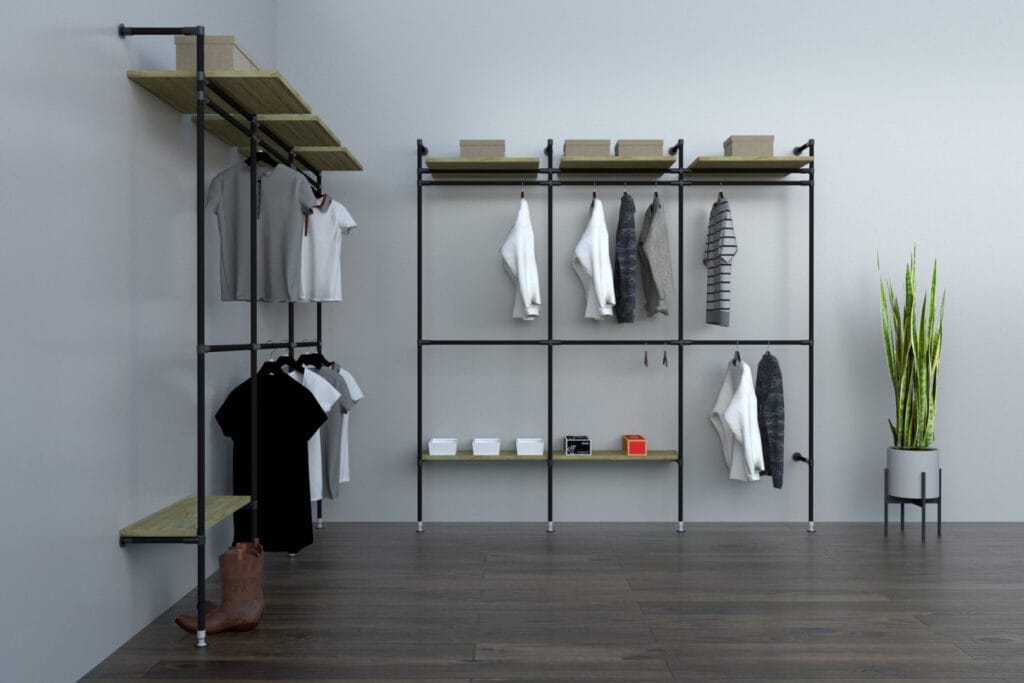 8. Closet industrial pipe shelves
While the arrangement of your attire and personal belongings might occasionally fall short of the desired tidiness, the inclusion of a self-made closet organizer can significantly simplify your daily routine.
By blending practicality with customization, you embark on a journey to create an organizational masterpiece that perfectly caters to your unique needs and spaces.
9. DIY bar shelves
Nicolas build his own shelving system for a specific reason: he needed to showcase his bottles of alcool (he owns a company that makes vodka)!
The industrial pipe shelves blend perfectly in his office's sleek decor.
10. Industrial kitchen shelving
In the world of DIY, this shelving system is equivalent to a masterpiece. It's just the perfect way to make the most out of the very restricted space available. And the best part in all this is: it looks very professional and neat!
If you are looking to build a similar project, you'll find the most important items here:
And of course, the surfaces of the shelves themselves, which you'll find in any hardware store near you!
11. Over the desk shelves DIY
Crafting over-the-desk shelves holds a special allure. This endeavor offers a straightforward and accessible avenue to enhance both your workspace's functionality and aesthetic appeal.
Constructed using industrial pipes and fittings, this DIY project presents an accessible entry point for those seeking to venture into the world of hands-on craftsmanship. The simplicity of the design ensures that even individuals with modest DIY experience can confidently undertake the task. By harnessing the power of pipes and fittings, you're not only utilizing sturdy and versatile materials but also tapping into a trend that seamlessly blends industrial charm with practicality.
One notable tip to elevate the visual impact of your over-the-desk shelves is to select a shelf material that closely mirrors the appearance of your existing desk. A harmonious alignment in materials creates a cohesive and visually appealing workspace, showcasing your attention to detail and design sensibilities.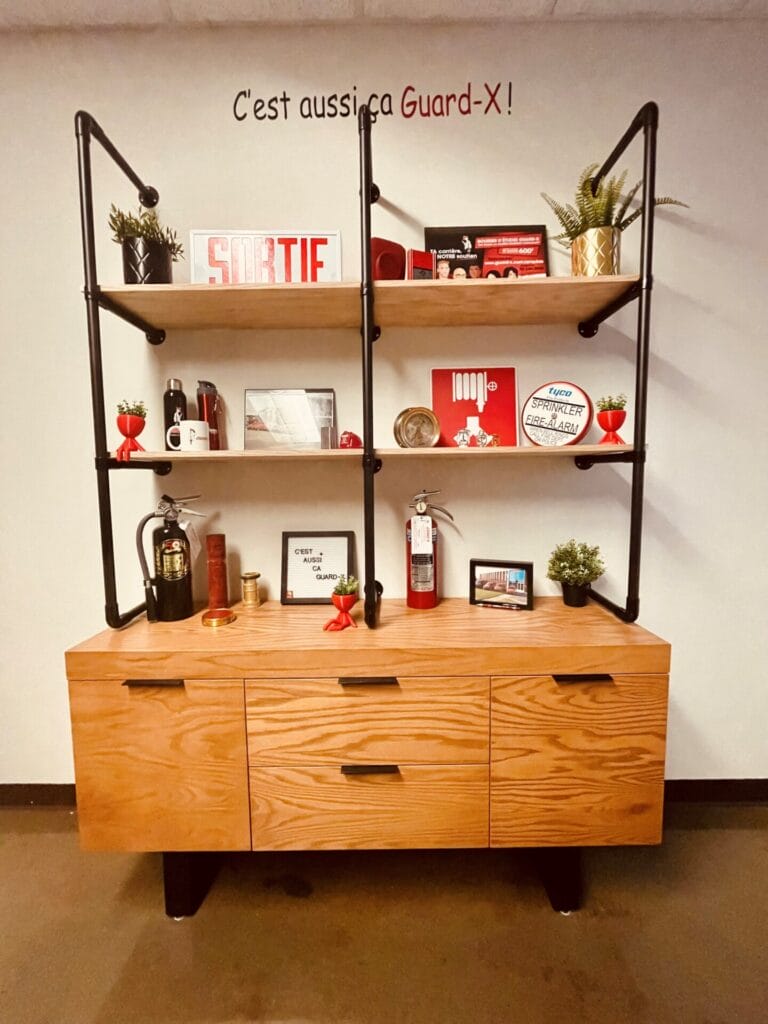 12. DIY industrial pipe shelves
Facing the challenge of needing additional storage within his office sanctuary, Ben embarked on a creative journey that would not only enhance the functionality of his workspace but also amplify its aesthetic appeal.
The muse of his innovative endeavor was none other than tinktube materials, which held the promise of metamorphosing into bespoke shelves that integrated into his office ambiance!
As the visionary architect of his storage solution, Ben carefully sketched out a plan, selecting the hues of white pipes with the contrasting elegance of black connectors, forging an artful fusion!
13. Wall-mounted DIY shelves
Designed with an innate versatility, this shelving marvel effortlessly finds its place in various settings, be it the inviting confines of a living room or the tranquil haven of a bedroom.
The contrasting styles where the industrial meets the rustic are a great addition to any decor!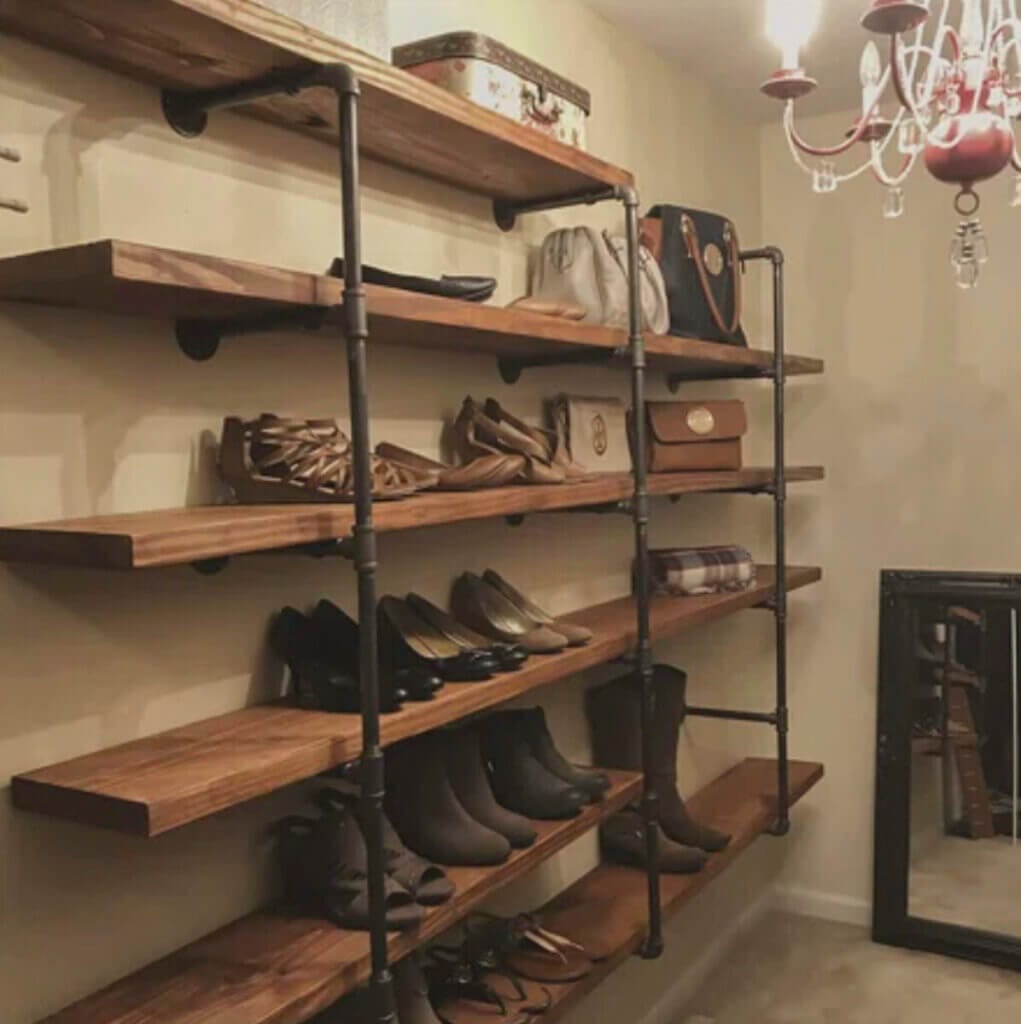 14. Entrance hall walk-in
Step into the realm of DIY ingenuity and discover this functional masterpiece – a walk-in closet ingeniously constructed using pipes and connectors. This project offers both creativity and practicality, redefining the very essence of your home's entrance.
The heart of this endeavor lies in the meticulous fusion of pipes and connectors, which converge to form an intricate web of shelving solutions perfectly suited for shoes, boots, and an array of other essentials.
15. Sylvain's closet organizer
Sylvain's closet organizer would surely earn a nod of approval from none other than Marie Kondo herself.
In a display of remarkable ingenuity, he harnessed the power of sleek black pipes and connectors to meticulously craft DIY shelves and rods, transforming his storage space into an oasis of organization.
As we conclude our exploration of industrial pipe shelves, Sylvain's creation stands as a shining testament to the marriage of functionality and aesthetics in the realm of interior design!
Revolutionizing interior aesthetics with DIY industrial pipe shelves
In a world where functionality meets flair, ordinary shelves are taking a backseat to a rising star: the ingenious industrial pipe shelves. This journey through the captivating realm of pipe-based shelving ideas has opened our eyes to a realm of possibilities where rugged aesthetics seamlessly blend with suave charm. As we bid adieu to conventional shelving, we invite you to envision a space transformed, where pipes that once carried water now cradle your most cherished possessions.
Our exploration has been a whirlwind of inspiration, offering glimpses into how these creations can breathe new life into every nook and cranny of your home – be it the bedroom, living room, bathroom, or kitchen. Step by step, pipe by pipe, we invite you to step into this world of DIY wonders and craft your very own symphony of style and substance. The stage is set, and the tools await – it's time to turn your space into a practical yet wildly stylish playground, where pipes and creativity converge to shape a narrative that is uniquely yours!
22 affordable DIY closet organizer ideas
If you're looking for affordable DIY closet organizer ideas that will inspire you to maximize your space, we've got you covered!
Here's what you need to build the perfect firewood rack: a DIY plan!