The van-what?
Vanning, or "vanlife", is the tendency to live in a van, which has previously been adapted to make it easier to live there, a few days during holidays or even longer term.
Like many vanning enthusiasts, Elaine and Karine spend a lot of time in their van. Their faithful motorized companion provides them the opportunity to enjoy two of their greatest passions: travel and the great outdoors. These young women are also hiking enthusiasts. They are accustomed to arriving at their destination the day before a hike and sleeping there in the comfort of their vehicle.
This tactic allows them to begin their expedition early the next morning without suffering from any fatigue caused by long hours on the road. All they need to do is have a good breakfast, put on their hiking shoes, douse themselves with mosquito repellent, and they're off!
"I like to be self-sufficient and have all my little things nearby. In a van, it is even easier and simpler. You can go anywhere and go incognito," Elaine explained.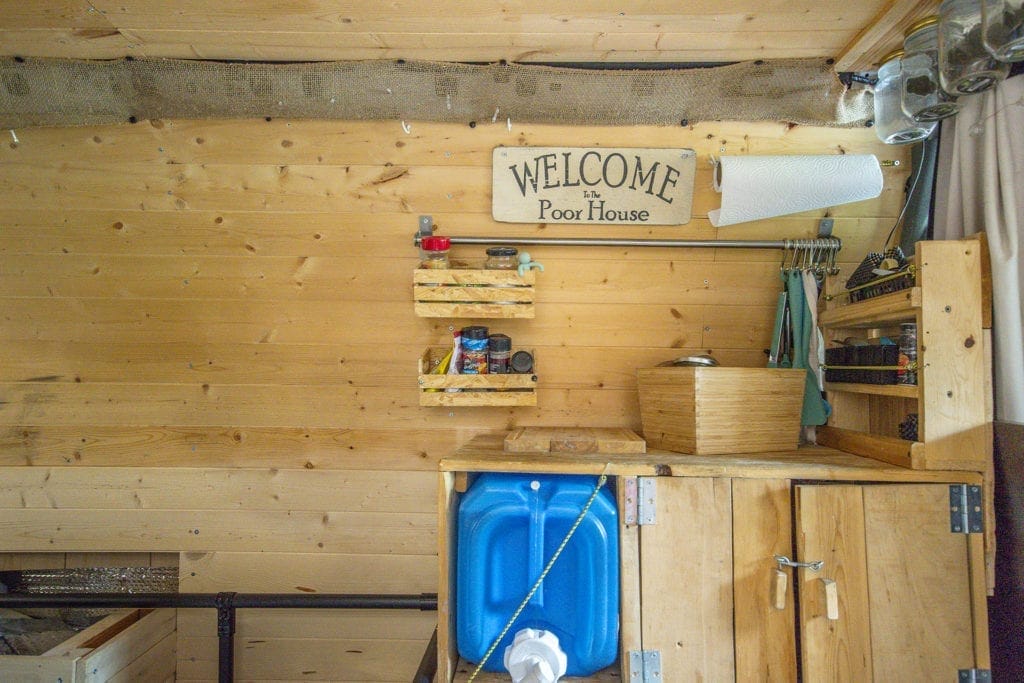 A van is at the mercy of Mother Nature's whims
Although it served them well, their van left something to be desired when Mother Nature decided to show her strength. Karine, who was already using the vehicle before meeting Elaine, had to place a small table between the two front seats to eat whenever it rained. It was not an ideal set-up.
When Elaine started using the van with Karine, she too noticed that the interior space was not being optimized. For example, the vehicle did not have a bench seat, forcing the two adventurers to sit on the bed, a habit resulting in back pain.
In addition, there was a lack of storage. Elaine remembers spending a lot of time looking for her things from under the bed, one of the only storage spaces in the vehicle.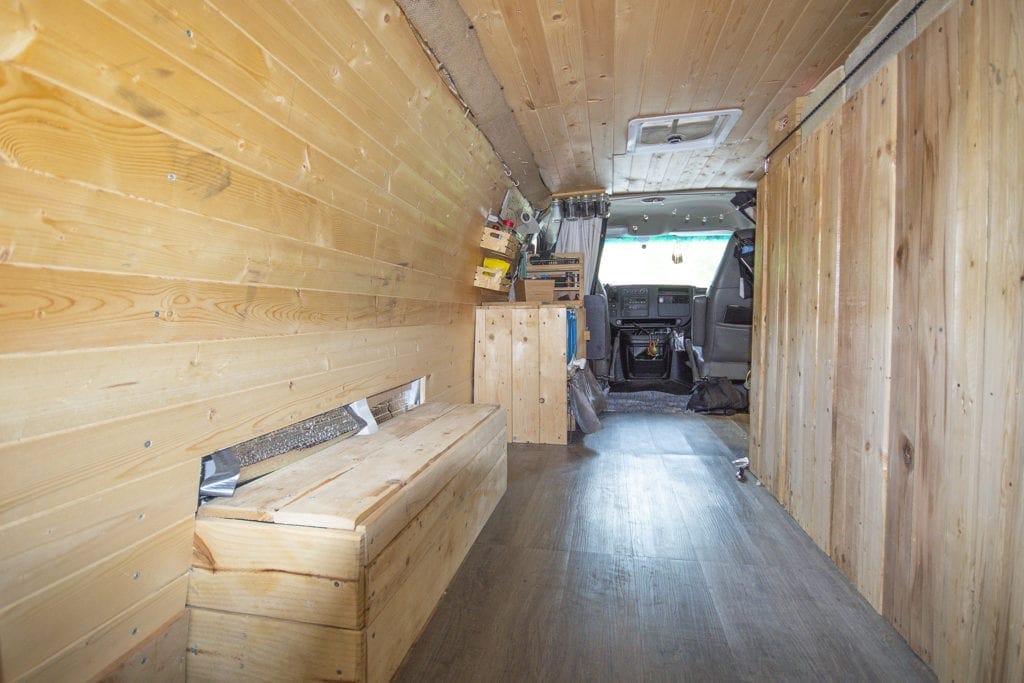 Pimp my van!
Dans le but de rendre leur van plus confortable et d'y faciliter les déplacements intérieurs, Élaine et Karine ont eu l'idée de concevoir un divan-lit sur mesure. Pour concrétiser ce projet DIY, elles se sont tournées vers tinktube. Voici le plan détaillé qu'Esteban a créé, si jamais vous souhaitez construire le même projet!
They were won over by the many qualities of this tube and joint connector system. In addition to being very flexible, easy-to-use and affordable, tinktube products occupy less space and are much lighter than comparable structures made of wood; a criterion to take into account when planning a van's interior layout.
"A solid structure made of wood requires a 2"x 4", whereas with tinktube, it's a dimension of an inch. Already there, you gain space," explained Elaine.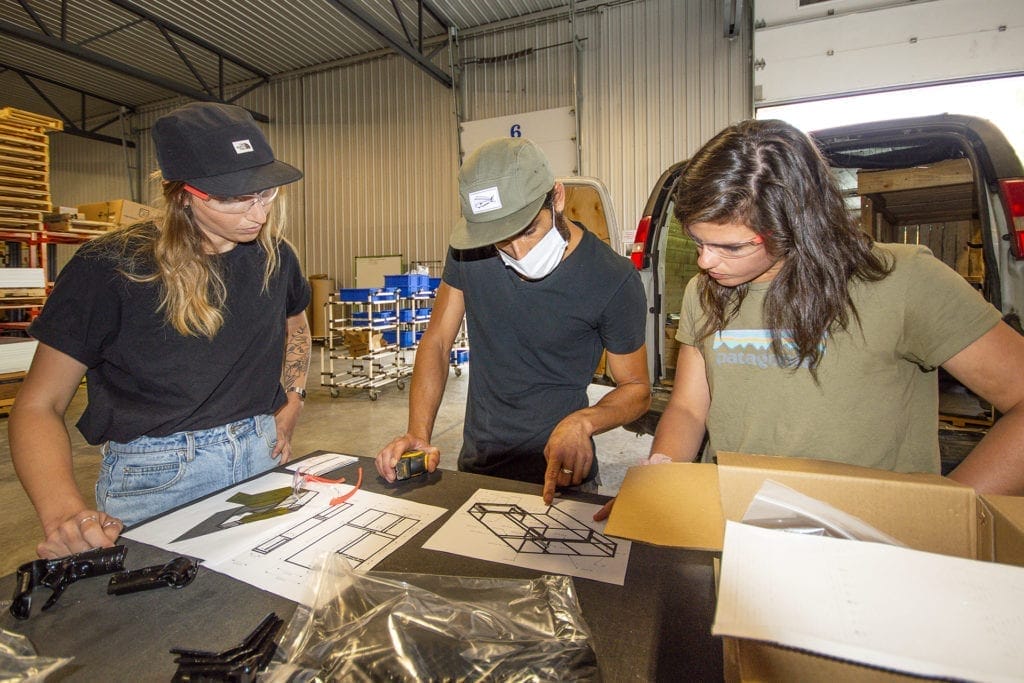 tinktube facilite l'aménagement sur mesure de vans
When the hikers were ready to bring their project to life, they headed straight to the tinktube factory to meet Esteban. Not only did the technical expert explain to them how the system works but he also gave them a hand in designing their layout plan and building their structure.
Élaine and Karine do not hide the fact that they faced many challenges; there was a lot of trial and error. But they were able to overcome them, one after the other, like DIY pros!
In addition to having to figure out the number of connector joints and tubes required to bring their creation to life, with Esteban's help they had to modify the initial plans to better fit the vehicle's interior design, as it had unique angles and reliefs.
Esteban also had to make several last minute changes to optimize the components. This task, however, was rather straightforward as the tinktube system can be assembled and disassembled many times without damaging it.
During the project, the two girls even decided to build the drawers for their sofa bed themselves. This required a lot of patience!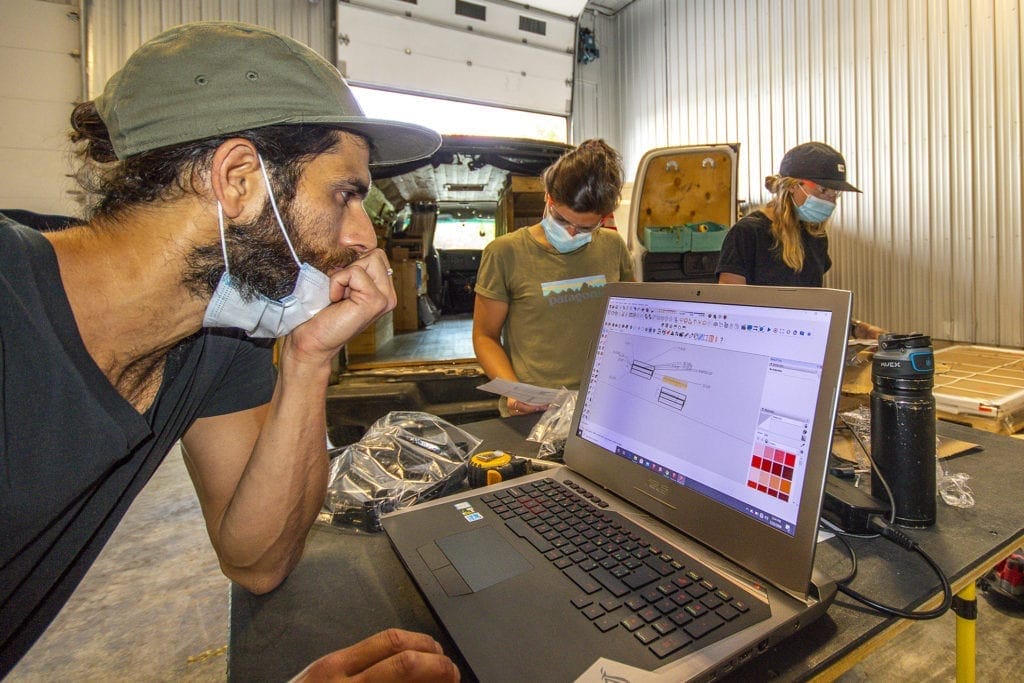 A successful design project!
The group eventually managed to build a versatile, highly durable structure easily capable of supporting the weight of two adults and adapting to the owners' needs.
"With the foldable part, we managed to save space. The space gained may seem modest, but it makes a ton of difference inside," Karine said enthusiastically.
Now, the duo intends to take advantage of their new design. Their next van trip will take them to Western Canada, and maybe even further now that they don't have to worry about the weather!
En passant, si vous avez un projet de conversion de van en tête, nous avons préparé ce guide où vous trouverez des informations utiles sur tout ce qui concerne les fourgonnettes !