If you are looking for DIY desk organization projects, you've come to the right place! A desktop book holder will make it easier for you to organize your desk surface and work more efficiently!
Adjust the size of the book holder so you can fit all the books you want
Choose the color of the tubes to fit your home decor: White, copper or carbon grey, the choice is yours!
Unassemble the books holder to create anything else once you don't need it anymore
---
1. The parts you'll need
Below are the fittings and pipe needed to create this book holder. However, the design can be modified based on the height, length, and depth you would like. Do not hesitate to modify this free plan according to your own space and needs!
What you'll need:
---
2. The cut list
Once you have decided on the size of the book holder, you will need to cut the pipes accordingly.
To help you out, here is the cut list to build a 18″ X 11 1/2″ book holder:
| Qty. | Length (inch) | Length (centimeter) |
| --- | --- | --- |
| 3 | 13 15/16″ | 35.4 cm |
| 2 | 11″ | 27.94 cm |
| 2 | 5 3/8″ | 13.65 cm |
| 2 | 5 3/8″ | 13.65 cm |
If you don't already have a pipe cutter, get one from our shop here. It will be useful for your future projects.
---
3. The build (the fun part)
Did you cut all the pipes? Perfect! You are ready to start building your book holderé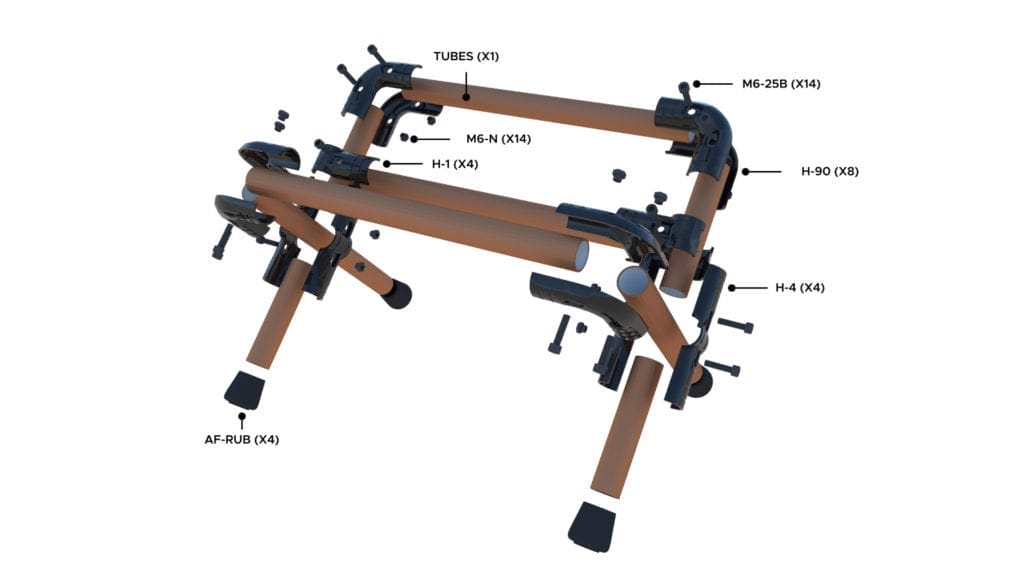 The tinktube joint sets are assembled with bolts that require one of the following tools -you might already have this at home-:
---
4. Start optimizing your space
We hope you liked this DIY desk organization project. If you want more ideas to organize your space, take a look at our affordable pipe shelves ideas here.
Adapt this project with the tinkpad!
Draw your project with this free printable tool which includes an isometric grid and our best tips to get started.