It's come back. You might genuinely have forgotten about it at some point in July, but come September, there's no denying it. Fall season is back and you know it… winter will follow. You know what it means. At some point between now and December, you'll probably have to reorganize your space with a DIY garage storage system in order to answer these questions: Where will the summer tires go? Will the outdoor furniture fit in the usual spot? What about the kids' bikes and the trampoline? That's where garage shelving ideas can help!
If you need a custom garage rack, we've got just what you need. Our free plans are the best place to start to build your own. Using the tinktube building system, you'll be able to easily adapt the plans below according to the exact dimensions of your garage. No more waste of space, only a clean, well organized area. Seems too good to be true? Keep reading!
1. The parts you'll need to build your DIY garage shelving system
Before you get inspired by our garage shelving ideas DIY and start building your project, the first step is to determine the dimensions of your project. How high will it be? How wide and how deep? Once you've answered these questions, you'll be able to adapt the plans below and identify the parts you need to build it. Here are different types of garage rack ideas to spark your creativity!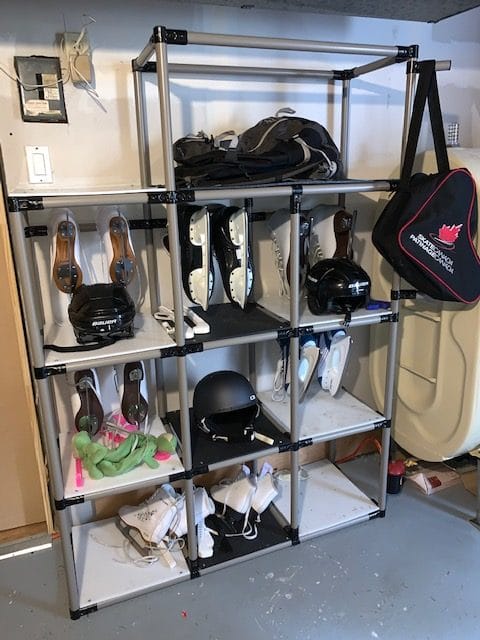 What you'll need: Connectors and tubes
Here are the parts and tubes you'll need to build the type of custom garage rack below. If you adapt the project, change the dimensions and adjust the number of tubes and fittings according to your own plan.
2. The cut list
Once you've ordered and received the tinktube parts at home, it's time to build your DIY garage storage. Start by cutting the tubes (don't forget to buy a pipe cutter if you don't already have one). And again, adapt the cuts below to the dimensions of your storage system if you've chosen to change them.
| Qty. | Length (inch) | Length (centimeter) |
| --- | --- | --- |
| 10 | 90 5/8″ | 230.19 cm |
| 40 | 27 1/4″ | 69.21 cm |
| 22 | 21 1/4″ | 53.97 cm |
3. Building your DIY garage storage… This is where the fun begins!
OK, so you've cut the tubes and gathered all the parts together. It's now time to use your garage shelving plans! Use the color and letter codes to place the right connectors and tube sizes at the right place.
You may need surfaces to create the shelves, depending on what you'll store in your garage rack – you won't need anything if you use big boxes or large items. While we don't sell surfaces, you'll find great options at your local hardware store.
The tinktube joint sets are assembled with bolts that require one of the following tools – you might already have the tools at home, but if you don't, you can order from us here:
4. Enjoy your newly organized garage space!
That's it. You can now enjoy the benefits of walking around a neatly organized garage, feeling at peace, since you've clearly mastered the art of space organization, thanks to your online search for garage shelving ideas DIY. For more shelving ideas, check out our whole section about racks and shelving!