When designing a tinktube project, it's important to keep specific loading capacity guidelines in mind. As each structure is built for a specific use, you'll need to carefully ensure that it will support its intended load, to avoid deflected pipes, thus reducing your structure's efficiency. We've got good news for you: calculating the capacity for your tinktube projects is really quite simple!
Learn how to establish proper loading capacities for tinktube structures.
Rule #1: The longer the pipe, the less weight it can hold
Capacity: up to 2000 lb
How you design and assemble your tinktube structure will affect its loading capacity. As is the case for materials such as welded steel or wood, tinktube projects are made of structural components comparable to beams and columns.
That said, the longer your beams, the less weight they can hold.
Even if your tinktube structure could support a load exceeding 2000 lb, it makes more sense to create a welded structure, or else there will be too many pipes and joints.
The loading capacity chart
Here's a chart presenting how much weight tinktube pipes can carry on a single point load.
How to establish your structure's loading capacity
Follow these 3 steps:
Take the longest pipe span on your structure
Refer to the chart above
Multiply the weight capacity of each pipe by the number of pipes in the structure

Bear in mind that this simple loading capacity formula is intended solely to provide you with general guidelines. There is nothing like testing a structure and reinforcing it with braces if necessary.
Even though you adhere to the guidelines, the pipes may curve slightly if weight is put on them. Rest assured; this will not be permanent and they will become straight again once the weight is removed.
We all know that perception is critical, especially if you are just beginning to use the product. So, to dispel any doubts, we suggest investing a few more dollars to purchase additional pipes and cut them into shorter spans or adding braces to reinforce your structure so there is no deflection.
Tips to reinforce your structure
Here are different ways to reinforce your structure: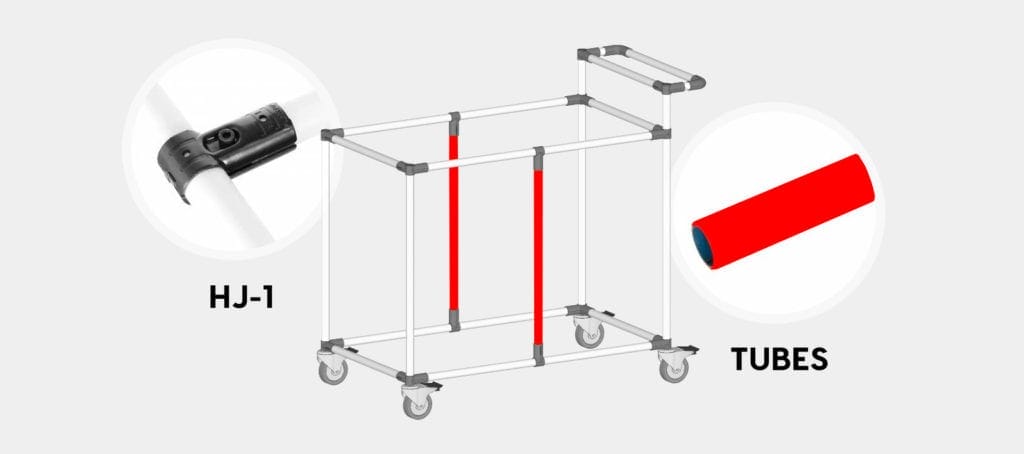 Reduce the pipe span by adding a column using the T-Connector joint set (HJ-1).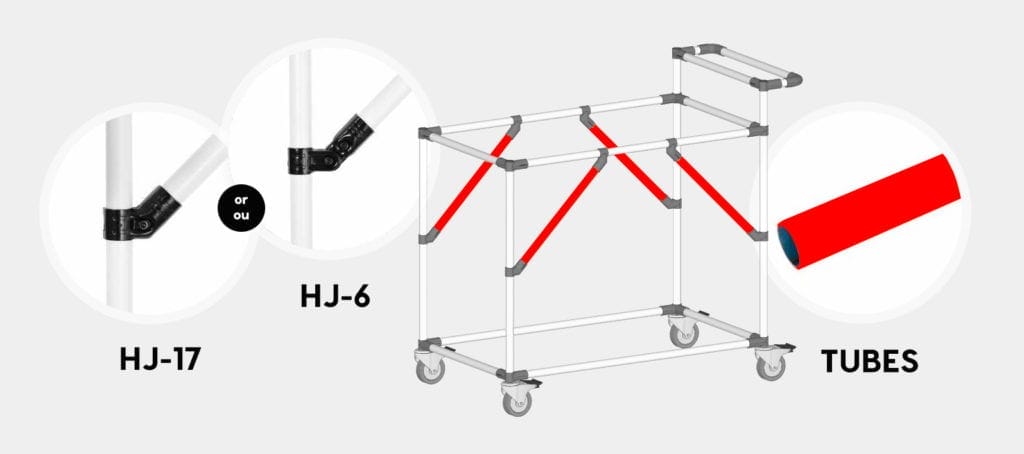 Add HJ-6 or HJ-17 angle braces.
Double stack your pipe using the HJ-13.
Precautions before use:
When sketching your project, consider the intended use, the environment (indoors or outdoors), and the load application of what you are making.
The strength presented of tinktube's pipes is a reference only. Please note that the strength value will change depending on the intended use, environment, and load applied to the product.
The strength of what is assembled using tinktube pipes and fittings depends on its structure, size, and joint configuration.