Tzatziki, greek salad, and mojitos. These beloved dishes and cocktails have two things in common: deliciousness AND cucumbers. According to many people, cucumber is the coolest vegetable there is -why else would the expression "cool as a cucumber" have been invented?-. Growing them yourself is the best way to ensure easy access to all the cucumbers you need to fill your life with coolness. If you're on the search for techniques to optimize your cucumbers' growth, search no more: this post presents the BEST cucumber trellis DIY ideas we found online!
Before you begin building your cucumber trellis, take a look at the examples below and select the one that best suits your garden's needs. If you're new to DIY projects with tinktube, we suggest you visit our website's DIY section to learn more about how our building material works.
1. Steel trellis for cucumbers
This example is a classic. Its simple design makes it a good choice for a first DIY trellis project. Because it is made of metal, you are guaranteed it will be sturdy enough to withstand bad weather and strong winds. All you have to do is ensure the trellis is anchored into the ground deeply enough so that it won't fall over.
2. Cucumber DIY trellis
This triangle-shaped DYI cucumber trellis idea brings a lot of customization options. First, you can make each side of the trellis longer if you need to create more room for your cucumbers to grow.
You can either anchor the trellis in the ground to make it free-standing or use a wall of your property to support the top of the trellis. You can also do both: this will make the trellis a lot more stable!
If you decide to build it using steel tubes, you'll get similar results, but most likely a more durable trellis, as steel tends to be more resistant to bad weather over time.
3. Free-standing DIY cucumber trellis idea
It's plain and simple: all you'll need to build this DIY trellis project are steel tubes, connectors and a few minutes of your time. And because the design is quite simple, it's not the type of project you'll have to spend hours and hours drafting up plans for. If you want to reproduce the exact build shown here, you'll need these connectors:
4. Wall trellis
If you like the style of this wall trellis, there is an easy way to reproduce the design without welding: all you have to do is use steel tubes and connectors!
If you decide to make this project with our building material, here are two pieces of advice to avoid rust building up on the steel tubes overtime:
Choose painted over galvanized tubes: the paint helps protect the tubes from the rain and the humidity.

Add plastic caps for pipe ends AP-ICAPS : this do more than add the final touch to a steel tube project; they prevent humidity, dirt and rain from getting into the tubes and creating rust. We suggest adding an AP-ICAP even on the end of the tubes that are anchored into the ground.
5. Tower cucumber trellis idea
Creating a higher structure will help you save some space on the ground and optimize your harvests. This DIY cucumber trellis idea provides inspiration to build such a high structure while making sure it's also sturdy and stable.
Ensuring the tubes are deeply rooted into the ground is the first step. Depending on how high your structure is, the second step would be to strengthen the base of the trellis by adding tubes in the shape of triangles or squares to each leg.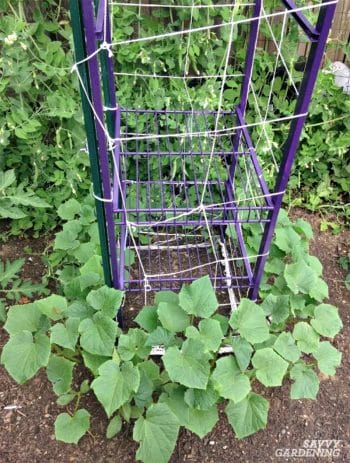 Looking to build a heavy-duty trellis?
We created a complete guide with all the information you need to build sturdy, durable and affordable garden structures.
6. Teepee cucumber trellis
You might not even need to use any connectors if you choose to build this type of DIY trellis. All you'll need are a few tubes and a way to fix them together at the top. You could even use a rope or plastic tie-wraps!
Cool as a cucumber… trellis
You now have a few DIY ideas to start your project. We hope you found the examples helpful! If you'd like to learn more about other types of garden structures like tomato trellis, we've created content about that too. You'll even find inspirational content about trellis in general in this post.
And if you build a DIY project with tinktube, remember that: we'll send you a 10% OFF promo code for the pictures of your build, if you send them to [email protected]!
Here's what you need to build the perfect firewood rack: a DIY plan!