As a loving dog parent, you want nothing but the best for your furry companion. You've already provided them with the tastiest treats and endless amounts of affection. But have you ever considered elevating their sleeping space to new heights? In this article, we have the solution for you: DIY elevated bed for dog ideas! Building the elevated bed yourself allows you to customize it according to your dog's size, preferences, and your home's aesthetic. You can infuse your unique touch into the design, making it a reflection of your creativity and love for your furry friend.
So if you want to let your dog appreciate the extra elevation, grab your tool kit (if you are building with tinktube, that's only two tools… but let's call it a tool kit anyway) and get started on building the perfect cozy and comfortable perch for your pup!
1. DIY elevated bed for dog
A member of the tinktube community embarked on an exceptional DIY project that left us in awe. Using tinktube's pipes and connectors, he skillfully crafted an elevated bed for his cherished dog.
With unwavering dedication, he meticulously designed and customized every detail to cater to his dog's unique needs and preferences.
The bed boasts sturdy frame, elevated height (but not TOO high), and a fabric fixed to the structure for ultimate comfort. This incredible DIY project showcases not only this DIYer's remarkable craftsmanship, but also his unwavering commitment to his four-legged friend's well-being and happiness. We were truly inspired by his creativity!
2. Large custom dog bed
In the realm of canine comfort, there is a remarkable creation that captures the hearts of both dogs and their human companions alike—elevated beds! If you have a Great Dane, a Saint Bernard or a Newfoundland in your life, you'll like this example, which is big enough to accommodate not just one, but two medium-sized dogs or a single, large dog.
This bed's sturdy frame, constructed with steel pipes, effortlessly supports the weight and size of these remarkable canines. A spacious sleeping area, plush cushions, and a carefully chosen elevated height provide the perfect retreat for our beloved companions to rest, relax, and recharge!
3. Indoor dog bed with elevated platter
If you're looking into the idea of crafting an indoor dog bed with an elevated platter, you'll like this example!
The frame is designed to mimic a charming dog house: your dog will love the style, the platter… and probably the food you place on it even more!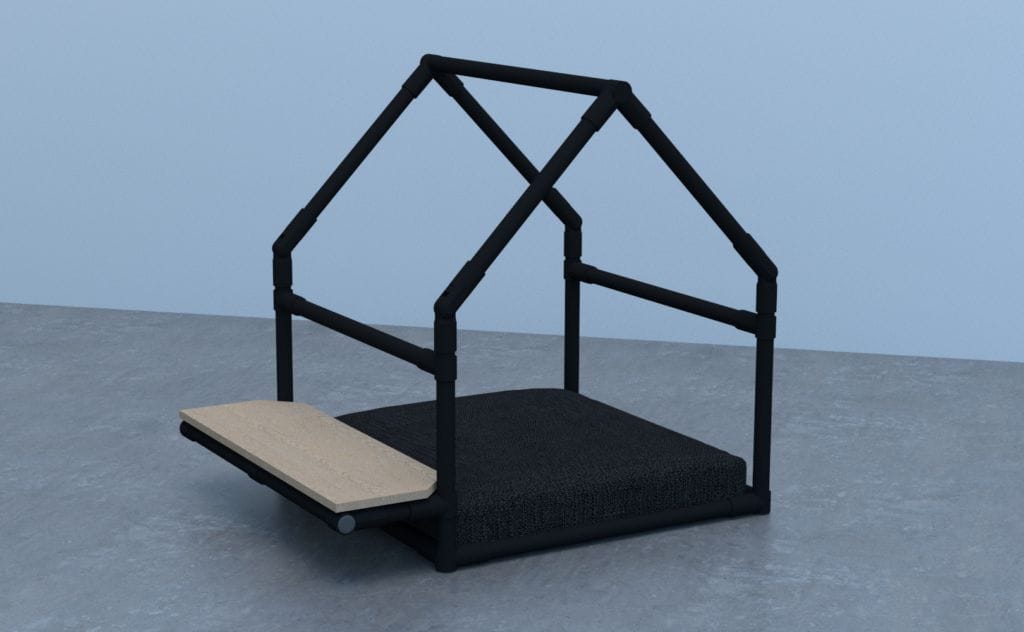 4. Elevated dog bed for large breeds
Once upon a time, there was a lucky Golden Retriever who was adopted by a loving family.
His dog parents meticulously constructed a sturdy frame that accommodated his large body using high-quality steel tubes, and connectors. Instantly, the bed became a haven of coziness which he dreamt about day and night.
The end.
5. DIY elevated bed for dogs
This bed frame is a unique approach to constructing a dog bed : if you'd like to replicate it, you could do so by bending the metal pipes instead of using traditional connectors to form the U-shaped legs.
This simple design will provide a sturdy and durable structure for your beloved canine companion!
6. Elevated cooling dog bed
This example incorporates an additional feature: a removable canopy for shade! It's the perfect way to ensure your dog can enjoy his elevated bed outdoors for long periods of time while staying comfortable and protected from the sun. With tinktube's metal quick-release latch (AC-STRAP), you can create a structure and fix it temporarily to the bed in a way that's easy to remove anytime.
Among the advantages of allowing your dog to spend extended periods outside:
Natural instincts and sensory experiences
Mental stimulation
Reduced hyperactivity and restlessness
Socialization
Vitamin D and fresh air
7. How to build a dog cot
Here are the minimal materials you'll need to build an elevated dog bed that's both durable and sturdy (we recommend steel over PVC):
A cloth (plan the dimensions of the fabric according to the frame)
You'll be able to cut the pipes and assemble the connectors using these tools:
8. Modern elevated dog bed
This project combines a sturdy wooden platform fixed to the base -with a plush cushion placed on it-, offering your canine companion a haven of relaxation and tranquillity.
An alternative to wood? Steel tubes. Using steel pipes, you can effortlessly assemble a dog bed like this one using fittings and much fewer tools than you would need to work with wood. Achieve a sleek and modern aesthetic, and enjoy the added benefits of convenience during the build process!
Enhancing comfort and style with a DIY elevated bed for dogs
A DIY dog bed is not only a cozy perch for your dog, but you also create a personalized space that caters to their needs. The elevated design offers numerous benefits, including improved airflow, reduced pressure on joints, and an enhanced sense of security for your dog. Remember, this project is not just about providing a comfortable resting place; it's also an opportunity to strengthen your dog's quality of life.
So, gather your tools, embrace your creativity, and embark on the journey of building the perfect elevated bed for your dog. With their comfort and happiness as your guiding light, you'll be rewarded with a delighted and grateful canine companion who will enjoy their elevated perch for years to come. Happy crafting!
Here's what you need to build the perfect firewood rack: a DIY plan!