Have you ever heard that plants will grow better in a loving and positive environment? One way to give your plants the love they deserve is by building them their own grow light stand, and it doesn't have to be complicated. Ideas for DIY grow light stands are all over the web. You can use these ideas to inspire your own project! In this post only, you'll find various types of projects: all you have to do is choose the one that's closest to what you're looking to build and draft up your own plan! You'll then easily be able to plan the parts you need, order online and create your own project!
1. Steel tubes and PVC pipes grow light stand
Built by an entrepreneur called The Urban Farmer, this planter is used to grow herbs in grocery stores in Quebec. It allows customers to bring some fresh plants to their plates all-year-round!
Since the Urban Farmer started using tinktube's products to build DIY grow light stands, he's been able to increase his production capacity by 25%…!
2. DIY light grow stand for container farming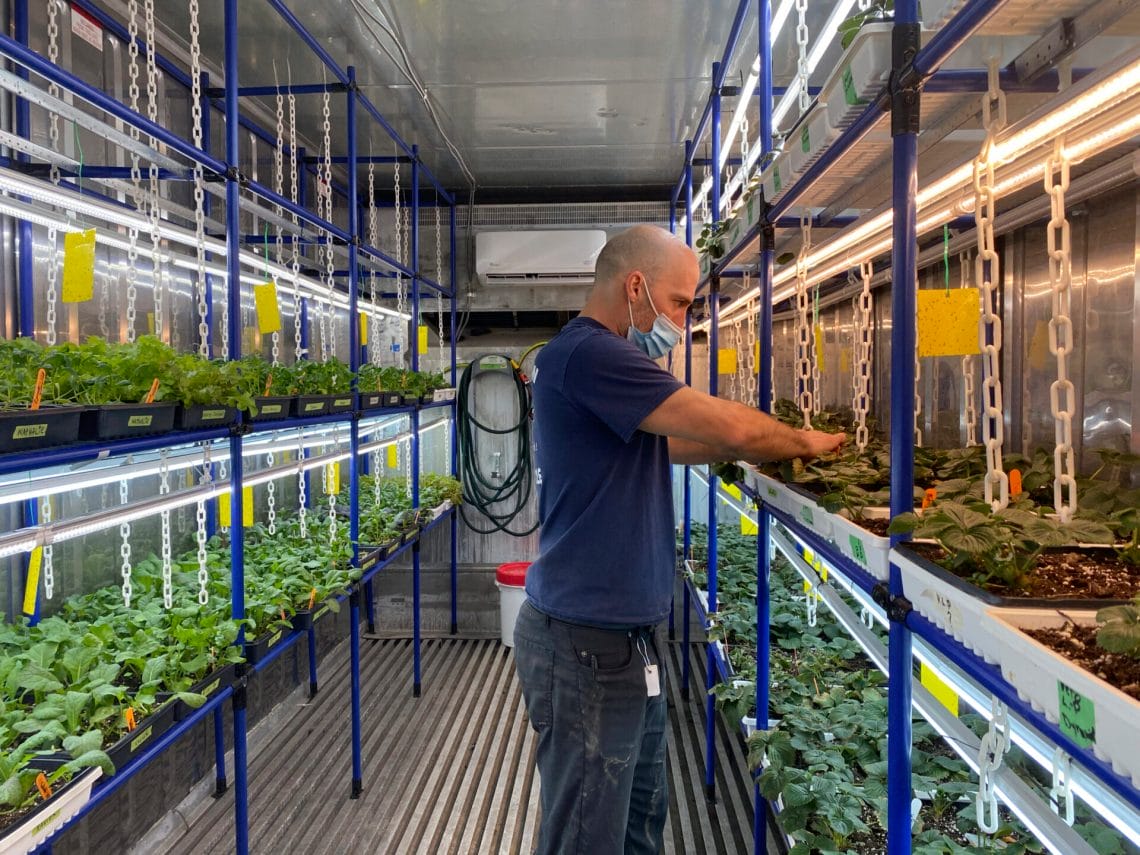 Growing plants in recycled shipping containers is a trend that increased in popularity over the past few years.
This DIY grow light stand was designed and custom-built with steel pipes and fittings.
An interesting fact about container farming is that with a good lighting system, air conditioning, humidity regulation and sophisticated air circulation device, you can reach an impressive level of production optimization!
To learn more about using light grow stands in container farming, read this post.
3. How to build DIY grow light stands
Building DIY grow light stands is easier with free plans -like ours, for example ;)-. Our plans can be adapted according to the specifications of your own project.
Adjust the dimensions
Add or remove rows
Reduce or increase the space between the LED lights and the plants by making the levels adaptable
Change the color of the stand
Find all the information you need to know to build your own grow light stand in the plans below!
4. DIY grow light stand
If you ask yourself how to make a grow light stand, the answer is: there are in fact many options out there. One of the most convenient option is to use steel tubes and fittings to build your own stand.
With the tinktube building system, you'll only need two different tools to build your whole project:
5. DIY growing light stands on wheels
Adding wheels to DIY grow light stands is a smart way to make them more versatile and convenient.
Swivel casters with breaks will make it easy for you to move your plant stand with grow lights around your home whenever you need to. The breaks will improve safety by increasing the rack's stability, which is a must if you have young children or animals in the house.
6. School project: A DIY grow light stand for students
The idea for this project was introduced by a teacher at a school in Quebec, Canada, who wanted to give her students the opportunity to discover aquaponics.
They found PVC pipes and pierced them, creating big enough holes to fit the plants' pots.
They built the stand using mostly Tee-connectors and 3-way corner connectors, with black pipes. They fixed the LED lights to the structure with tie-wraps… and the trick was done.
Now, all they have to do is wait and watch their plants grow!
7. Aquaponics light stand
Last but not least, this project was designed and built by one of the many DIYers from the tinktube community.
He used the tinktube system to build the frame of the stand, then added a water tank at the bottom, organized a system of pipes to ensure the circulation of water to the plants and fixed the lights on top of the structure!
Designing DIY grow light stands, one inspiration at a time
No matter what stage of reflection you have reached in developing your project, we hope this post has allowed you to progress in your thinking! If you need help and advice when designing your DIY grow light stand, schedule a 15-minutes free call with our technical expert Esteban. He'll be able to point you in the right direction when it comes to choosing the best connectors and sketching up the perfect plan for your project!
For more DIY project ideas and inspiration, check out this section of our website!