As any green thumb knows, a beautiful and thriving garden requires tender care and protection against various challenges. Whether it's pesky pests, curious critters, or unpredictable weather, safeguarding your plants is essential to ensure they flourish and reach their full potential. Welcome to our gardening guide! Here, we focus on nurturing and defending your beloved plants with a collection of clever DIY garden netting ideas!
Get ready to discover creative and effective netting solutions that not only shield your plants from potential harm but also add a touch of ingenuity to your garden. The best part is that all the featured projects are easily replicable, requiring nothing more than netting and a combination of pipes and connectors. Regardless of your gardening expertise, these DIYs are designed to empower you to create a protective haven for your plants without breaking the bank.
If you're ready to enhance your gardening skills and create a sanctuary where your plants can thrive undisturbed, let's delve into the world of garden netting ideas and discover how you can nurture and defend your green companions like never before. Let's get started!
1. Daniel's DIY garden net
Once faced with the persistent challenge of safeguarding his cherished plants from the relentless nibbling of hares, mischievous groundhogs, and graceful yet voracious deer, Daniel set out on a quest to find the perfect solution.
After extensive research and pondering over various options available in the market, he embarked on a DIY project to create a bespoke garden netting structure tailored to the specific needs of his precious greenery!
He soon stumbled upon tinktube, a versatile and user-friendly system that sparked his imagination and set the foundation for his ingenious creation.
He used chicken-wire fencing at the bottom of his garden netting for hares and groundhogs. He added netting at the top for deer.
Now, his plants are all set to grow!
2. DIY garden netting frame
We found this veggie garden cover idea online and we just had to feature it in our article! First, because it shows how simple and easy building a garden netting frame can be and second, because this project could easily be replicated using the tinktube building system.
Scott's building process is well-explained and might inspire you to build a similar project. All you need do to is learn how to bend the tubes, and we've got great news: we have an article that explains the steps to do it!
3. A-frame garden tunnel
This versatile and adaptable garden structure can be designed to offer the utmost flexibility in adjusting widths and heights for different crops throughout your garden.
With its unique shape, it can be set up to be very narrow or wide, granting you the freedom to move it around at different times of the year to accommodate various crops.
This frame is perfect for protecting rows of fruits or vegetables, allowing you to select bird netting if your crops require pollination!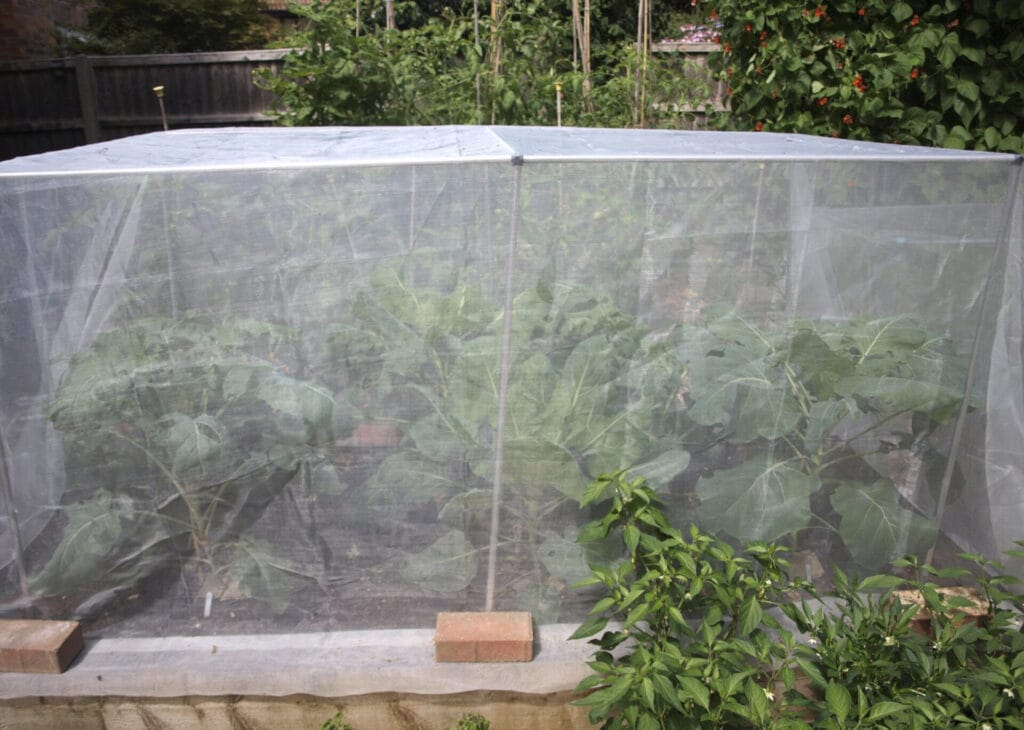 4. DIY insect netting for garden
This clever and budget-friendly solution will safeguard your precious plants from pesky invaders!
Crafted with tubes, fittings and a lightweight net, it effectively thwarts the invasion of harmful pests such as aphids, whiteflies, caterpillars, and even voracious beetles.
By creating a physical barrier, the netting keeps these garden foes at bay while allowing sunlight, water, and air to nourish your plants.
5. Garden cover with bird netting
This DIY garden cover is effective to preserve the beauty and vitality of your garden while shielding your precious plants from a myriad of avian intruders!
Common raiders such as sparrows, pigeons, crows, and starlings will be unable to reach your cherished plants: the netting will effectively reduce the risk of crop damage. Embrace the harmonious coexistence of birds and plants, while safeguarding the fruits of your labor, courtesy of your DIY garden cover!
6. Garden net ideas
This project was crafted by a creative member of tinktube's community using a simple design of pipes and fittings.
It offers a customizable and cost-effective solution to protect your garden, thanks to the sturdy frame and to the net! Whether shielding your plants from pesky insects, birds, or even harsh weather conditions, this garden net idea ensures the safety and thriving growth of your greens.
7. DIY netting for garden
This netting cage was designed to be installed on a raised garden bed. Pipes and connectors form the frame of the structure, ensuring durability and stability.
These pipes are fixed onto the raised garden bed's wooden boxes, creating a sturdy structure that will support the net.
Here, the DIYer created a cathedral-shaped ceiling that's just stunning. You could either replicate this type of structure of create an entirely different one: it's up to you!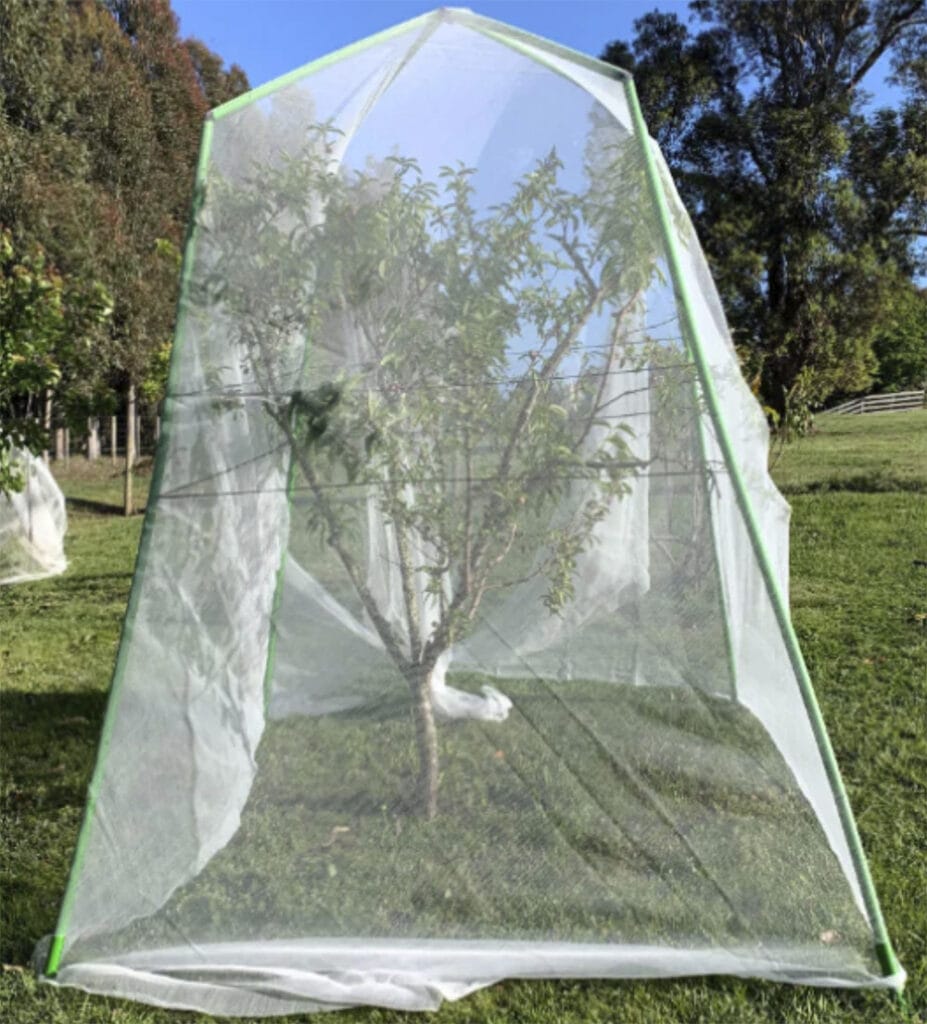 8. Tree frame insect netting
This project clearly shows that when working with tinktube, possibilities are endless and customization is a breeze!
Using pipes and connectors, you can fashion a frame perfectly tailored to fit any tree.
The best part? As your tree grows taller and wider, you can effortlessly adapt the frame to its changing dimensions by adding additional tubes and connectors.
Embrace the satisfaction of a project well-executed, knowing that your DIY insect netting will provide unwavering protection and care for your flourishing arboreal companions!
9. DIY garden net
In this case, simplicity and effectiveness are key!
Crafted with only bent tubes that are securely fixed into the ground, this project is designed for low-lying plants. This no-fuss shield offers the perfect solution for protecting your greens with minimal effort. The ingenious use of small clamps allows you to effortlessly attach and detach the net, granting easy access to your precious plants whenever needed.
With this DIY garden net, your garden will flourish, safeguarded from unwanted pests and critters!
10. Walk-in fruit cage
What's better than a walk-in closet? A walk-in fruit cage! Transform your garden into a "fruitful" sanctuary with a DIY project like this one, constructed from steel pipes and fittings.
This garden shielding structure ensures the protection of your garden. It can be replicated using tinktube: all you have to do is choose the right connectors, like the HJ-2K (3-way corner black connector set), to create the corners for the cage!
Embrace the satisfaction of crafting a functional and aesthetically pleasing enclosure, all while adding a touch of elegance to your garden space!
Thriving Gardens, thrilled gardeners
In conclusion, this gardening guide opens the door to a world of possibilities, showcasing ingenious DIY garden netting ideas that serve as both protective barriers and expressions of creativity. As you embark on this journey, you'll find that these replicable projects require minimal resources, utilizing nothing more than netting and a combination of pipes and connectors.
Whether you're a seasoned gardener or just starting, we hope these solutions will empower you to build a safe haven for your plants while staying budget-friendly. By incorporating these netting ideas, you'll not only shield your garden from potential threats but also add a touch of innovation to its beauty. So, let your gardening skills flourish and your green companions thrive undisturbed in this sanctuary you create with your own hands!
Chuck built a custom boat frame for his 14' heavy duty rigid inflatable.