It's a story about a green thumb who wanted to step his gardening game up a notch. After months of reflection, the solution came in the form of a greenhouse where the space was perfectly optimized. How did he achieve such space optimization feats? He created brilliantly designed DIY shelves that were entirely custom-built! If you relate to this story and you want to improve your gardening game too, you'll find this article useful. We've scoured the web to find the best greenhouse shelves DIY ideas and boy, did we find interesting examples!
1. Built-in greenhouse shelves with wood surfaces
So, we'll start with one (the only) advice against this example. To optimize the durability, the strength and the safety in and around your greenhouse, we highly recommend replacing the PVC pipes with steel tubes and connectors.
Steel will provide you with a sturdier structure. It will resist much more easily to bad weather, high winds and storms!
Other than that, this DIY greenhouse idea is absolutely inspiring. We love the wooden slatted surfaces; they blend perfectly well with the plants and the nature all around!
2. Wire mesh shelving for indoor greenhouse
This indoor greenhouse is built with pipes and connectors. We can see the DIYer who created the structure used wire mesh to create the surfaces.
This is a smart move, considering this type of surface will let excess water run off more easily from one shelve to the other until it reaches the bottom of the greenhouse, where a container should be installed to prevent damage.
Rather simple to build, this example is perfectly adapted to an interior environment. The size of the greenhouse makes it easy to insert it in a room of your house like the kitchen, the living room or the family room.
3. Rolling greenhouse planter stand DIY idea
This example is absolutely brilliant, especially for those of you who live in areas where it gets really cold during the winter.
What makes it so great is you'll be able to roll your DIY planter out of the greenhouse at the end of the fall, before everything freezes. Bringing your plants inside will let you keep them alive and well all winter long.
One more thing: during winter, fix lights at the top of the shelves to provide your plants with everything they need to grow!
One last thing… We've got a free plan for you!
4. Pipes and fittings greenhouse with built-in shelves
This is another great example of a greenhouse that's built with pipes and fittings. And we actually have a free plan for this one too!
The beauty of working with tinktube's building materials is you'll be able to customize your entire project:
You'll be able to position the shelves at the height of your choice.
You'll get to choose the color of tubes you prefer.
You'll get to choose the best surface for your needs to create the shelves.
DIY Garden Cage: 15 Creative and Cost-Effective Ideas
From simple and quick setups to more elaborate constructions, you'll find a range of options that suit your gardening style and needs!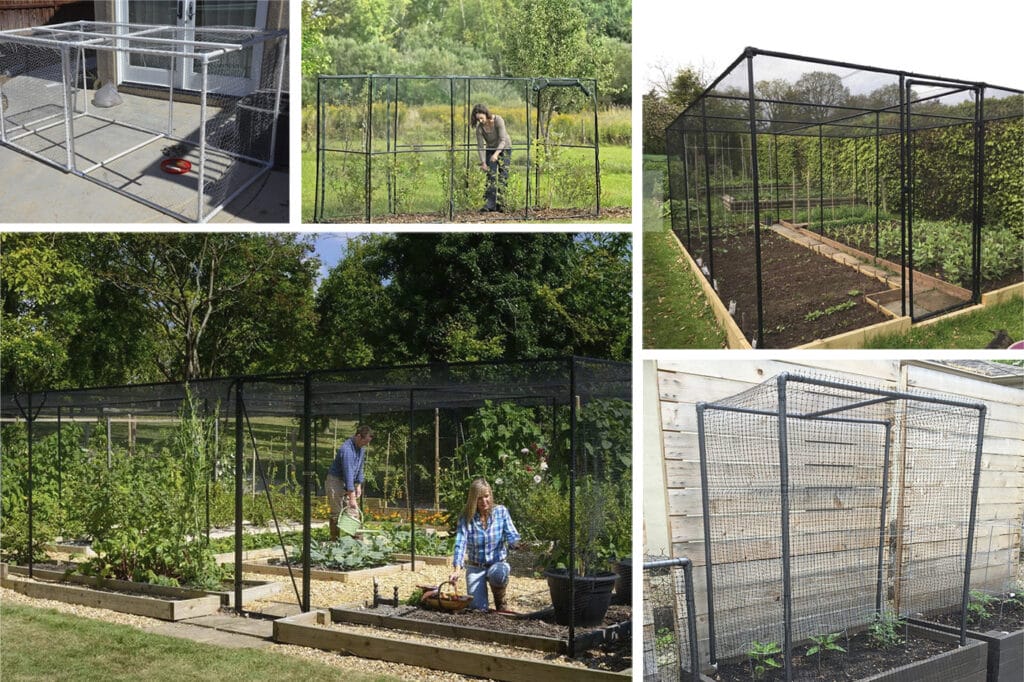 5. Container farming DIY shelves
Ok, this example is not exactly set up in a greenhouse, but our point is this: building your own greenhouse shelves will be a game changer in your space optimization efforts.
It's the best way to make sure that every single square feet of your greenhouse is optimized, no matter its size or shape.
If you don't want to buy any surfaces, you can build your greenhouse shelving DIY using multiple pipes. That's what they did in this example!
6. Small plant stand on wheels
This one is similar to the first rolling greenhouse shelves DIY idea. It's on wheels and it has the same benefits. If you build this type of rolling plant shelves, you'll be able to take them out of your greenhouse and into your house for the winter.
The only difference is the shape of the stand. Also note that you won't be able to fix lights under the shelves to illuminate the lower plants, because of its design.
Oh and yes, we have a free plan for this one too.
7. DIY greenhouse plants ladder
This DIY greenhouse shelving project is extremely simple and easy to build!
The only downside is this: you'll need to fix your plant pots to the structure with hooks.
For those of you who don't see this as a deal breaker, the good news is that on top of being easy to build, it's also fairly cheap (you won't need many tubes and connectors)!
Your DIY greenhouse shelves are just a few clicks away
If you feel inspired about what you just read, you'll easily find everything you need to recreate these DIY greenhouse shelving ideas in our online shop. If you plan on building a DIY project using tinktube for the first time, we recommend you to visit our Getting Started section. That's where you'll find all the useful details on how the system works: it'll make it easier for you to start off on the right foot!
Simple structure, endless opportunity
Here's what you need to build the perfect firewood rack: a DIY plan!