If you have stairs in your house, you definitely have railings too. Stair railings play an essential role in the security of your family and guess what? When chosen wisely, they can also be a central piece of your home decor. When it comes to the design and style of your railings, you'll find many options online… And if you choose to build your own, you'll find a multitude of ideas and inspiration. You'll find a great variety of interior DIY staircase handrail ideas in this post to start your creative process!
1. Vertical steel tubes stair railings
Black steel vertical poles and a light shade of wood form the perfect duo to blend perfectly in a Scandinavian interior design. Together, they offer a minimalist aesthetic that will fit your space perfectly!
On top of the fact that steel is a strong material that will help you build sturdy and safe DIY handrails, it'll bring a sleek, modern look that will balance out the rustic finish of the wood.
Pro tip: If you build your own railings with steel tubes, be careful when you plan the length of the tubes: there many different cuts involved!
If you've never had the chance to use the tinktube system to build a DIY project, you should know that a tube cutter like this one could soon become your absolute best friend.
2. Wood and horizontal steel tubes railing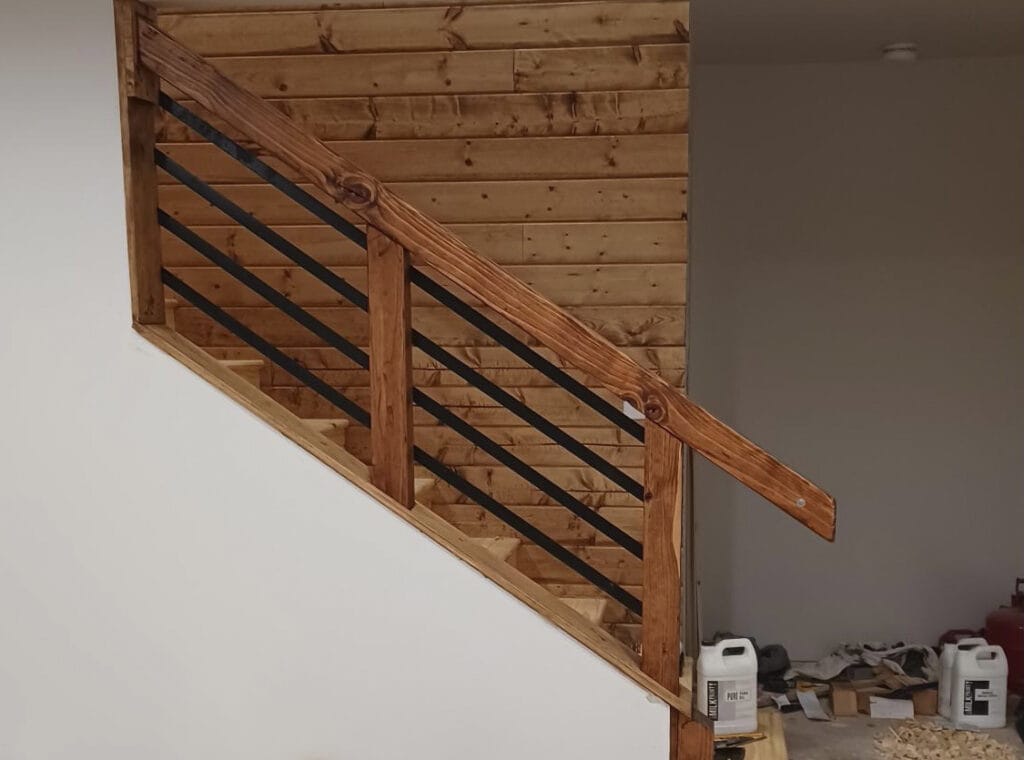 If your home decor has more of a warm and rustic vibe to it, you will find your perfect match in the use of a thicker wood, with possibly darker and warmer hues.
Good news: in that case too, steel tubes (black, perhaps) would fit just as well with your choice of wood!
Unlike the first example of this post, this stair railing uses steel tubes that are installed horizontally.
3. Rustic wood with black tubes railing
This one might be one of the most classic interior DIY staircase handrail ideas in this article.
Much easier to build because of its simple design, it will save you the headaches associated with the more complex angles of the first two examples.
4. Stunning vertical rectangle-shaped railing idea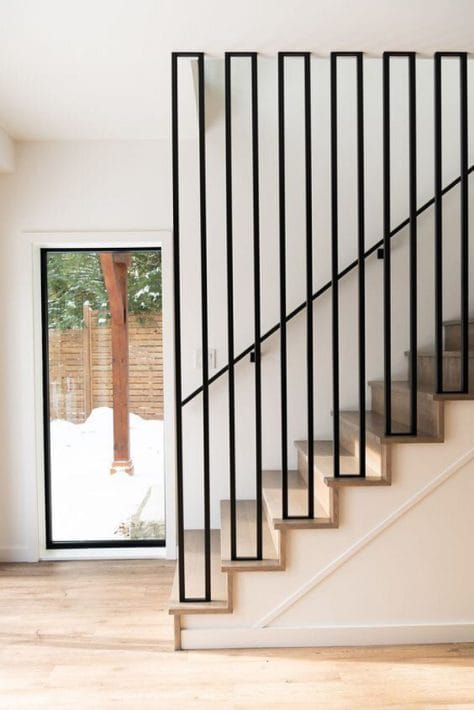 From a design point of view, this example is absolutely gorgeous. All made of steel, this floor-to-ceiling stair railing is a work of art in itself!
To create a similar look yourself with the tinktube building system, assemble the vertical rectangles using t-connectors for sharp corners. If you want to create rounded corners, HJ-90 connectors will be perfect.
Either way, you'll be able to customize your project any way you want, choosing the color of the tubes, the dimensions and the exact shape of the rectangles.
5. All-steel U-shaped DIY staircase handrail
Unlike the previous examples, this idea brings together a series of distinct elements, completely independent of each other.
You'll need structural anchors to fix the tubes to the stairs.
PROS: This idea is easy to build and you can easily adapt the project to the number of stairs you want covered.
CONS: Since the tubes will be only fixed to the stairs at the bottom of each U-shaped frames, make sure everything is properly fixed together and sturdy enough to ensure safety!
6. L-shaped tube stair railings
If you choose to build this DIY project, you'll need black steel tubes, structural anchors and connectors.
You could also go for a different look using white or copper tubes depending on your home decor – or even choose galvanized tubes and paint them the color of your choice!
7. DIY baluster that goes up to the ceiling
Craig is a DIYer who recently discovered tinktube. Once his project was built, he sent us pictures to share with the community!
He chose to create a ceiling baluster for his staircase using tinktube's black pipes.
An interesting thing about this project is that this baluster lets the light in the staircase easily: a brilliant way to improve safety without adding darkness to the stairs.
DIY handrail ideas
Simple industrial handrail idea
Once you've put together one of the interior DIY staircase handrail ideas shown above, building a wall-mounted handrail will be easy!
You probably would have guessed it yourself, but in this example, all you need are these items:
1 X 92″ steel tube
2 X structural anchors
2 X HJ-90 connectors
Galvanized steel tube DIY handrail with chrome fittings
In this example, the galvanized tubes are used with chrome fittings. Once again, creating the same idea yourself would be easy.
You would need structural anchors, t-connectors and tubes!
Staircase handrail ideas : DIY is the best option for your home!
Being able to choose your favorite style and material when designing railings for your home is priceless. As you can see, some options can have a considerable impact or even completely change the ambience of a room, particularly when stairs are at the center of a common area. In that case, the staircase handrail becomes a central decorative element that will have a lasting effect on the entire vibe in the house, in addition to offering security to anyone who uses the stairs!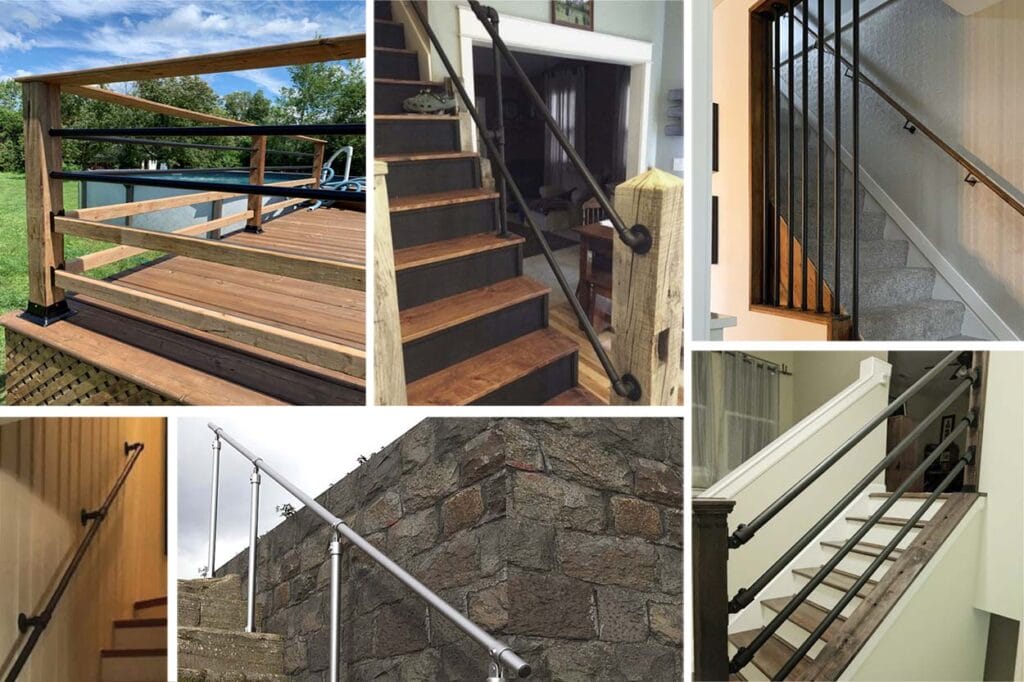 If you'd like more DIY projets inspirations, visit our inspiration gallery section!