Living in a tiny house does not necessarily mean feeling cramped in a small space with clutter everywhere. In fact, this lifestyle can actually help shift your mindset towards minimalism. By embracing a minimalist mindset, you'll naturally begin to eliminate unnecessary objects and live with fewer possessions. The benefits of minimalism are many, but that's a topic for another blog post! The focus of this article is to provide you with inspiring ideas for clothing storage in tiny houses, to help you organize your belongings in a small space.
1. Ceiling-mounted tube to hang clothes
This first example is pretty simple and easy to make. All you'll need are a copper colored steel tube, two "elbow" connectors and two structural anchors.
The benefits of this kind of clothing rack are many, but among them, it helps you avoid wasting space by making the most out of an area that's close to the ceiling, which probably wouldn't have been used if it wasn't for the rack!
On top of that, from a purely aesthetic point of view, the copper colored tube blends perfectly well with a decor that involves wood furniture or a wooden floor. To get a look that's similar to the picture shown on your right, you can paint the black elbow connectors the same color as the tube.
PS: If you've never used the tinktube system to build a DIY project, you should know that a tube cutter like this one could soon become your absolute best friend.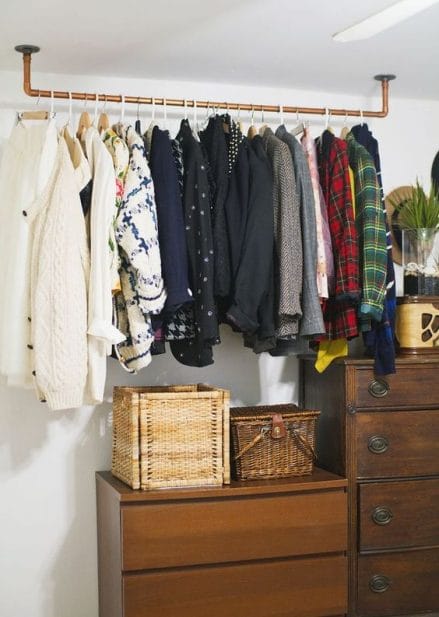 2. Wall-mounted clothing storage system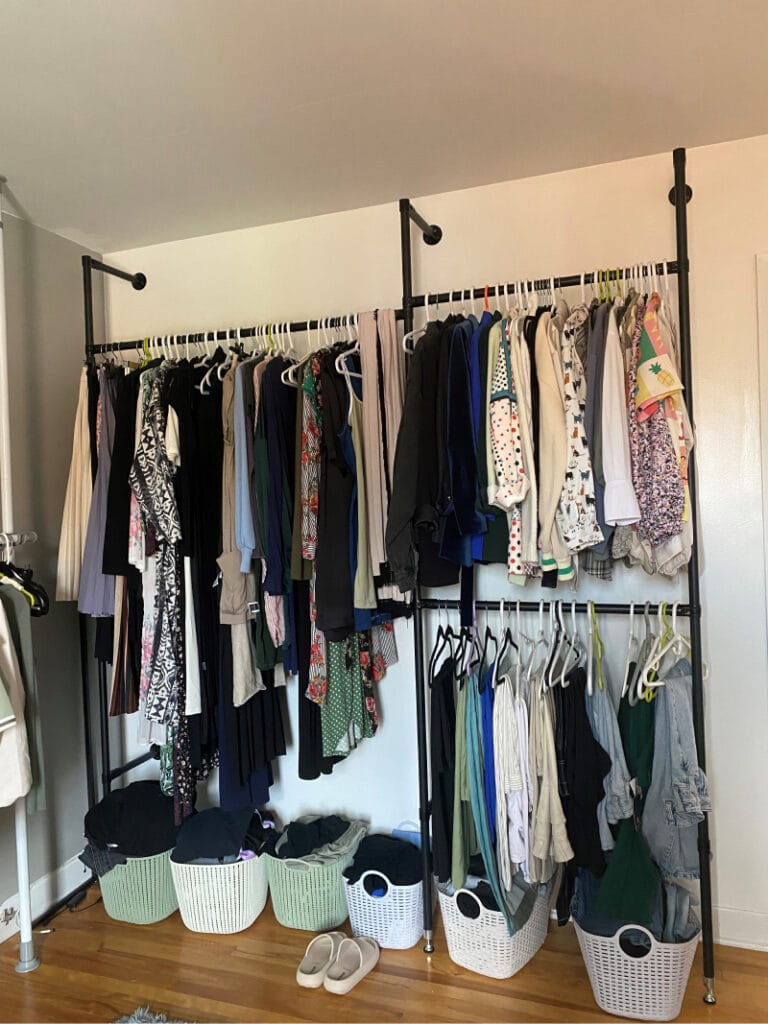 If you're looking for tiny house clothing storage ideas that will fit well in an industrial decor, you've found the one!
This example can obviously easily be built using tubes and connectors. Here's a list of the parts used, in case you want to build something similar in your home:
And since this storage system only relies on hanging things to it -no surfaces-, you won't need to work with any other type of material.
PS: You can also paint the tubes and the other components if you want to make them another color!
3. Custom closet organizer
Whether you build this kind of space organizer in a closet, in a bedroom or in your living room, it'll bring you the same thing: the perfect solution to have a tidy home.
As you can see, the DIYer who built this project decided to add some shelves and hanging bars to it.
You could do the same… or not. For example, you could decide to make the shelves more spaced out, build a whole section with hanging bars only or use a different type of material for the shelves.
The choice is up to you and that is the beauty of DIYing: The only limit to what you can build is your creativity!
4. DIY clothing racks on wheels
When you don't have a lot of space, you want to optimize all the areas in your house. This means you may have to move things around quite a bit.
Clothing racks could make it much easier for you to organize your clothes, and you'd be able to move them easily when needed, thanks to the wheels!
This type of rack is also fairly easy to build. We even have a free plan ready for you! You can either adapt the dimensions to fit the space you have in your home or keep the exact plan.
5. DIY closet organizer -with free plan!
In a tiny house, keeping a tidy environment is crucial. While your clothes may not always be as neatly organized as you'd like, a DIY closet organizer will make it easier for you to keep up in your everyday life.
This closet organizer idea can be built in any environment and adapted to fit your space. If you want to learn more about how to build it, good news… We've got a free plan!
6. Tiny house space saver
Organizers like this one are the best tiny house hacks because they combine three glorious things: your ingenuity, pipes and fittings, and the power of DIY!
Just imagine you could build any shape of storage system you wanted on your tiny house wall: what would it look like? Where would there be a shelf? Where would you create a space to place that sofa? Would you put something on every single square foot of your wall, or would you leave some empty room to display art?
These are the type of questions you can ask yourself when you build your own tiny house storage system with pipes and connectors, because you can actually customize your wall-mounted storage any way you want!
10 Dazzling DIY Toy Storage Ideas for Playtime Fun
Get ready for DIY adventures that'll have you and your little rascals giggling and bonding over toy-tidying missions like never before!
7. Ben & Audrey's DIY walk-in closet
Ben and Audrey needed to organize their walk-in closet in the tiny house they built themselves. Using tinktube, they designed and created their system.
Long story short, it was a complete success: they were able to integrate all the details they needed into their space organizer. Now, all they have to do is keep their walk-in tidy!
Tiny house living is all about space organization and creativity!
We hope these clothing storage ideas inspired you to build your own project. Whether it's a closet organizer, a wall-mounted storage system or a simple set of shelves that help you save just a little more space in your room, the more organized you are, the more quality of life you'll get living in a tiny house! If you decide to build a DIY tiny house storage with pipes and connectors, PLEASE, send us pictures of your project at [email protected]. We'd love to share your build with the DIY community! Talking about community, here are other DIY project ideas coming directly from others who sent us photos or their projects. Cheers!
Here's what you need to build the perfect firewood rack: a DIY plan!