The sun will always shine. Scott knows that, so he decided to take advantage of this amazing renewable energy. He used tinktube's construction system to build a DIY solar panel ground mount to power appliances in his home. This free plan presents the details you'll need to build a similar project. This solar panel rack is about 80″ wide by 40″ high and weighs about 50 lbs. As with our other free plans, you'll be able to use the information presented below as a base and customize your plans according to your situation:
Change the dimensions to create a solar panel rack that fits your own solar panels.
Adapt the design of the rack to the configuration of the space that's best for your environment.
Make the structure lighter or stronger, depending on the type of solar panels you have and how many you plan on fixing to the solar panel ground mounting frames.
1. The parts you'll need to build your solar panel stand
The first step to create this project is to design your solar panel mount according to your environment and needs and buy the parts to build it. This step-by-step plan was designed based on the model of rack below, to give you an idea of what you would need to build it. We recommend you to customize the project as you see fit.
Scott used the HJ-15 and H6 joints so he would be able to change the angle of the solar panel -to get maximum output, the solar panel angle is different for winter verses summer-. He used ¾ conduit and tinktube fittings and adaptors, so it's very sturdy.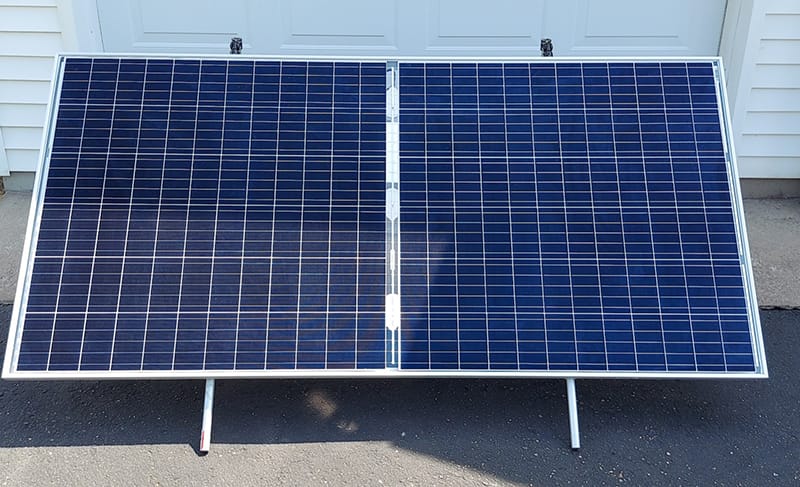 What you'll need: Connectors and tubes
Here are the parts and tubes you'll need to build this solar panel rack. If you adapted the project, change the dimensions and adjust the number of tubes and fittings according to your own plan.
2. The cut list
Once you've ordered the parts and they have been delivered to your doorstep, it's time to build your DIY solar panel ground mount. Start by cutting the tubes (don't forget to buy a pipe cutter if you don't already have one).
| Qty. | Length (inch) | Length (centimeter) |
| --- | --- | --- |
| 2 | 74 5/8″ | 189.54 cm |
| 2 | 59″ | 149.86 cm |
| 1 | 42 1/4″ | 107.31 cm |
| 2 | 36 7/16″ | 92.55 cm |
3. Build your DIY solar panel ground mount (this is where the fun begins)
OK, so you've cut the tubes and gathered all the parts. It's now time to start building your solar panel rack! Scott's build took him less than 30 minutes to assemble. Use the color and letter codes to place the right connectors and tube sizes at the right place.
The tinktube joint sets are assembled with bolts that require one of the following tools – you might already have the tools at home, but if you don't, you can order from us here:
4. Harness the power of the sun!
We sure hope you're as impressed by tinktube's construction system as Scott was when he finished building his first solar panel rack. If you are looking for more solar panel rack ideas, check out this article: you'll find examples of solar rack designs that will spark your creativity and help you get started!