A good heavy-duty workbench will help you work smarter and faster. The perks of designing your own:
Designing the dimensions of the workbench to fit the space available, and making it the right height for you
Adding different functions to your workbench (storage, shadow board, wheels…)
Being able to choose the type of surface according to your preferences
---
1. The parts you'll need
Making sure you think of how you'll be using your workbench is the first step when designing it. Will you need to move it around often? Do you want to fix some tools to the workbench? Will you need extra built-in storage space? How big of a surface do you actually need to work on?
Here are the parts you'll need to build a 77 1/2″ X 42 1/2″ workbench. Please note that if you choose to change the dimensions of the project, you'll need to adjust the quantity of the parts you buy!
The beauty of tinktube is that you can personalize your projects according to your preferences. However, some parts are not sold on our online store. To complete your heavy-duty workbench, you'll need to buy this at your favorite hardware store or online:
---
2. The cut list
Once you get all the parts, you'll need to cut the tubes before building the project. Here's the cut list for a 77 1/2″ X 42 1/2″ workbench: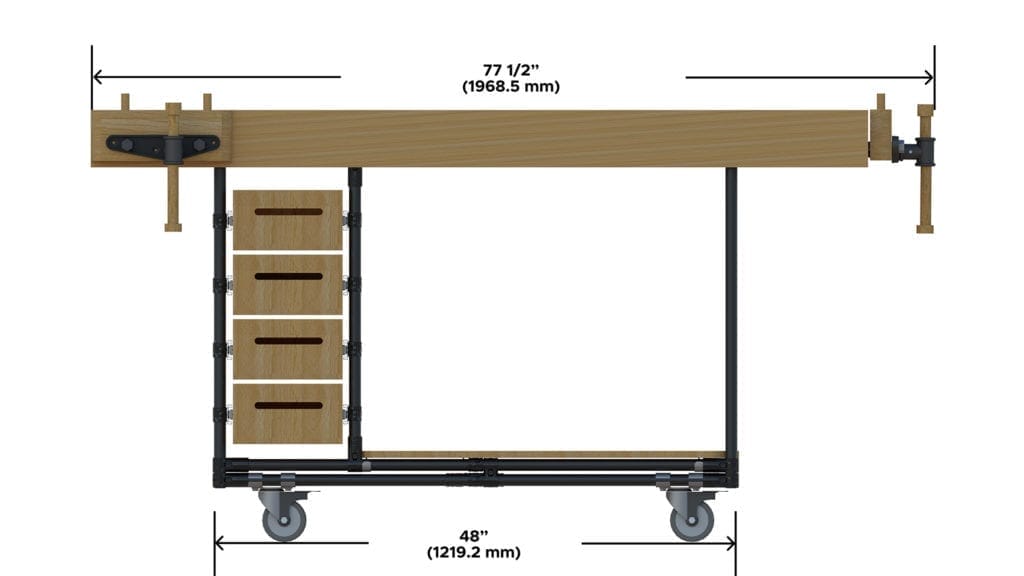 | Qty. | Length (inch) | Length (centimeter) |
| --- | --- | --- |
| 8 | 43 7/8″ | 111.44 cm |
| 4 | 31 15/16″ | 81.12 cm |
| 2 | 25 3/16″ | 63.98 cm |
| 4 | 20 9/16″ | 52.23 cm |
| 20 | 19 15/16″ | 50.64 cm |
| | | |
If you don't already have a pipe cutter, get one from our shop here.
---
3. The build (the fun part)
Now that all the pipes are cut and you've gathered all the connectors, you're ready to start building your heavy-duty workbench!
The tinktube joint sets are assembled with bolts that require one of the following tools -you might already have this at home-:
---
4. You are now ready to work
Now that you have completed building your workbench, you're all set to start working on your favorite project!
---
Adapt this project with the tinkpad!
Draw your project with this free printable tool which includes an isometric grid and our best tips to get started.