Nicolas discovered our pipes and fittings building system a few months ago, when tinktube's CEO Julien pitched his business idea on a Canadian TV show called "Dans L'oeil du dragon". From the moment he heard about tinktube, Nicolas was intrigued. Then, he tried the system to build his own DIY bar shelf… and he was sold. He was so excited about the concept that he even made an offer to buy parts in the company!
Not only did he like the versatility of the system, he also liked the fact that everyone, from the experimented DIYers to the neophytes, could use it.
You don't have a drill at home? You won't need any.
Nothing to cut the tubes? No problem.
You live in a small apartment with no working space? We've got you.
With only a few pipes, fittings and 2 tools available online, anyone can start building pretty amazing projects; from shelves to pergolas, planters, tables, solar panels, sports racks… -name it!
The best part is, because the tubes and connectors are made of steel, the builds will always be sturdy and durable. On top of that, all projects can be disassembled and the materials can be reused to build something new, because they won't get damaged in the process. Interested in learning more about Nicolas' DIY bar shelf project? Keep on reading.
Nicolas' DIY bar shelf: How to build it
Nicolas is the founding president of Pur Vodka, the largest independent producer of spirits in Quebec, Canada. Needless to say he's got a few bottles to showcase in his office. He used tinktube's building system to create these DIY bar shelves. Here are the building steps to build a similar project!
1. Buy the parts online
These are the parts Nicolas used to build his DIY bar shelf. If you want to build this exact project, use the "Add all part to cart" button below.
The tools you'll need to assemble your DIY bar shelf
The tinktube tubes are cut with a pipe cutter and joint sets are assembled with bolts that require one of the following tools -you might already have this at home-:
You won't necessary need other building materials, but if you do, you local hardware store or other options like Ace stores will most likely offer what you need (wood surfaces, for example).
2. Cut the tubes
Once you've received your order, it's time to build your project. Start by cutting the tubes: use this cut list if you want to reproduce Nicolas' project.
| Qty. | Length (inch) | Length (centimeter) |
| --- | --- | --- |
| 3 | 51 13/16″ | 131.60 cm |
| 9 | 12 1/8″ | 30.79 cm |
3. You are ready to build (the fun part)
Now that you've gathered all the parts, it's time to start building your DIY bar shelf!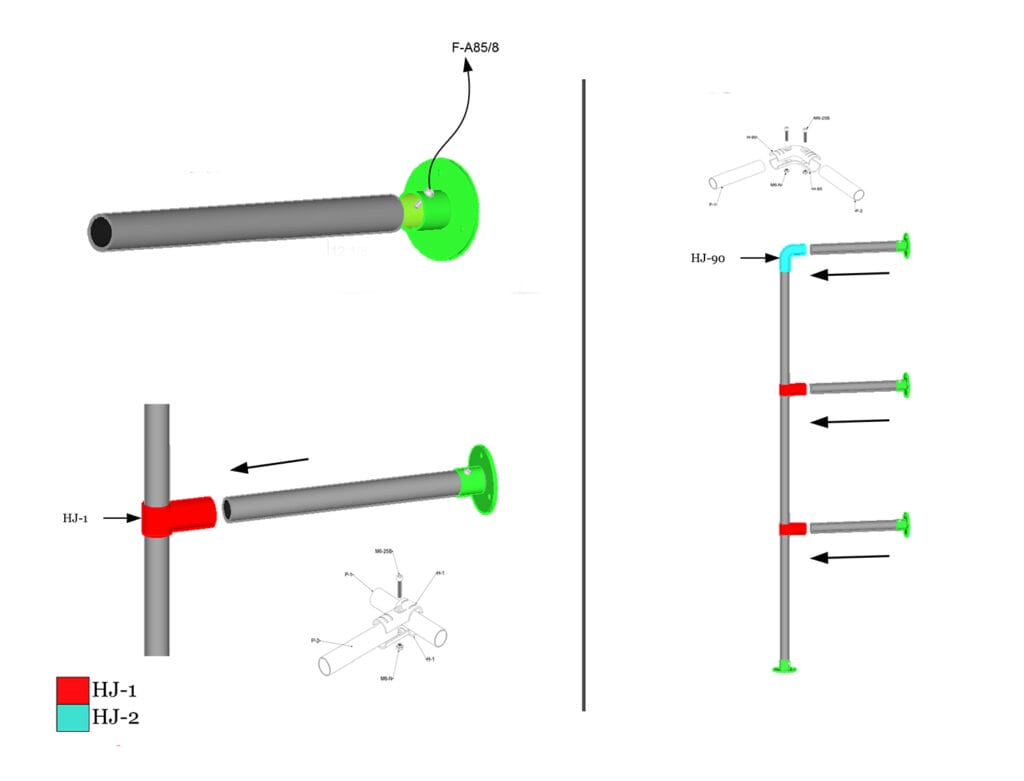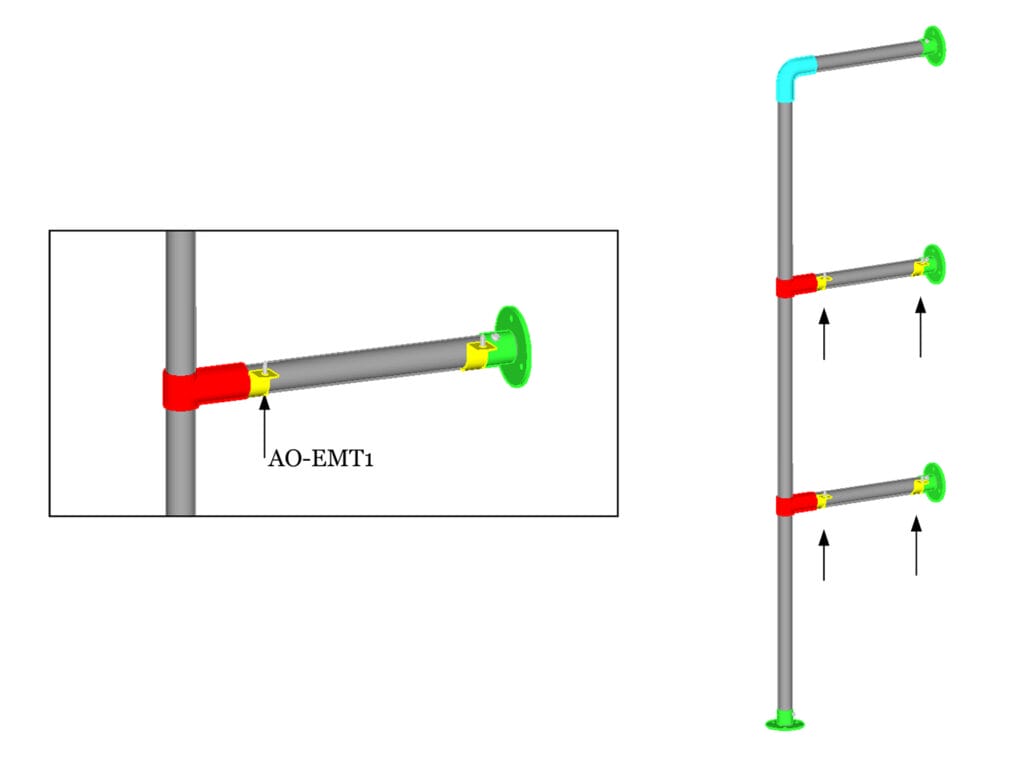 Once the part are assembled, fix the shelves to the wall and… voilà!
4. You're now ready to organize your bottles on your DIY bar shelf!
Whatever you like to drink, you can now safely store your bottles -or anything else- on your new shelves!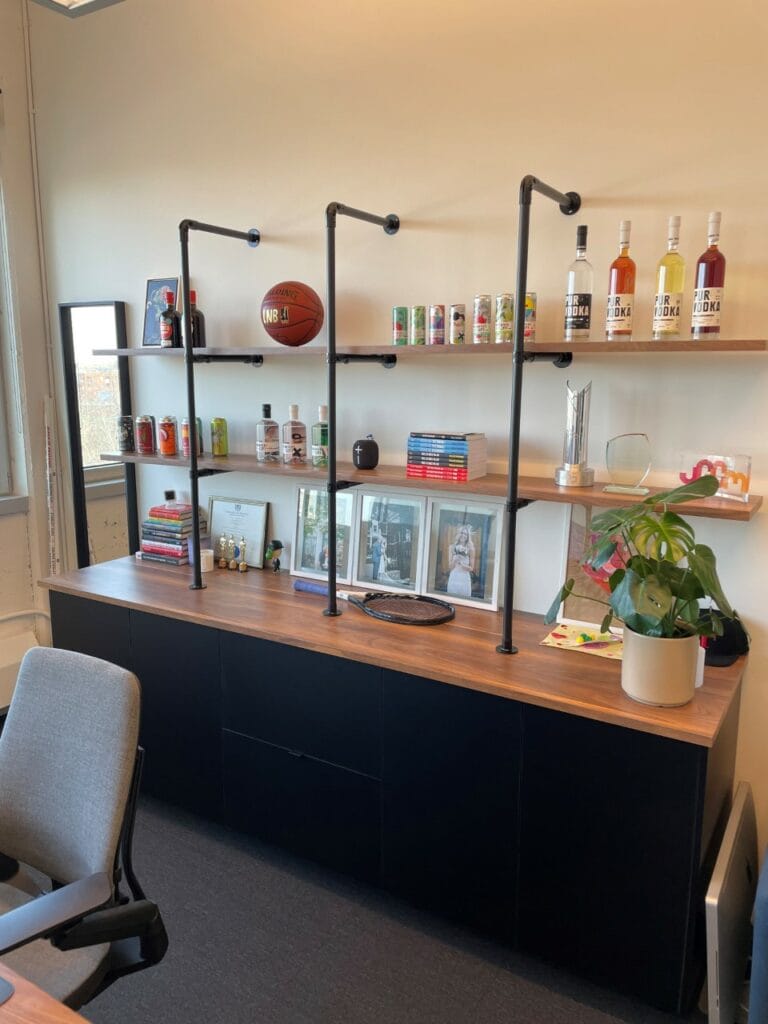 Interested in more DIY shelf ideas? Get inspired by these 22 affordable pipe shelf ideas!