Photo credit: Yannick MacDonald
This project was featured on tinktube's appearance at the television show Dans l'oeil du dragon, which is the French Canadian version of Shark Tank
How do you tell your dog you love them? Cuddles, strolls, loving gazes… and dog houses. We can't help you with the cuddles or the strolls, but if you're looking for ideas on how to build a DIY indoor dog house, you've come to the right place! Our building system will make it easy for you to build a personalized structure that's entirely tailor made to your dog's size and needs.
Customize the dimensions of the house to make your dog confortable, whether it's a chihuahua or a great dane.
Choose the color of tubes and connectors to fit your home environment.
Take advantage of the tinktube "retinkable" advantage: If you ever need a bigger house -let's say you adopt another dog- or if you don't need the dog house anymore, you'll be able to adapt the structure to change it or build something else with it, without damaging the material!
---
1. The parts you'll need
The first step is to design your dog house according to your (and your dog's) needs and buy the parts to build it. We created a step-by-step plan according to the model of dog house below to give you an idea of what you would need to build it, but you can customize the list for your own project as you see fit.
What you'll need: Connectors and tubes
Here are the parts and tubes you'll need to build this project. Modify the dimensions and adjust the number of tubes and fittings according to your own plan:
---
2. The cut list
Once you ordered online and the parts have been delivered to your doorstep, it's time to build your dog house. Start by cutting the tubes (don't forget to buy a pipe cutter if you don't already have one, it'll become your new best friend and it'll be useful for future projects too).
| Qty. | Length (inch) | Length (centimeter) |
| --- | --- | --- |
| 2 | 24″ | 60.96 cm |
| 7 | 20″ | 50.8 cm |
| 4 | 14″ | 35.56 cm |
| 4 | 13″ | 33.02 cm |
| 3 | 4″ | 10.16 cm |
---
3. Building the indoor dog house (the fun part)
Now that you've gathered all the parts, it's time to start building your dog house!
The tinktube joint sets are assembled with bolts that require one of the following tools -you might already have this at home-:
---
4. Make your dog happy with this indoor dog house
Now that you've given your dog its own house, you'll have plenty of time to do other DIY projects! If you'd like to see more ideas of things you can build with pipes and fittings, you'll find plenty in this inspiration gallery.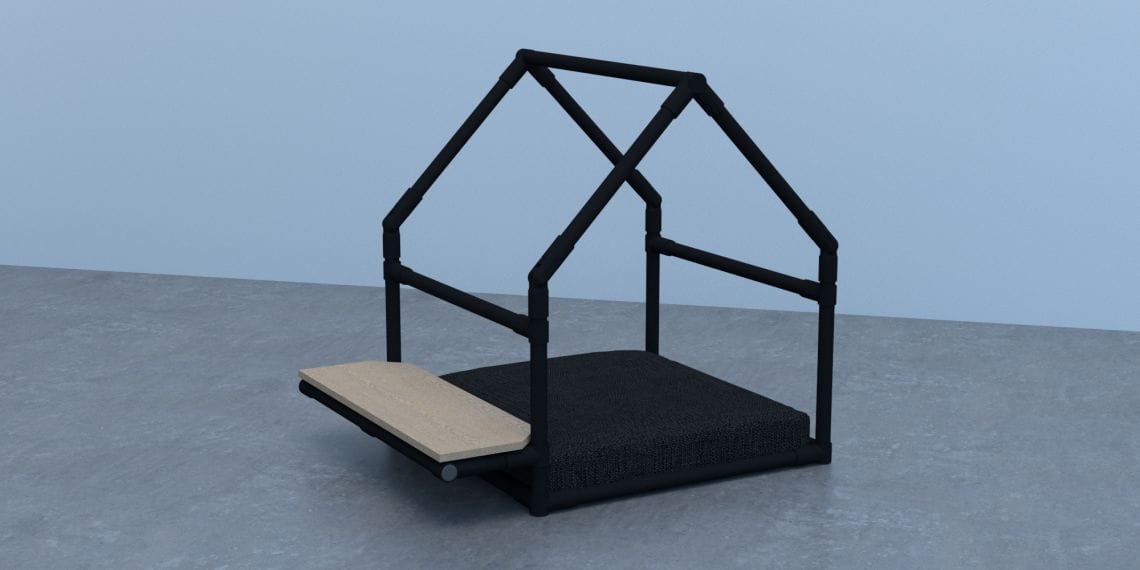 5. More DIY projects for dogs from the community
Since there is no limit to what you can build with tinktube, we wanted to give you a little bit of inspiration to fuel your present and future DIY projects. Check out other projects from DIYers!