Because they are often filled with many, many toys and games, playrooms can get disorganized pretty quickly! Maximizing the storage options is an excellent way to make it easier for parents -or the kids, if you're lucky- to put everything back in place after a fun afternoon. Building a DIY lego table is a smart and creative option!
With its simple design, the table is easy to build. You can either adapt the dimensions to fit your own environment or create your project following this exact plan. Make sure to choose the color of the tubes and fittings to fit your home decor!
If you decide to build this project, we'd be absolutely thrilled to see some pictures! Please send us your pics at [email protected] and we'll be happy to send you a 10% OFF promo code to thank you
---
1. The parts you'll need
Before starting to build your DIY lego table, make sure you already have the following parts at home:
---
2. The cut list
To make your life easier, here's the cut list to create this DIY lego table! Remember: everything is adjustable, so customize it however you need! If you don't already have a pipe cutter, get one from our shop here (you'll need it to cut the pipes, and you'll be able to use it again on your next tinktube projects)!
| Qty. | Length (inch) | Length (centimeter) |
| --- | --- | --- |
| 2 | 23 1/4″ | 59.05 cm |
| 6 | 19″ | 48.3 cm |
| 4 | 16″ | 40.6 cm |
---
3. The build (the fun part)
Now that all the pipes are cut and you've gathered all the connectors, you're ready to start building your project!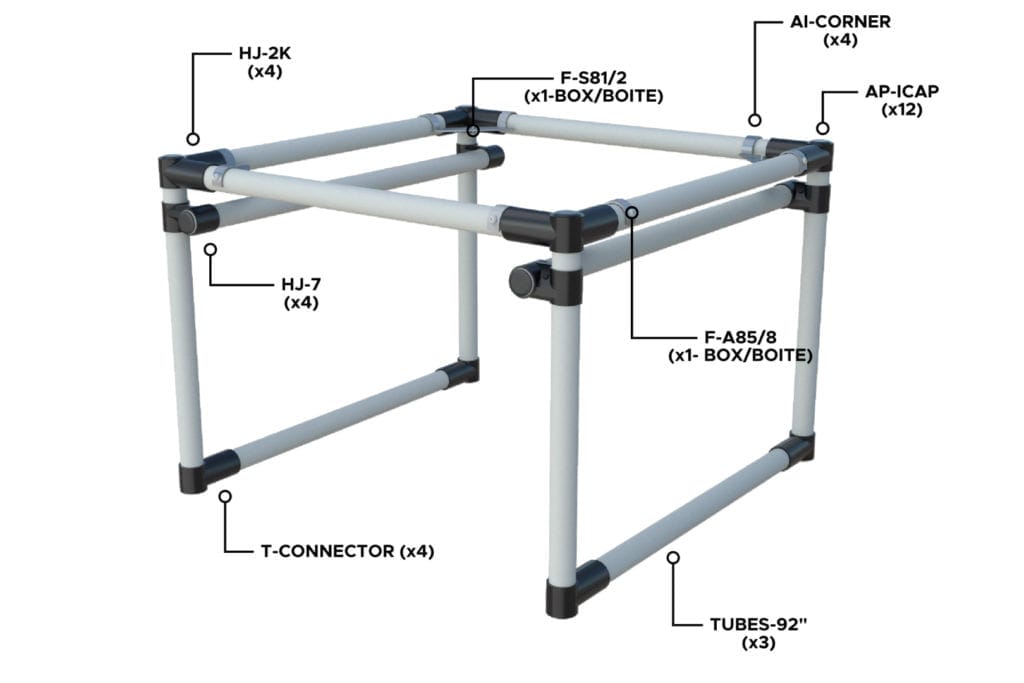 The tinktube joint sets are assembled with bolts that require one of the following tools -you might already have this at home-:
---
4. Now… it's time to organize!
Now, all you need are a lego surface, a bin… and legos!