Making your own industrial floor lamp is a great way to make sure you can customize your home decor!
Build your lamp to be as high as you'd like;
Make it the color of your choice;
Create a more complex design if you want to!
---
1. The parts you'll need
Below are the fittings and pipe needed to create this floor lamp. However, the design can be modified based on the height, length, and depth you would like. Adapt the plan to make the lamp bigger, smaller, or even a different shape!
Everything is possible, let your imagination guide you!
The parts needed:
You will also need a light socket with a cord and a suitable light bulb. These are not sold in our online shop, but you can buy them at your favorite hardware store or on Amazon.com.
---
2. The cut list
Once you have decided on the model and size of the lamp you want to build, you will need to cut the pipes accordingly.
To help you out, here is the cut list to build a 60″ X 22 1/2″ floor lamp:
| Qty. | Length (inch) | Length (centimeter) |
| --- | --- | --- |
| 1 | 59 1/4″ | 150.49 cm |
| 2 | 13 5/8″ | 34.61 cm |
| 1 | 12 1/4″ | 31.12 cm |
| 1 | 6 1/8″ | 15.56 cm |
If you don't already have a pipe cutter, get one from our shop here. It will be useful for your future projects.
---
3. The build (the fun part)
Did you cut all the pipes? Perfect! You are ready to start the funniest part: building!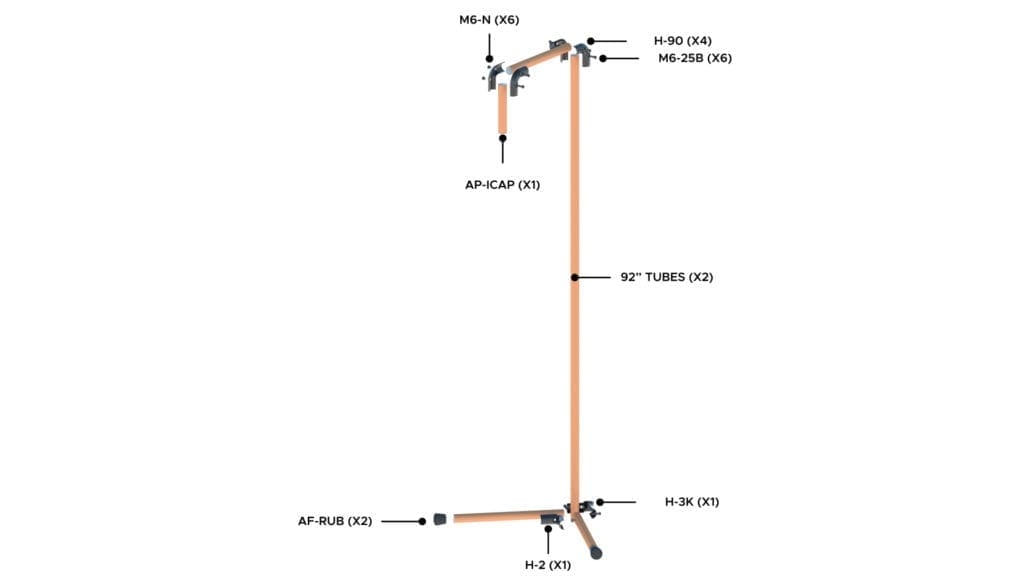 The tinktube joint sets are assembled with bolts that require one of the following tools -you might already have this at home-:
---
4. Relax and appreciate your industrial floor lamp!
Your new industrial floor lamp adds a little something to your room, right? That's the beauty of tinktube, your projects are always unique!
---
Adapt this project with the tinkpad!
Draw your project with this free printable tool which includes an isometric grid and our best tips to get started.