Our habits and activities have changed a lot since 2020. We've had, among other changes, to adapt and adjust our fitness routine. Even if the gyms are now opened again, you may have gotten used to working out from home and the benefits it brings into your life. Here is how to turn your basement or any other room into a workout space: DIY home gym project ideas that might inspire you to work out from home, or to get your sweat on outside!
---
1. DIY Home gym pull bar
This pull bar is a great DIY home gym idea to work-out from the comfort of your home. It's one of the easiest DIY tinktube projects to start with, it's a good way to stay in shape and get some exercise in a safe, comfortable environment.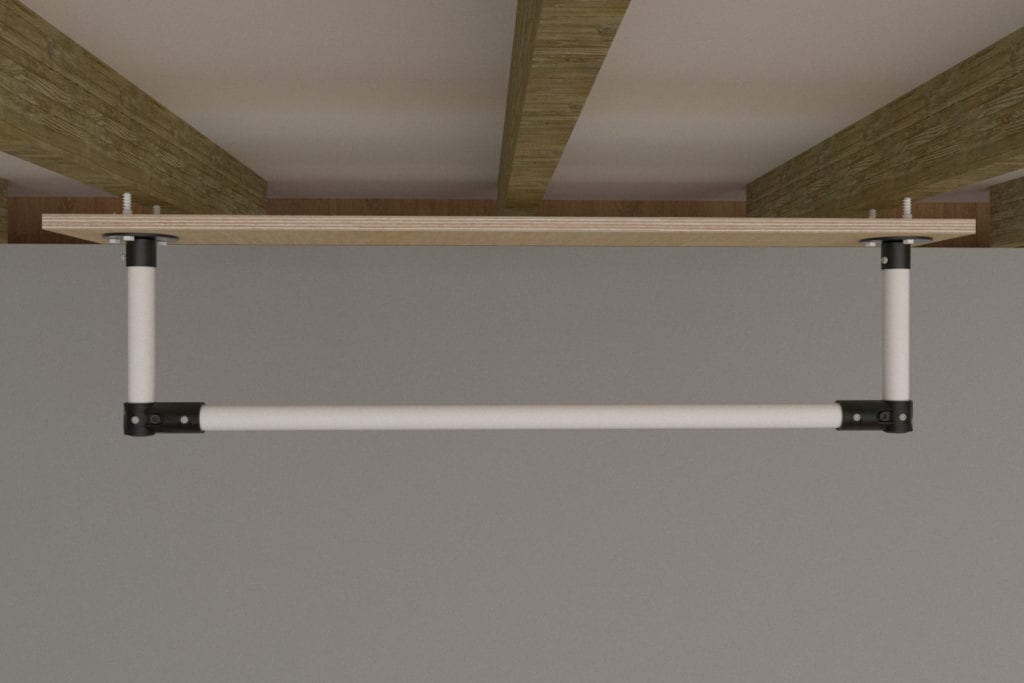 ---
2. DIY bike trainer
Beat those winter blues with a DIY bike trainer!
Looking for a DIY home gym idea that will allow you to use your own bike all year long? Check out this free plan to build a DIY bike trainer and enjoy your favorite sport without interruption. Try it now!
Interested in building this bike trainer? Get your free plan.
---
3. DIY ballet bar
With its simple design, it's one of our easiest projects, so it makes the perfect DIY project if you've just discovered tinktube! Place this ballet barre in your home gym or in your little one's room!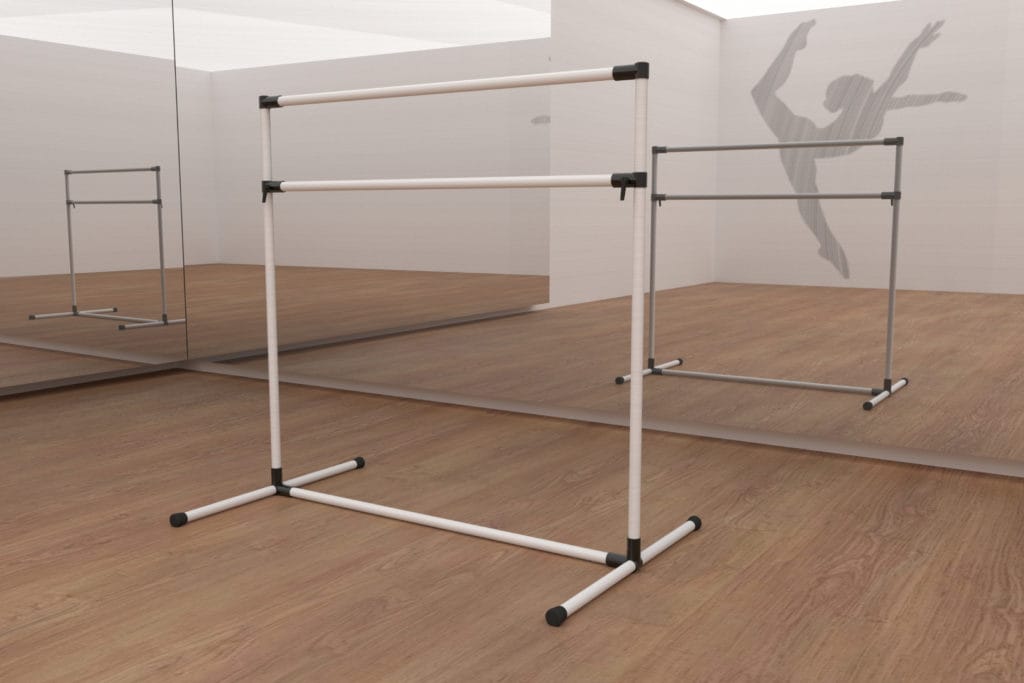 ---
4. Julien's DIY sports equipment rack
Julien built his own sports equipment rack with black pipes and black fittings. You can adapt the support according to your needs, your space, and the equipment you use. Building your sports equipment rack is a good way to organize your space and train in complete safety!
---
5. DIY Ice skate trainer
Ice skating is a popular winter activity. If you want to introduce your young children to this sport in a safe way, building your own ice skate trainer will allow you to draft a plan and adjust the dimensions of the skating walker to your child's height.
Build the trainer with your children, making it a perfect introduction activity for skating!
Interested in building this ice skate trainer? Here is the free plan.
---
6. A DIY Basketball Rack
This homemade basketball rack was made with galvanized pipes and was covered with a blue shrink wrap. If you want to use this technique to color your pipes, you will need a heat gun to make sure the wrap adheres well. It will even allow you to protect your tubes from scratches and bad weather!
---
7. DIY Wall bike rack
Complementing perfectly the DIY bike trainer, the wall bike rack is a great way to maximize your space, and it'll also look very good on your wall! It's made with pipes and fittings and you can adapt it however you want!
---
8. DIY bike rack
There is nothing quite like going outside on a bike, enjoying the scenery, and feeling the wind in your hair. If you prefer to use your bike outdoors, you definitely need a place to put it when you get back.
And when everyone in the family has their own bike, you quickly find yourself cluttered! tubetinkers, we have the perfect project for you!
---
9. A soccer net built with pipes and fittings
Want to play soccer with the kids without paying a fortune for a goal? Here is a soccer net made of pipes and fittings. It's easy to disassemble, and when you don't use it anymore, you can use the pipes for another DIY project!
Just like the basketball rack we talked about before, this soccer net was made with galvanized pipes and was covered with a blue shrink wrap. And don't forget, you'll need a heat gun to make sure the wrap adheres well.
---
10. DIY ski rack
If you are a seasoned skier, you probably have a lot of gear to pack. We know that skis can take up a lot of space. Get inspired by this DIY ski rack to design your own plan!
---
11. DIY adult monkey bars
By attaching tinktube tubes and connectors to the ceiling, you can recreate your childhood playground!

Even though it looks like a cinch, monkey bars are an extremely difficult exercise, requiring excellent grip strength and good body momentum management. By taking on this new discipline, you'll develop all the muscles in your upper body, including your shoulders, biceps, and abdominals.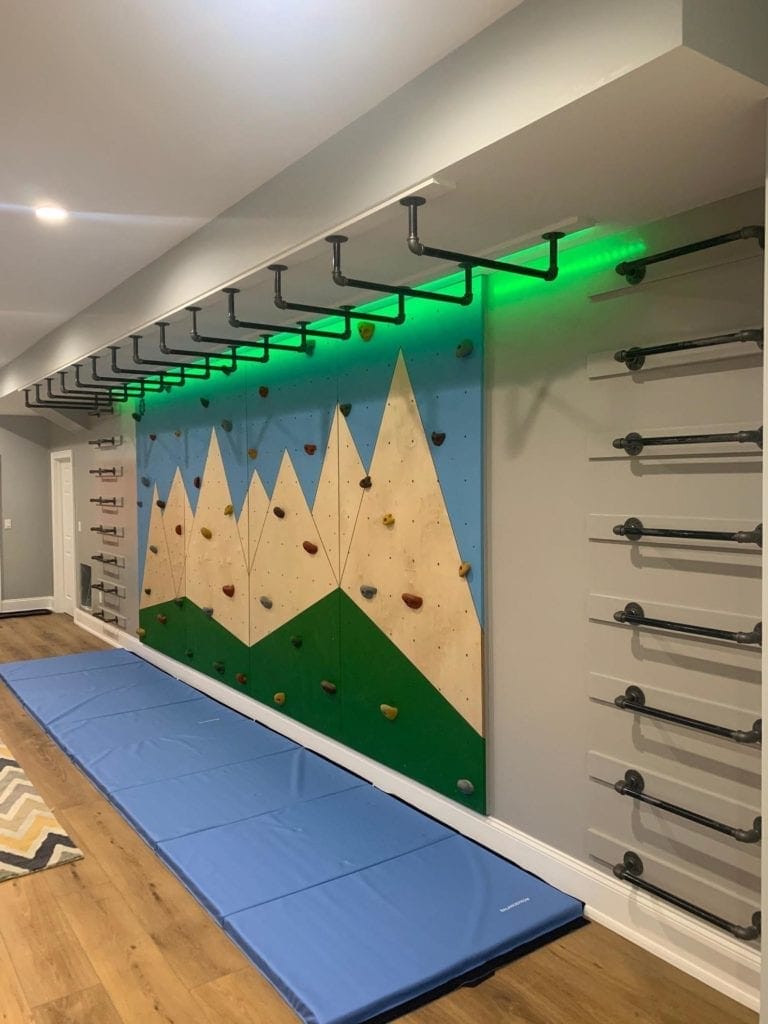 ---
12. DIY portable pull-up bar
You can use this pull-up bar to do as many pull-ups as you want. As this structure is portable, it can easily be moved around the garden or the garage, depending upon Mother Nature's whims. We bet that your little gymnast will love using it as a training bar!
---
13. DIY punching bag bracket/support
Do you have energy to spare? There's nothing quite like blowing off steam on a punching bag after a grueling day. tinktube tubes and connectors are strong enough to handle your abundance of energy.

A boxing session releases a maximum of endorphin. In addition to calming the mind, this athletic activity helps strengthen the muscles in your back, arms, and hips. What could be better?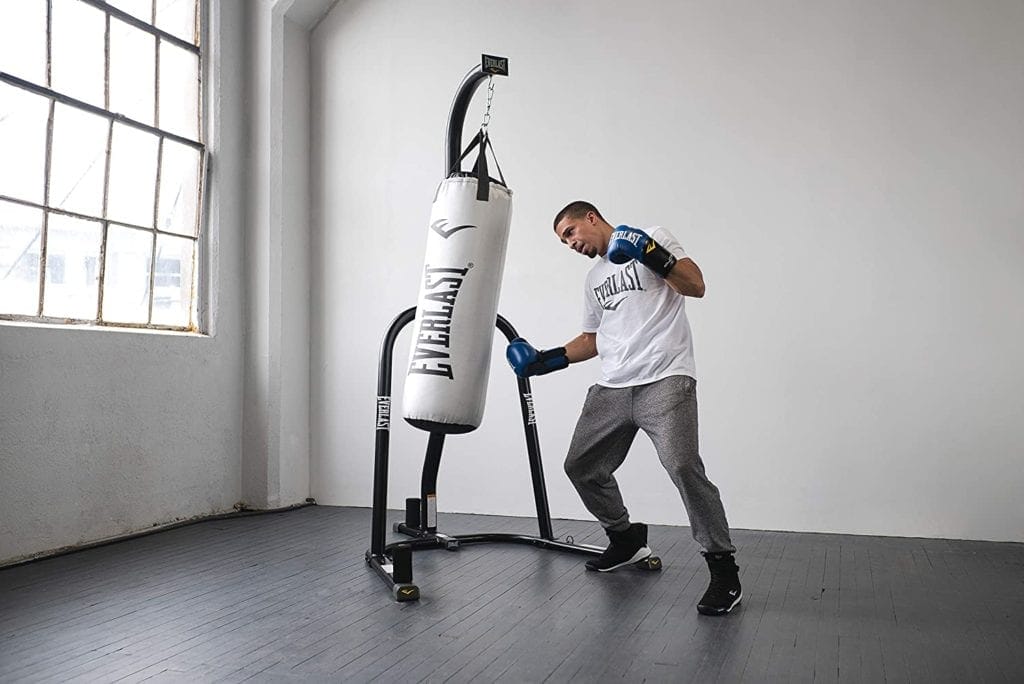 ---
14. Volleyball practice station
It's not just speed and agility you have to work on! With this volleyball practice station, you'll be able to improve your striking force and your coordination during serves. By attaching tubes and connectors to your home's ceiling, you'll get off to a good start!
---
15. Weight bench
Your gym wouldn't be complete without a weight bench -which can also be used as a hall bench, as you can see in this picture-. There are endless exercise possibilities with this structure. You can use it to strengthen your pectorals, your thighs or your triceps!
tinktube tubes come in a variety of sizes, so you can build your weight bench according to your needs.
---
Adapt this project with the tinkpad!
Draw your project with this free printable tool which includes an isometric grid and our best tips to get started.